Saturday afternoon had me knee-deep in frosting. There was frosting in the sink, on the floor, in my fingernails. My hands smelled like butter, which, if you know me, is akin to having butter-smelling perfume sprayed directly into my nose. Or worse, cologne. Like a really obnoxious-smelling cologne. I have a sensitive sense of smell.
For my friend's birthday, I'd originally intended to make lavender frosting because lavender is her favorite flavor ever, which is why I made honey-flavored cupcakes. Honey and lavender—they seem a fine pair, don't they? But, me being me, I didn't begin looking for the lavender until the last minute, the morning of her party in fact, which is how I ended up with a botched Swiss meringue buttercream frosting hanging stickily in pots and pans all around the kitchen: lavender was nowhere to be found, at least in my immediate vicinity, so I switched to the buttercream, and subsequently flubbed it. I'm not an experienced frosting maker, if you can't tell.
So I guess you could call the creation of the lemon cream cheese frosting a metaphorical throwing in of the towel. I mean, I did throw a dish towel at the counter in disgust after the buttercream underperformed (fine, I underperformed), and even contemplated showing up at my friend's place with unfrosted cupcakes. But just like bestowing a cake upon a friend with a slice cut out for the sake of my food blog would be a violation of a basic human right, showing up with plain cupcakes would be, well, just plain pathetic.
That is how I ended up with a lemon zest-spiked cream cheese frosting. I was happy with my decision in the end. It may have been a safe and easy choice, but it was SO good. And I don't even like lemon.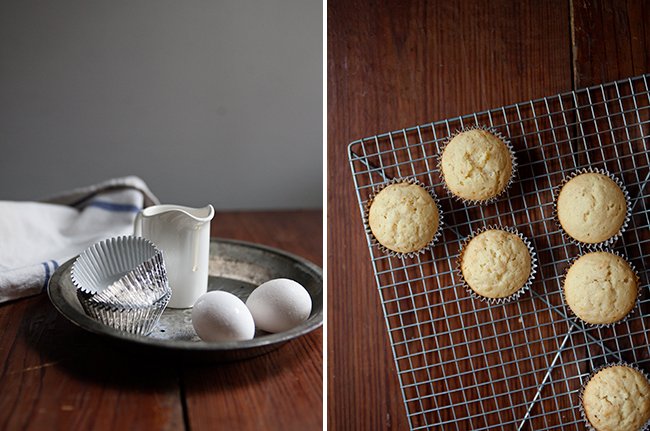 Unfortunately, the honey cupcakes turned out kind of dry. I might try swapping out the butter for canola oil if I ever make them again. But a delicious, complementary frosting is usually compensation enough, no? And I do believe that honey and lemon work wonderfully together.
I'll have to practice my Swiss meringue buttercream craft the next time a birthday comes around. But only if there's ample time to spare and I've prepped my ingredients earlier.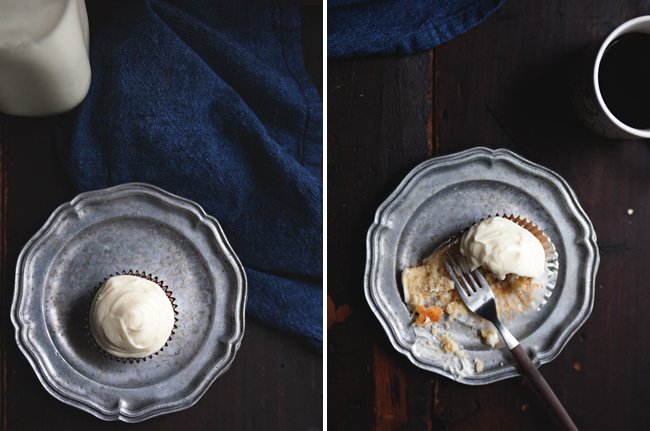 Honey Cupcakes With Lemon Cream Cheese Frosting
Adapted from Half-Baked, the Cake Blog
Makes a dozen cupcakes
Ingredients:
For the cupcakes:
1 stick butter, room temperature
3/4 cup sugar
2 eggs
1-1/2 cups all-purpose flour
1 tsp baking powder
1/2 tsp salt
1/2 cup buttermilk
1/4 cup honey
1 tsp vanilla extract
For the frosting:
1-1/2 sticks unsalted butter, room temperature
4 oz. cream cheese, softened
3 cups confectioners sugar
3 Tbsp honey
Grated zest from 1 lemon
Directions:
For the cupcakes:
Preheat oven to 350 degrees. Line 12 muffin cups with liners.
In medium bowl mix together flour, baking powder and salt, and set aside. In small bowl mix together buttermilk, honey and vanilla, and set aside. In bowl of stand mixer cream butter and sugar on medium speed until combined. Add eggs, one at a time beating well after each addition and scraping down sides of bowl as needed. Gradually add the dry and wet ingredients, alternating starting and ending with dry ingredients. Don't overmix.
Fill the liners 2/3 full. Bake 18-20 minutes or until tops are golden.
For the frosting:
In a large bowl, cream butter and cream cheese until combined. Gradually add confectioner's sugar and continue to mixing scraping down sides of bowl as needed. Mix in honey and lemon zest. Frost the cupcakes.