The search for the perfect wedding cake continues. Today I introduce to you, Aunt Sassy, the pluckiest pistachio cake you'll ever meet, flavored with real pistachios (as opposed to pistachio extract, which a recipe my sister found called for) that impart the barest of green to four dreamy layers of cake. She's wearing her Sunday's finest, a lush buttercream laced with glossy honey (that I sort of butchered because I lack cake decorating skills. Sorry Aunt Sassy.)
In truth, the cake is not as forwardly pistachio-tasting as you might think. What it really reminds me of is a nut bread, dense yet moist, and textured in that whole-grainy way. This may, in part, be due to the fact that I hand-ground, using a mortar and pestle, the pistachios, an imprecise process that yielded not the fine grain that the recipe called for, but something a little coarser, more similar to sand. But no matter. I liked it, a lot. Chris did too, and I gave him all the cake tops to take to work so I wouldn't end up snacking on them throughout the day.
But the true gem was the honey buttercream. It was superb, absolutely superb! It was wistfully velvety with the slight aftertaste of honey (meaning, not too sweet) and a lightness kind of sort of like whipped cream. I found ample excuses to conduct multiple taste tests: while scraping down the bowl, while filling the cake, while frosting the crumb layer (which I liberally applied for that very purpose), while cleaning out the bowl that I used to hold the crumb-filled frosting. And all the while, my brain kept saying 'no, no, no, put down the spatula, Linda!' because, being the sensible organ that it is, you can't get past it the fact that the frosting is made almost completely of butter(!).
Other thoughts. It reminded me of a Swiss meringue buttercream, but did not turn stale-buttery or yellow over time. This is valuable information. Also, it's egg-less. Actually, this is where I wish I could talk food history, because the method of making this frosting seems quite unusual. At its base, it's a mixture of sugar, milk/cream, and flour that's cooked over a low heat until it thickens. Is flour a common frosting ingredient? What is its history? Is it an old-fashioned Southern technique? That would excite me greatly.
Finally, regarding the cake as a whole, I'm thinking a three-layer cake, two of pistachio, one of chocolate, with this very buttercream frosting might be just the ticket.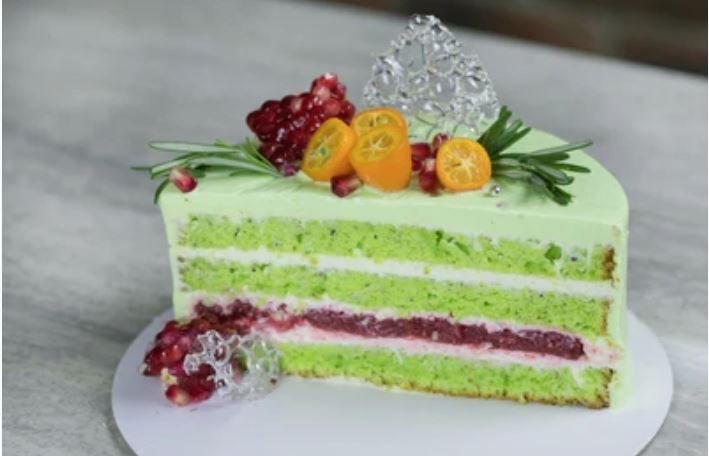 PISTACHIO LAYER CAKE WITH HONEY BUTTERCREAM
Adapted from Baked Explorations, via Oprah
Makes 1 six-inch 4-layer cake
Note: The original recipe called for vegetable shortening, which I decided not to use, because anything with the word 'shortening' in it sounds highly suspect to me. If you do decide to use it, replace half of the butter (1/2 cup) with 1/2 cup of vegetable shortening.
Ingredients:
For the pistachio cake:
1 cup shelled pistachios
2-1/2 cups cake flour
3/4 cup all-purpose flour
1 Tbsp baking powder
1 tsp baking soda
3/4 tsp salt
1 cup butter, softened
1-3/4 cups sugar, divided
1 Tbsp pure vanilla extract
2 large eggs
1-1/2 cups ice water
3 large egg whites, at room temperature
1/4 tsp cream of tartar
For the frosting:
1-1/2 cups sugar
1/3 cup all-purpose flour
1-1/2 cups whole milk
1/3 cup heavy cream
3 sticks unsalted butter, softened, and cut into small pieces
1 tsp pure vanilla extract
3 Tbsp good honey
Directions:
For the cake:
Preheat the oven to 325 degrees F. Butter four 6″ cake pans (or however many you have, but you'll have to work in batches). Line the bottoms with circles of parchment paper, dust the pans with flour and knock out the excess.
In a food processor, pulse the pistachios into a coarse grind, remove 2 Tbsp, and set them aside in a medium bowl. Process remaining pistachios just until finely ground to a powder. Sift cake flour, all-purpose flour, baking powder, salt, and baking soda into the same bowl with the 2 Tbsp chopped pistachios. Stir in pistachio powder.
In a stand mixer using the paddle attachment, beat butter on medium speed until creamy, about 1 minute. Add 1-1/2 cups sugar and vanilla and beat until fluffy, 4 minutes. Scrape down the bowl, and with mixer on low speed, beat in eggs one at a time until well blended. Beat in the flour mixture in 3 additions, alternating with the cold water, beginning and ending with flour mixture. Beat until blended, scraping bowl; then beat batter 15 more seconds. Scrape into a large bowl.
With a clean bowl and using the whisk attachment, beat egg whites and cream of tartar on medium speed until foamy. With mixer on medium-high speed, add remaining 1/4 cup sugar and beat just until soft peaks form, taking care not to over beat. (For some reason, I did this by hand. It took some serious arm power, and I'm not sure I attained the foaminess that the recipe called for. Use your mixer if you can.). Gently fold whites into batter just until no white streaks remain.
Divide batter between prepared pans (or about an inch into each pan) and spread evenly. Bake 35 to 40 minutes, or until a toothpick inserted in center of cakes comes out clean. Transfer pans to wire racks and let cool 20 minutes. Turn cakes out onto racks, remove parchment paper, flip them over, and let cool completely.
Cake rounds can now be covered in plastic wrap and stored in the fridge overnight.
For the frosting:
In a heavy, medium saucepan, whisk sugar and flour until well blended. Add milk and cream and cook over medium heat until mixture thickens and comes to a boil, about 10 minutes. (This is where the quality of your pan comes through. Using a sub-standard saucepan like I did? Keep the heat on low and stir constantly.) Reduce heat to low and cook, stirring, for 2 more minutes.
Transfer the mixture to the bowl of a stand mixer. With the paddle attachment, beat the mixture on high speed until it cools completely, about 10 minutes. On medium speed, beat in the butter. It'll gradually start incorporating into the mix and look more and more like frosting; it takes about 5 minutes. Increase the speed to medium-high until the frosting is fluffy and smooth, about 1 minute. Beat in honey and vanilla until incorporated. Taste for the honey and add more if necessary.
The frosting can now be refrigerated, covered, but before you use it, let it come to room temperature and mix it until it regains its fluffiness.
Assembling the cake:
I found that there was just enough frosting to frost the entire cake. Use about 1/2 to 3/4 cup of frosting in between layers.