Father's Day is coming up around the corner. Looking for a manly treat to make for the fathers in your life. How about these Biscoff Bourbon Bacon Chocolate Chunk Cookies? They are huge in size and flavor. They are packed full of Biscoff Cookie Spread, Kentucky Bourbon Whiskey, Boar's Head Natural Smoked Bacon, and Nestle's Semi-sweet Chocolate Chunks. Need I say more?

I am really starting to dig bourbon.  This bottle that my neighbor lent me is going to good use. Don't worry, they did get some of these cookies as well as the Bourbon Bacon Chocolate Fudge I made last week.  They haven't complained so far.
Only the good stuff goes into these cookies. That means real bacon, Biscoff, and large chunks of chocolate. Nothing but the best for my man. When complete, the dough will be a bit oily, but sticks together well. I tested it by grabbing a chunk and rolling it into a ball in my hands. If you can do that, then your dough is perfect.
I used my large cookie scoop for these. You know, the one that doubles as an ice cream scoop. These are not dainty girly cookies. I flattened out the dough a little and I may have rearranged a few of the chocolate chunks a bit. I also sprinkled a little sea salt to the tops of each cookie before baking. The cookies did spread after cooking. Um, yeah, like to the size of my hand. Now that's a manly cookie! At this point you can definitely smell the bourbon. But can you see all the bits of bacon, oatmeal, and thick chunks of chocolate? Just make sure the kids don't get a hold of these. Not all the alcohol burned away. You have been warned. These are adult only cookies.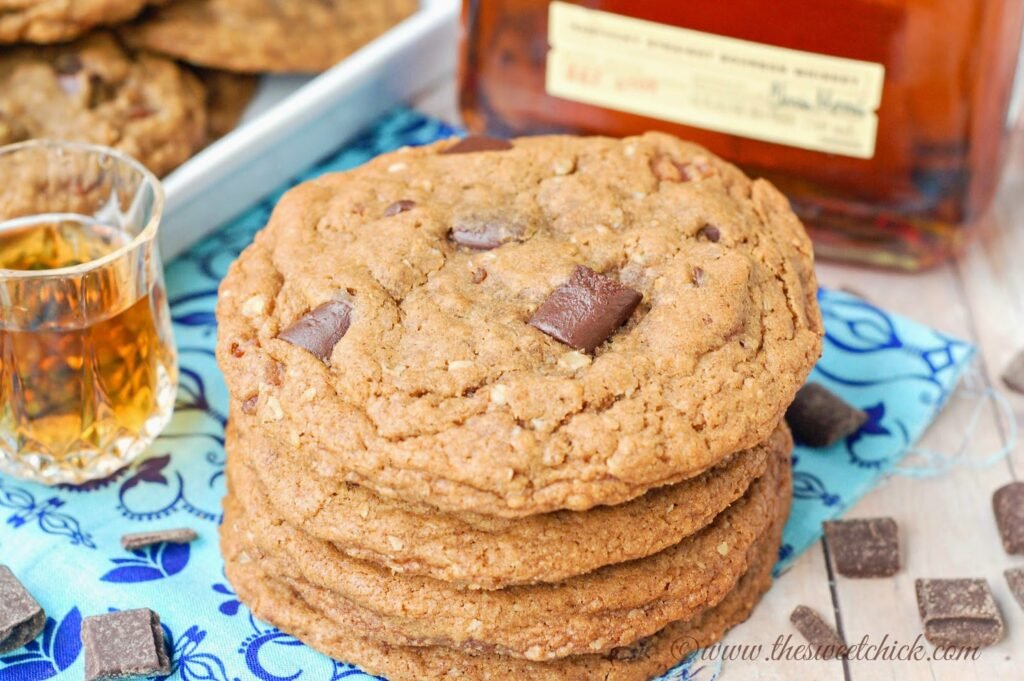 I handed these out to several neighbors, guys and gals, for taste testing and no one gave them a bad review. They are crispy at the edges and soft in the middle. They have so many flavors all melded together. It's a flavor party in your mouth. One of the neighbors requested I make more. There are going to be some happy dads in town this Father's Day.
Biscoff Bourbon Bacon Chocolate Chunk Cookies
by The Sweet Chick
Prep Time: 15 minutes + 3hrs chilling
Cook Time: 12 minutes
Keywords: bake dessert snack bourbon whiskey biscoff bacon chocolate chips Father's Day cookie American
Ingredients (11 extra large cookies)
1 large egg
1 cup Biscoff cookie spread
3/4 cup light brown sugar
1/4 cup bourbon whiskey
3/4 cup all purpose flour
2 teaspoons cornstarch
1 teaspoon cinnamon
1 teaspoon baking soda
1/2 cup quick oats
1/2 cup chopped cooked bacon ( about 7 slices)
1 cup chocolate chunks
optional
Instructions
In a stand mixer cream together the egg, Biscoff, and sugar on medium/high speed until light and fluffy (about 4-5 minutes).
Then scrape down the sides of the bowl and add the bourbon and mix on low until fully combined.
Next add the flour, cornstarch, cinnamon, and baking soda. Continue to mix on low until the dough begins to form. It will be a bit oily, that's okay.
Add the oatmeal and chopped bacon, mixing until fully incorporated.
Finally, add the chocolate chunks and mix until evenly distributed. You make have to do some by hand because the pieces are so large.
With a large scoop, place cookie dough mounds on a parchment lined cookie sheet and cover with plastic wrap. Place cookie sheet in the fridge for at least 3 hours before baking. This will prevent them from spreading too much.
When ready, remove from the fridge and allow dough to come to room temperature before placing in the oven. You can preheat your oven to 350º F during this time.
You can also sprinkle each mound of dough with a little sea salt if desired.
Bake cookies at 350º F for 12 minutes, then remove from the oven and leave on the cookie sheet for an additional 5 minutes before transferring to a cooling rack to cool completely.
Enjoy!
Recipe adapted from Softbatch Cookie Butter Brown Sugar Cookies by Averie Cooks