OK, so I've been playing around with Biscoff and Bourbon a little too much lately. However, I did come up with some good results. This week I made you some Biscoff Bourbon Rice Krispie Treats. 'Cause you know sometimes, you just have to add a little booze to your Rice Krispies. You don't always have to make sweets for the kids. My kids get enough sweets as it is. These crispy, crunchy treats that combine the sweetness of Biscoff with the oaky flavor of Bourbon and are topped of with a chocolate bourbon drizzle are for adults only.

Now, I am not the kind of person to drink bourbon straight up, but I do love it in my desserts. It enhances the other flavors. I think alcohol and sweets go well together.
These treats are just as easy to make as regular Rice Krispie treats. Just two extra ingredients. Mmmm, look at that. Don't ya want a bite?
I couldn't put a whole lot of bourbon in the marshmallow treats without them being too soft, so I added more bourbon to the chocolate drizzle.  I just adapted the recipe for the chocolate whiskey sauce I used on my Triple Irish Krispie Pie.  Both sauces are delicious.  I kinda got lazy at this point and just used my measuring cup to pour on the chocolate sauce instead of using a piping bag.  It still worked.  I also sprinkled a bit of sea salt on top of the chocolate before it set.  You don't have to, but it does taste good.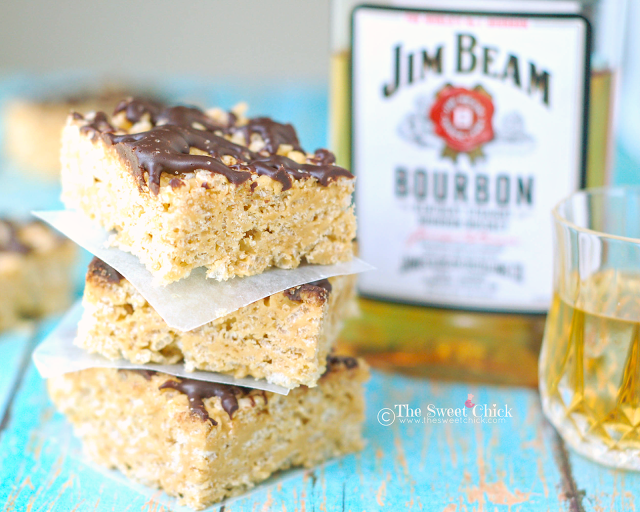 You are going to love the flavors and textures in these Biscoff Bourbon Rice Krispie Treats. They are soft, but crunchy, sweet and salty, with a little bit of alcohol. They would be perfect to bring to your Father's Day gathering. Just keep them away from the kids. They can eat the plain boring Rice Krispie Treats.
Biscoff Bourbon Rice Krispie Treats
by The Sweet Chick
Prep Time: 15-20 minutes
Cook Time: 5 minutes
Keywords: no bake stove top dessert snack bourbon whiskey biscoff marshmallows rice krispies Father's Day bars rice krispie treats American
Ingredients (24 squares)
For the treats
3 tablespoons butter
4 cups mini marshmallows
1/2 cup Biscoff spread
1 tablespoon bourbon
6 cups Rice Krispies cereal (or generic brand)
For the topping
1/2 cup semi-sweet chocolate chips
1/4 cup heavy cream
2 teaspoons bourbon
Optional toppings
Instructions
For the treats
In a large sauce pan, melt butter and marshmallows over low heat. Stir until completely melted.
Remove from heat and add Biscoff and bourbon. Stir until completely mixed.
Then add the Rice Krispie cereal. Mix until all is well incorporated.
Then pour the mixture into a greased 9 x 13 pan or a cookie sheet and spread it evenly with a piece of waxed paper.
Place in fridge to cool and set.
For the topping
Place the chocolate chips in a glass measuring cup with a spout. Set aside.
In a small sauce pan, bring cream to a boil over medium heat.
Pour cream over the chocolate and let it sit for about two minutes, then stir with a small spatula or fork until mixture becomes smooth and glossy.
Add bourbon and mix well.
Remove the cooled treats from the fridge and drizzle the sauce over the treats. I just poured it with the measuring cup, but you can use a fork or spoon.
I put the treats back in the fridge to set the chocolate before cutting them into squares.
Once they are cut, you don't need to keep them in the fridge.
Optional toppings
If you want to add a little sea salt or sprinkles, do so before the chocolate sets.