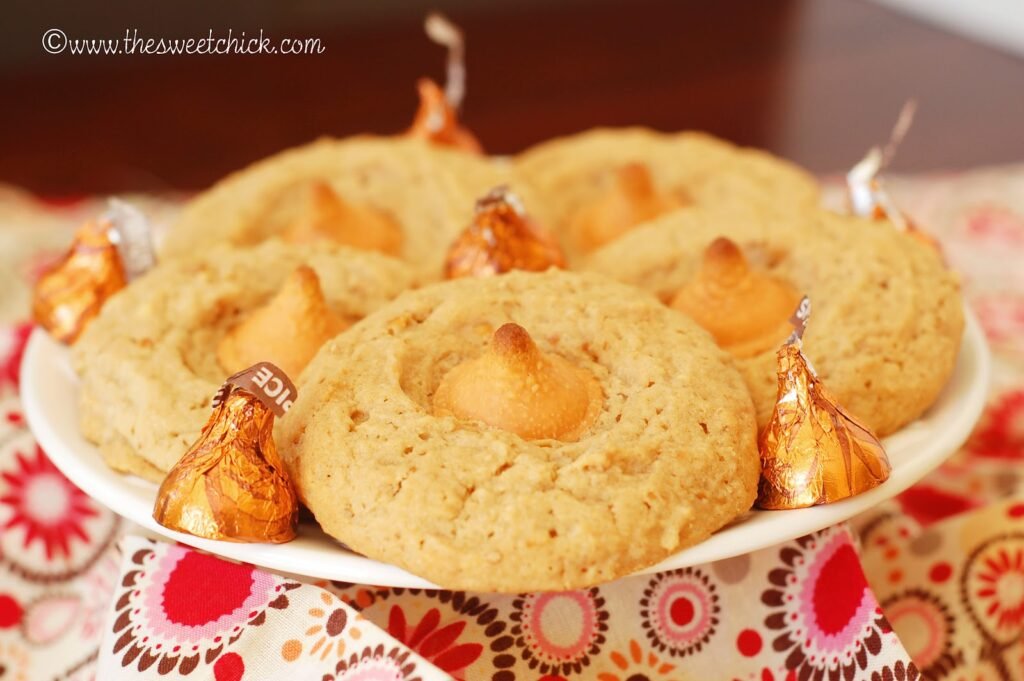 After using all that pumpkin pie spice in my recipes lately, I have really got a craving for it. So when I found the Hershey's Pumpkin Spice Kisses at the grocery, I had to have them. They were all that and a bag of chips. Of course, I saved a few to use in this recipe.
The Pumpkin Spice Kisses have a strong flavor.  I didn't want my cookie to be too rich or too sweet.  I used crushed pretzels to balance out the Biscoff and caramel.  They worked great together before in my Biscoff Caramel Pretzel Bon Bons.  I just adapted them into my recipe for Biscoff Oatmeal Double Chocolate Chips Cookies.  I used a food processor to make the pieces small as possible.  So there are no hard, crunchy bits.
The cookies were a perfect match for the kisses. The only thing I would do different next time, I think, is to chop up the Kisses and spread the pumpkin spice love throughout the cookie. Oh yeah!
Biscoff Caramel Pretzel Cookies with Pumpkin Spice Kisses
by The Sweet Chick
Prep Time: 15 minutes
Cook Time: 10-12 minutes
Keywords: bake dessert biscoff caramel pretzels Hershey's Pumpkin Spice Kisses cookie fall
Ingredients (24 cookies)
1/2 cup Biscoff Spread
1/4 cup caramel spread/caramel topping
1/2 stick (1/2 cup) Crisco Vegetable Shortening
1/3 cup granulated sugar
1/3 cup light brown sugar
4 tablespoons milk
1 teaspoon pure vanilla extract
1 large egg
1 1/2 cups all purpose flour
3/4 teaspoon baking soda
1/4 teaspoon salt
1/2 cup crushed pretzels
24 Hershey's Pumpkin Spice Kisses
Instructions
Preheat oven to 350º F.
In a large bowl or stand mixer combine the Biscoff spread, caramel, shortening, both sugars, milk, and vanilla. Beat at medium speed of electric or stand mixer until well blended. Then add egg and blend again.
In a separate bowl blend together the flour, baking soda, and salt. Add this dry mixture to the wet mixture and mix on low speed.
Slowly add the crushed pretzels until all is well blended.
Using a medium cookie scoop, drop the balls of dough onto a greased cookie sheet about 2 inches apart.
Place one Hershey Kiss in the middle of the ball of dough and press down until the cookie flattens a little and there is a slight indent when the Kiss is.
Bake for 10-12 minutes or until cookies are a golden color. Then let cookies cool on cookie sheet for 2 minutes before removing and placing on cooling rack.