I know absolutely nothing about football, nothing!, except that the 49ers made it to the Superbowl this year, and that, alone, is cause for celebration! Whoo hooooo!!!
Sorry, I get a little carried away when my home team is beating everyone else's butt. But seriously though, I have never watched a football game in my life. Really. (People always sound so surprised when I tell them this.) I don't understand the point (not in a philosophical team-sport sense; I really don't know how points are scored), and it's not fast-paced enough to grip me. Also, and this is going to sound really shallow, football player bodies are just not attractive to me, at all.
I have, however, been to Superbowl parties, and they are always the same: beer guzzling (kegs!), out-of-control testosterone levels, and tables loaded with man-food. Burp. Excuse me.
I'm gussying it up this year, dammit, and here's how: French cheese puffs, a.k.a. gougères.
I realize gougères lie in the realm of snobbish foods and are therefore completely and utterly not suited for football-watching. But once shed of their French-sounding name and associations with champagne and other high-falutin' wines, they are not precious at all, this iteration especially. We're talking cheese, we're talking meat (MEAT), we're talking a buttery carb-y matrix to hold it all together.
Plus, they're really good. Fresh out of the oven, there's nothing I like better than splitting one of these puffs open with a fork, watching the steam escape, and biting into the still soft and gooey dough.
I would choose a gougère over a 5-foot-long sub (are these for real?) any day.
Take that, men.
Of course, I'm not exactly sure where I'll be celebrating the Superbowl this year. I suspect a few of us will gather at Finnerty's in the East Village, the one and only Bay Area bar where I wish I'd watched the World Series a few months ago. I really don't care about the outcome of the game. I just love the opportunity to surround myself with the Bay Area vibe.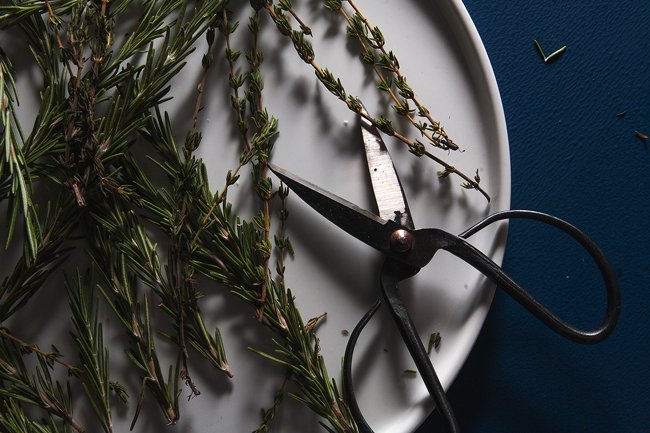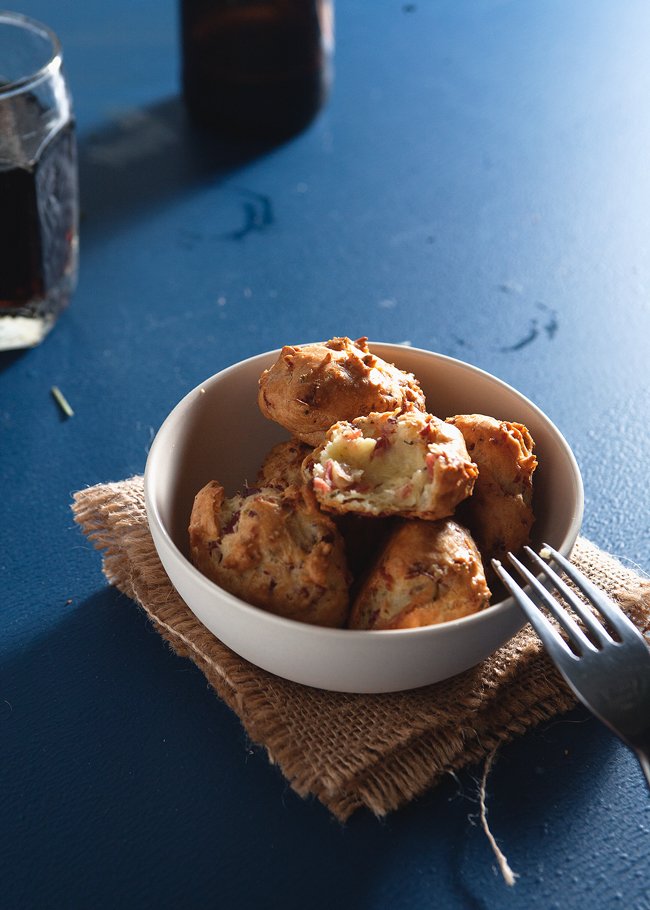 PROSCIUTTO, ROSEMARY, AND THYME GOUGERES
From Leite's Culinaria
Makes 30
Ingredients:
1 cup cold water
6 Tbsp unsalted butter, cut into 6 pieces
1 cup unbleached all-purpose flour
Pinch kosher salt
4 large eggs, room temperature
4 oz. prosciutto, thinly sliced and finely chopped
1-1/4 cups finely grated Parmigiano-Reggiano cheese
2 tsp rosemary leaves, minced
2 tsp thyme leaves, minced
1 tsp freshly ground black pepper
Directions:
Position racks in the top third and bottom third positions of the oven and turn it on to 425 degrees F. Line 2 baking sheets with parchment paper.
Bring the water, butter, and salt to a boil in a medium saucepan over medium-high heat. Dump the flour into the boiling butter mixture all at once and, using a wooden spoon, mix until the flour clumps into a ball and pulls away from the sides of the pan. Continue stirring over medium-high heat until the dough leaves an even, dry film on the bottom of the pan, 2 to 3 minutes.
Drop the dough into the bowl of a stand mixer fitted with the paddle attachment and mix on low speed until the dough is just barely warm to the touch, about 5 minutes. Plop in an egg, increase the speed to medium, and beat until incorporated. The dough may look hopelessly soupy and broken at first, but it will turn smooth and slick as you continue mixing. Repeat with the rest of the eggs, adding them 1 at a time. At this point, the dough will be very sticky. Using a spoon, stir in the prosciutto, cheese, rosemary, thyme, and pepper.
Drop rounded Tbsp of the dough on the prepared baking sheets, spacing them about 2 inches apart. Have a glass of cold water handy and dip the spoon in it every so often to help make the dough easier to scoop.
Bake until golden brown, 20 to 25 minutes, reversing and rotating the sheets once halfway through baking. Transfer the sheets to a wire rack to cool slightly. You can also bake these up to 2 hours in advance, then reheat them in a 350 degree F oven for 5 to 7 minutes.