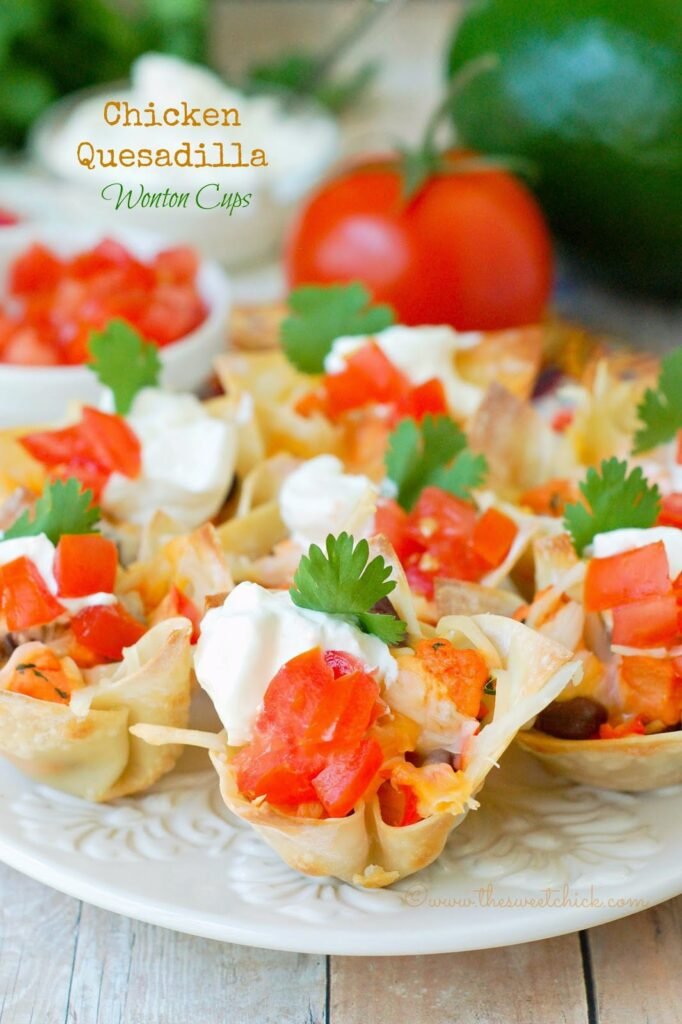 Hope everyone had a nice Easter. We finally had some nice weather here. We were able to spend some time outdoors. The bunny dropped off a few gifts for the kids and left them some jelly bean filled eggs to search for. The kids and I made an Easter cake with some green tinted coconut and Peep bunnies. You can see the pictures on my Instagram. I was going to make a baked ham with maple syrup for dinner with some mashed potatoes and carrots, but I ended up donating all of it to my neighbors and their unexpected guests. We had burgers on the grill instead. Not very Easter-ish, but so very good. Now I am getting ready for the next holiday, Cinco de Mayo, with some Chicken Quesadilla Wonton Cups.

My family had really loved the Chicken Parmesan Wonton Cups I made a back in January, so I was excited to try another version.  We eat a lot of chicken quesadillas, so why not try it in a wonton cup.
I usually use dried cilantro in my quesadillas, but I wanted to try fresh cilantro this time.  It smells so good and even the leaf by itself tastes good.  The only other seasoning I added was Sazon Goya with coriander and annatto.  It adds a lot of great flavor and turns the chicken a pretty orange color.  You can find it with other Goya products in the grocery store or you can make your own version here.
I also added some black beans to the mix. These came seasoned in the can, but you can get the plain ones too. Before filling the wonton wraps, you do need to pre-bake them for about 7 minutes. I just pop them in while I am mixing all the filling together.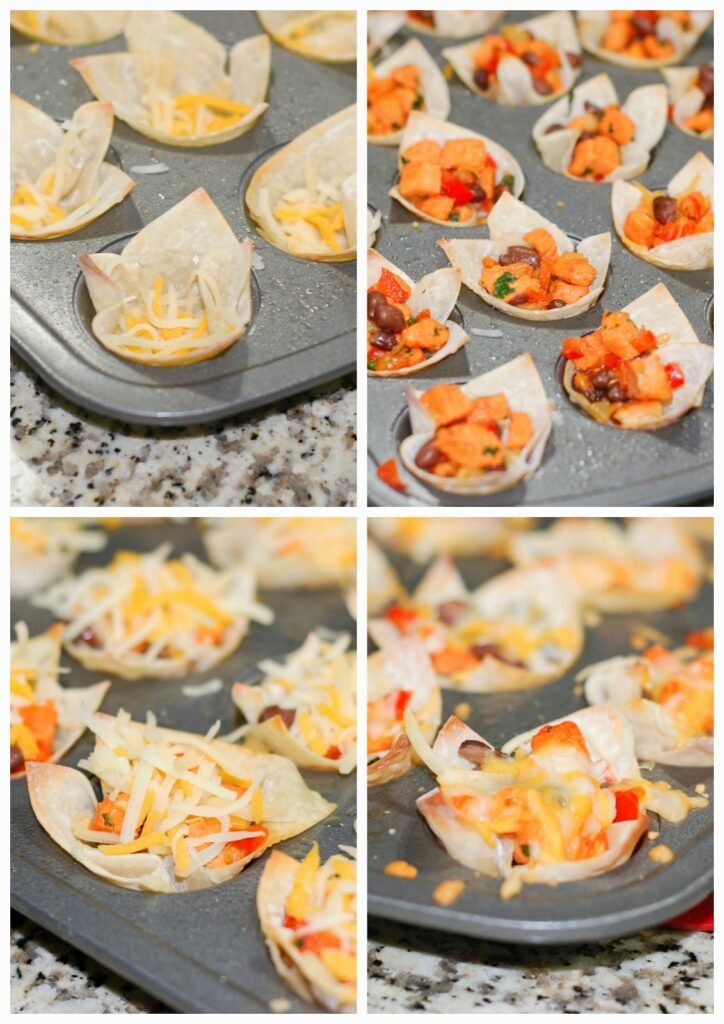 Then it's time to start layering. Sprinkle a little cheese on the bottom of each wonton cup, then add the chicken filling, and finally a little bit more cheese.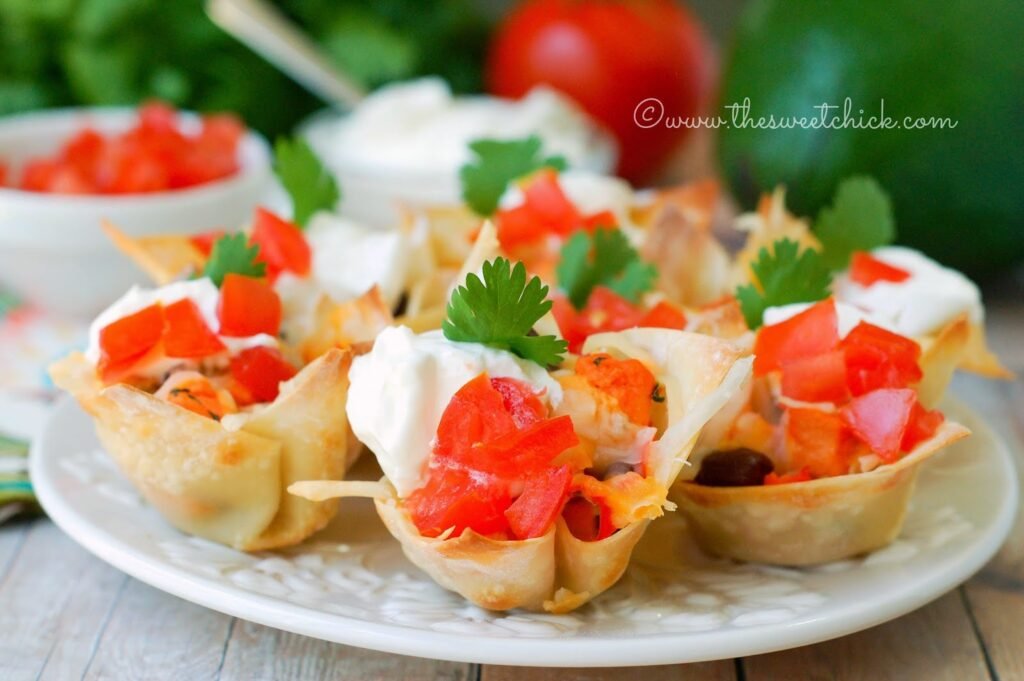 These came out even better than anticipated. The fresh cilantro made such a big difference in the flavor. I couldn't stop eating them. I am convinced that everything tastes better in a wonton cup. My husband ate his plain, but I topped mine with a dollop of sour cream and chopped tomatoes. You can also top it with a little bit of salsa or guacamole. These Chicken Quesadilla Wonton Cups would make a great appetizer for a Cinco de Mayo party or any party. You can set up a little bar where guests can add their own toppings.
I am making myself hungry just by looking at these pictures. I think I need to make some more of these very soon.
Chicken Quesadilla Wonton Cups
by The Sweet Chick
Prep Time: 15-20 minutes
Cook Time: 25-30 minutes
Keywords: bake appetizer snack chicken cheese cilantro wonton wraps Cinco de Mayo Mexican Southwest spring
Ingredients (36 wonton cups)
For the wonton cups
2-4 teaspoons vegetable oil
1/2 cup finely chopped onion
1/2 cup finely chopped red pepper
1 lb boneless, skinless chicken breast, chopped
2 tablespoons chopped, fresh cilantro
1 packet Sazon Goya con Culantro y Achiote (coriander & annatto)
1/2 cup canned black beans (seasoned or plain)
1 package (8 oz.) shredded mexican cheese blend (Sargento or Kraft brands are good)
36 wonton wrappers
Optional toppings
finely chopped tomatoes
sour cream
fresh cilantro
guacamole
salsa
Instructions
For the wonton cups
Preheat oven to 350°F.
In a medium skillet over medium/medium low heat, place 1 teaspoon oil and let warm up for 1-2 minutes.
Add chopped onion and pepper and cook until soft. About 6-8 minutes (Add another teaspoon of oil if needed). Then remove from pan and set aside.
Add a teaspoon of oil, chopped chicken, and cilantro to the pan, sprinkle with the Sazon Goya and cook thoroughly. Approximately 6-8 minutes on the same heat setting.
Remove from pan, drain, and place in a medium bowl. Add the onion, peppers, and beans to the chicken and mix until well blended.
Line greased mini muffin tins with the wonton wraps, pressing down gently to mold the shape.
Place wraps in the oven and bake for 7 minutes, then remove.
Add a pinch of shredded cheese to the bottoms of each cup, then with a spoon, evenly distribute the chicken mixture on top of the cheese.
Sprinkle the remaining cheese over the chicken mixture, evenly distributing over each wonton cup.
Place the wonton cups in the oven and bake at 350°F for 10 minutes or until cheese melts.
Remove from oven and allow to cool slightly before carefully removing from muffin tin. Serve warm.
Optional toppings
You can eat them plain or top them with chopped tomatoes, a dollop of sour cream, a bit of fresh chopped cilantro, guacamole, or salsa. Either way enjoy!
This recipe may be shared at these fabulous parties.