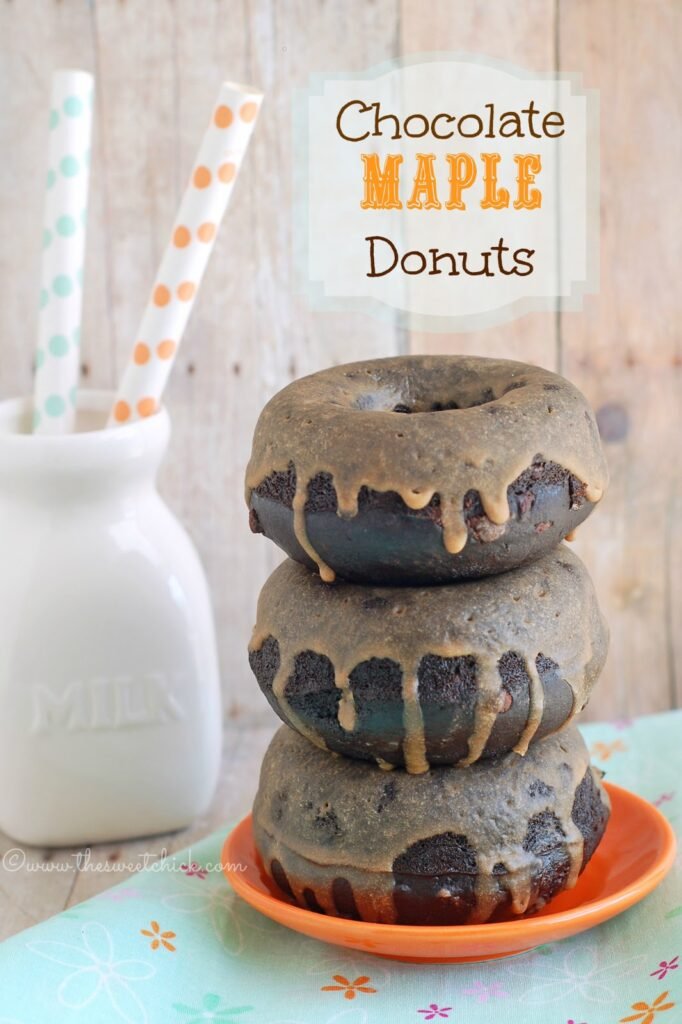 Trying to sell a house is very frustrating.  Especially if you really want to move.  We are still waiting for the people that want to buy our house to sell their place.  If they don't sell, they can't buy and if we don't sell, we can't buy.  So as much as we want to move, we are still not certain we will be able to.  We are playing the waiting game and I suck at it.  In the meantime, I am going to stuff my face with donuts.
Chocolate and maple syrup go great together.  I remember growing up, my dad would always pour maple syrup over his chocolate cake.  So why not bake it into some chocolate donuts, I say.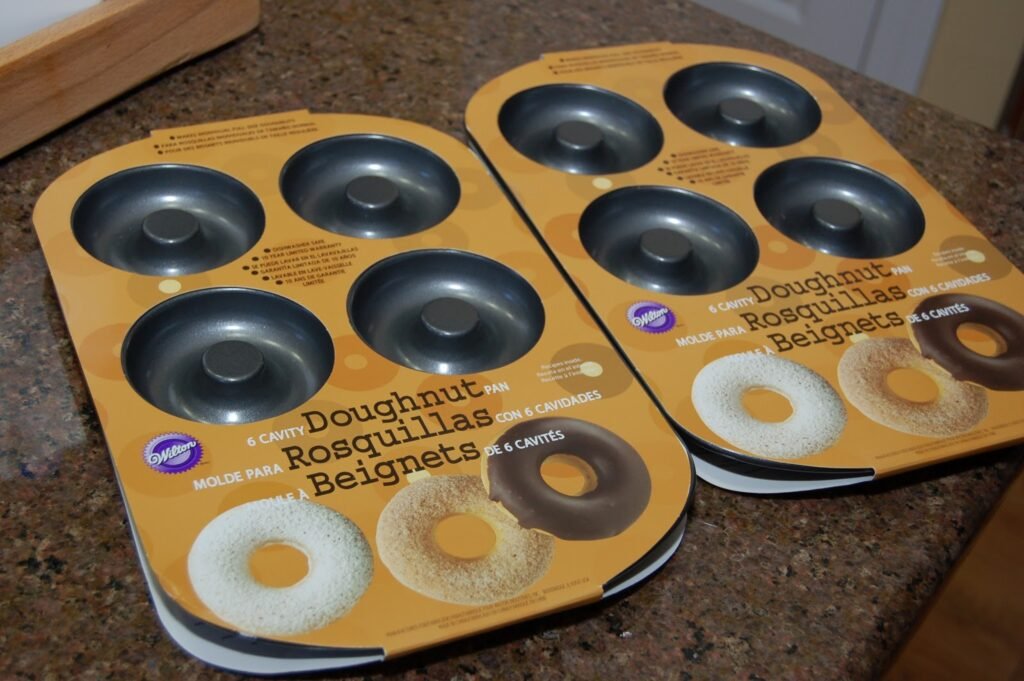 My husband bought me these new pans last month for my birthday.  Now I can make larger donuts.  However, those are a lot more dangerous to have around the house.  At least the mini donuts don't make you feel as guilty for eating them.
I used my favorite Hershey's Special Dark Cocoa to make it a more decadent chocolate treat.  You can go ahead and lick the spoon at this point.  You know you want to.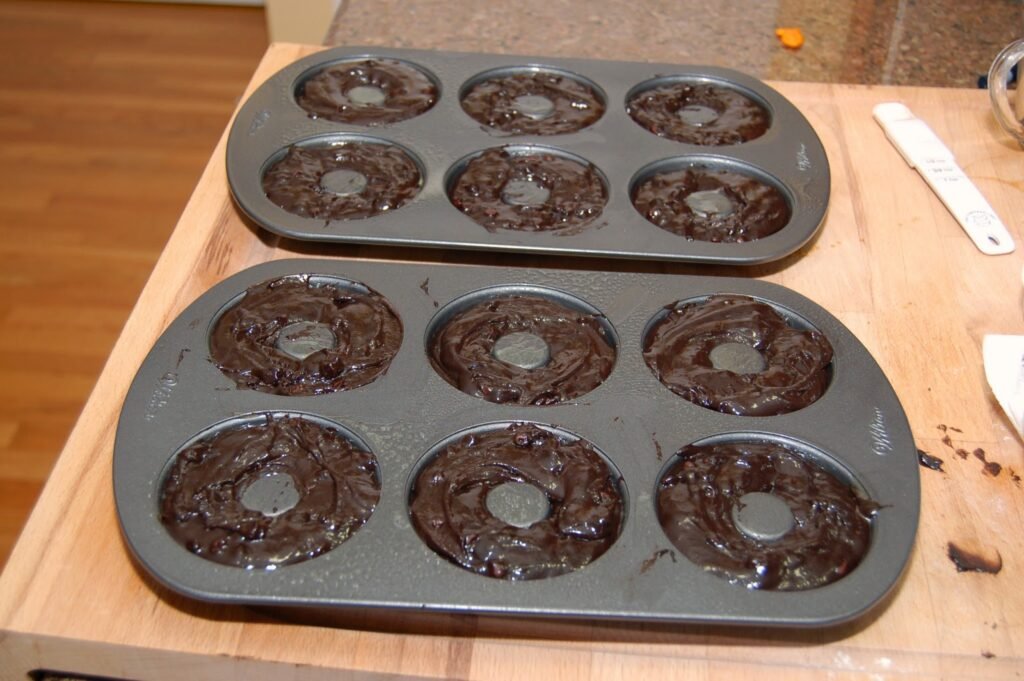 I did make one mistake by filling these pans all the way to the top.  That resulted in my donuts coming out a little extra puffy.
But never fear, I am not going to waste perfectly good donuts.  I just flipped them over and cut out the holes with a small paring knife.
And for the love of donuts, don't throw out those middles, just feed them to the kitchen trolls (kids or animals) that have been hovering around waiting for you to finish up and give them a donut already.
You can leave the donuts plain if you want.  They are rich in chocolate and maple flavor.  Yes, they are cake-like as the original recipe stated.  I wanted to add a little more cinnamon flavor so I added some in the glaze.  You can also make a thicker glaze if you like by adding one less tablespoon of milk.  
I am going to go finish stuffing my face now.  I think these are my favorite chocolate donuts so far.
Chocolate Maple Donuts
by The Sweet Chick
Prep Time: 15 minutes
Cook Time: 12-15 minutes
Keywords: bake dessert snack breakfast dark chocolate chocolate chips maple syrup cinnamon donuts American
Ingredients (12 donuts)
For the donuts
1 cup all purpose flour
1 cup cake flour
2/3 cup Hershey's Special Dark Cocoa
1 cup light brown sugar
1 teaspoon baking soda
1 teaspoon baking powder
3/4 teaspoon salt
1 1/2 teaspoons cinnamon
2 large eggs, beaten
3/4 cup milk
1/2 cup pure maple syrup
1/4 cup Chobani plain yogurt
1 cup mini chocolate chips
For the glaze
1 cup powdered sugar
3 tablespoons milk
1 teaspoon vegetable shortening (Crisco)
1 teaspoon maple essence (or maple extract)
1/4 teaspoon cinnamon
Instructions
For the donuts
Preheat oven to 350º F.
Using a hand mixer or stand mixer, mix together the flours, cocoa, sugar, baking soda, baking powder, salt and cinnamon until well combined.
Add the eggs, milk, maple syrup and yogurt. Mix on low until mixture is smooth and well blended.
Then add chocolate chips and mix until all incorporated.
Use a piping bag or a Ziplock bag with tip cut off, to fill each donut reservoir to about 3/4 of the way full.
Bake at 350ºF for 12-15 minutes until toothpick inserted in the donut comes out clean.
Place hot donuts on cooling rack with a wax paper underneath and prepare the glaze.
For the glaze
In a small bowl whisk together powdered sugar, milk, vegetable shortening, maple essence and cinnamon until smooth.
Dip the tops of each donut in the mixture ,then place back on the cooling rack until the glaze is dry.
Then grab a glass of milk or a cup of coffee and dunk you donut! Enjoy!