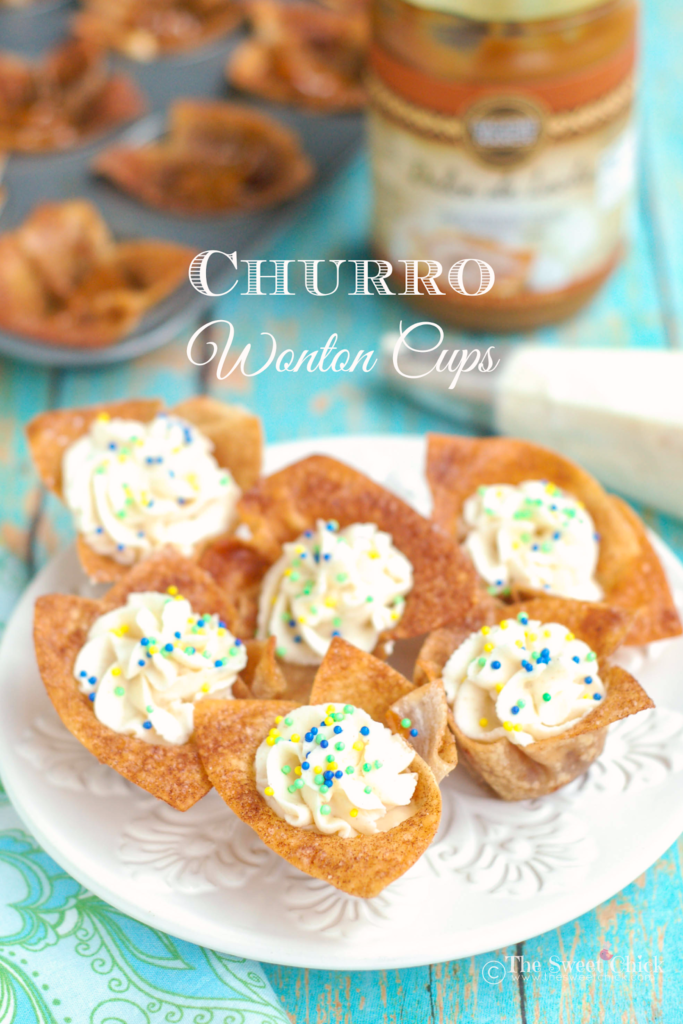 Most people go south for spring break, but we went north.  It was nice to spend Easter with our family and see our friends, however, I could have done without the cold rainy weather.  We had a few warm, sunny days when we got back home, and it felt so good.  Then the weather took a turn and we are back to cold, rainy weather down here too. Yuck! I needed a little pick-me-up to get me through this dreary week, so I made these cute, little Churro Wonton Cups.  They are kind of like the Churro Puff Pastry I made two years ago, but crunchier.  There are just never enough churro recipes in this world.  These are great for any Cinco de Mayo parties you may have coming up or just as a sweet pick-me-up to brighten your day.
As you can see, there are not too many ingredients and most all can be found at the grocery store. I bought the dulce de leche at World Market. I like this brand because it is very thick, great for fillings.
Just spread a little melted butter onto one side of the wonton wrapper. On my first attempt at making these, I brushed the butter on with a silicon brush, but that made the wrappers too buttery. So the next attempt, I just used my finger and spread just enough butter for the cinnamon sugar to stick. It worked out much better. Then bake the wontons for 7-9 minutes and fill.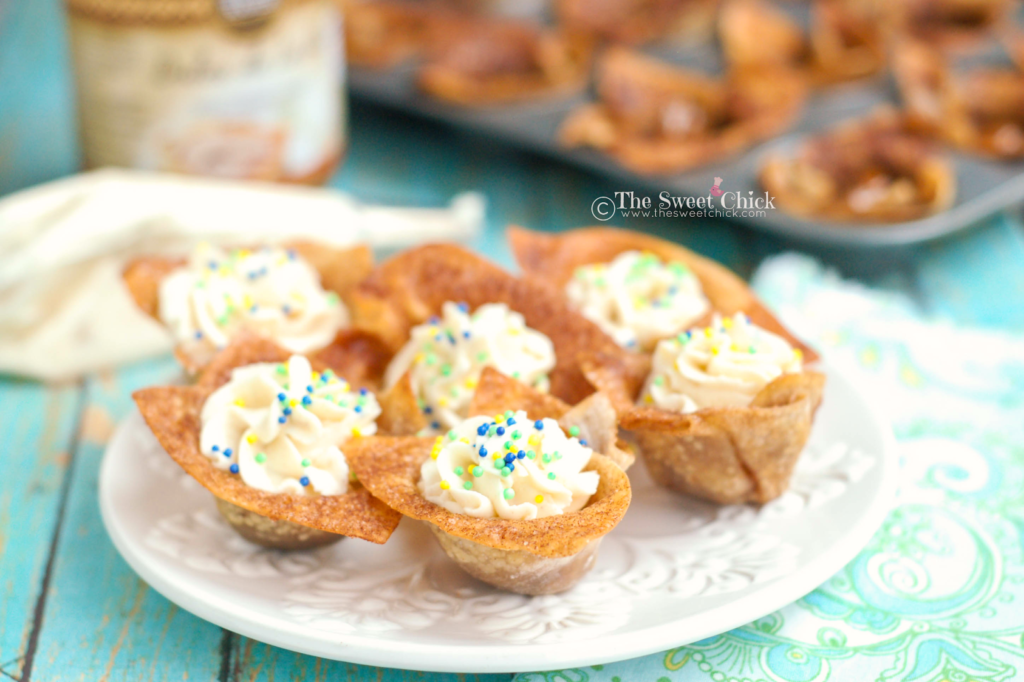 I used a Wilton #2D tip and piping bag to add the whipped mascarpone frosting and added some sprinkles for a pop of color. The cinnamon in the frosting blends well with the cinnamon sugar on the wontons and it balances off the richness of the dulce de leche. The crunchy outer shell contrasts perfectly with the soft, creamy fillings. I dare you to try eating just one.
If you like churro recipes, you can try these others that I've concocted over the years.
Churro Cupcakes
Mini Churro Donuts
Churro Donut Holes
Churro Macarons
Churro Puff Pastry
Churro Crepes 
Churro Wonton Cups
by The Sweet Chick
Prep Time: 20-25 minutes
Cook Time: 7-9 minutes
Keywords: bake dessert snack cinnamon dulce de leche mascarpone cheese wonton wraps Cinco de Mayo wonton cups Mexican spring
Ingredients (12 servings)
For the cinnamon sugar
1/2 cup sugar
1 tablespoon ground cinnamon
For the cups
1 tablespoon butter, melted
12 wonton wraps
For the filling
For the topping
4 oz. mascarpone cheese
1/4 cup powdered sugar
1/8 teaspoon ground cinnamon
1/2 cup heavy whipping cream
Optional toppings
Instructions
For the cinnamon sugar
In a small bowl, mix together the cinnamon and sugar until well blended.
For the cups
Preheat oven to 350°F.
Lightly brush one side of the wonton wraps with the butter ( I used my finger).
Sprinkle the cinnamon sugar over the butter on each wonton.
Place wonton wraps sugar side up in a greased mini muffin tin ( I used Baker's Joy to grease the tin).
Bake at 350°F for 7-9 minutes, until golden brown and crispy.
Remove from oven and let cool completely.
For the filling
Evenly distribute the dulce de leche at the bottom of each wonton cup.
For the topping
With stand mixer on medium speed (with whisk attachment), whisk heavy cream until stiff peaks form (be careful not to over beat, or cream will be grainy).
In another bowl, stir together mascarpone, cinnamon, and powdered sugar until smooth.
Gently fold whipped cream into mascarpone mixture until completely incorporated.
Pipe frosting evenly over the dulce de leche in each wonton cup ( I used a Wilton #2D tip).
Serve immediately.
Optional toppings
Add sprinkles to the frosting if you wish
Notes
Wonton cups can be made ahead of time and kept in an airtight container at room temperature (2-3 days max).
Frosting can be made ahead of time and kept in an airtight container in the fridge (3-4 days max).
Frosting recipe adapted from Martha Stewart