I did not grow up in a sport-playing or sport-watching household. The only sport my husband's family watches is soccer, mostly the World Cup games and that is only on every four years. So last weekend was just a regular weekend for us. No crazy Superbowl parties. No yelling, no screaming, no cursing, no jumping, no arms waving. Just a nice peaceful family weekend. I used this quiet time to bake a cake.
I had Valentine's on the brain when making this cake, but really you can make it for any occasion.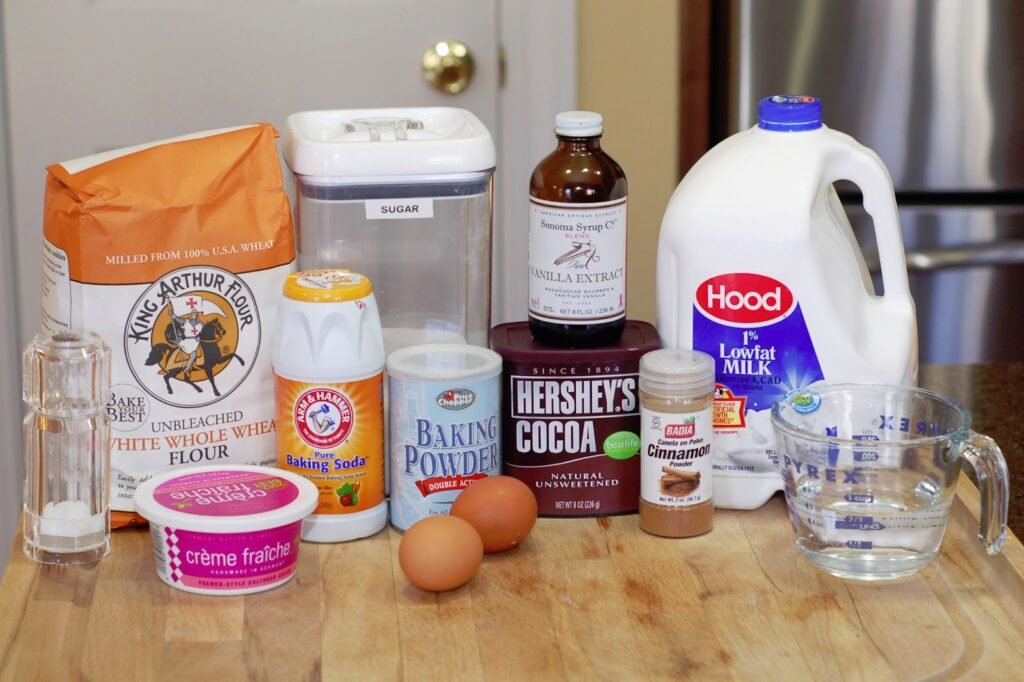 I still had two jars of homemade dulce de leche left and wanted to use some as a filling.  Usually my in-laws use it to fill a yellow cake, but I wanted a chocolate cake.  I also knew I wanted to make the Cinnamon Mascarpone Frosting I made for my Churro Cupcakes.  I really love that frosting.  It's light, fluffy and not too sweet. Then I thought I would try adding cinnamon to the cake also to give it a little extra special taste.
The cake recipe makes two 9 inch round cakes, but since I had a 9 inch heart cake pan, I made two heart shaped cakes. They did turn out with some bubbling in the middle, but they were completely baked and I was going to cover them with frosting anyway.
For the filling I piped a small border of frosting around the sides of the cake and filled it in with a dulce de leche and crème fraïche mixture, then topped it with thinly sliced strawberries. Then I simply placed the other cake on top and frosted it.
I did go a little fancy on the frosting. I wanted to try a floral type pattern. I used an Ateco #827 tip and just swirled flowers all around the cake. I was in kind of a rush to finish before the baby woke from his nap, so it is not perfect. We will just call it a rustic look.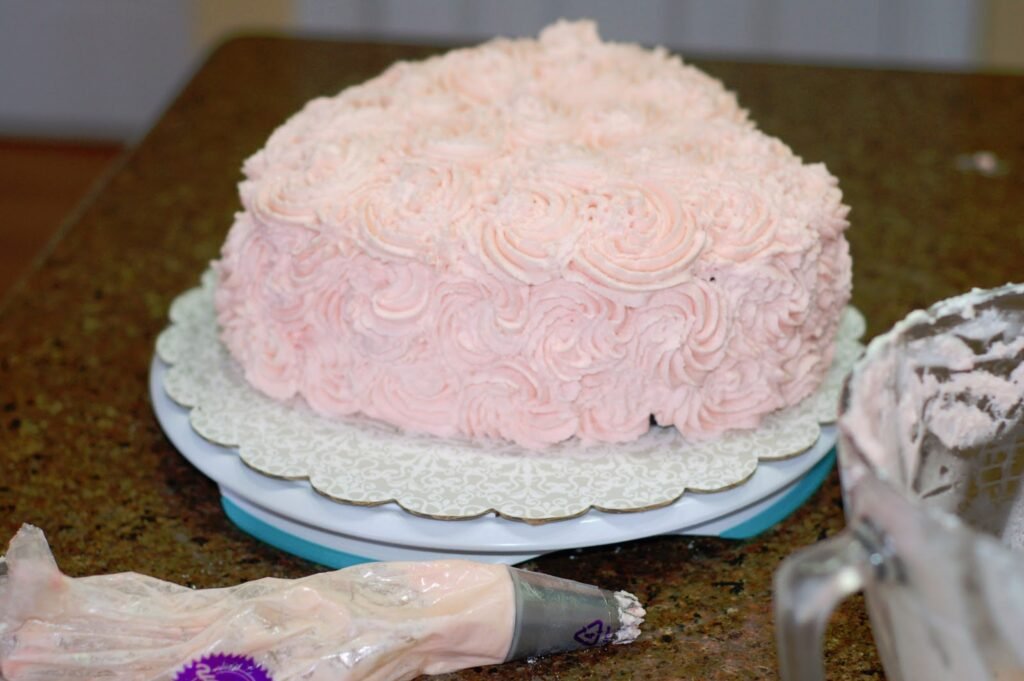 Then of course it looked to plain to me, so I added some lettering. I didn't want to mess up the cake by writing directly on it, so I chose to use chocolate candy melt. I traced the cake pan on a piece of white paper, and wrote my lettering on it. Then I placed a piece of wax paper over the paper and taped it to the counter. With a piping bag and a Wilton #4 tip, I traced the letters with chocolate melt and let them harden, then carefully peeled them from the wax paper and placed them on the cake.
I was very pleased at how the cake turned out, especially the taste. The complimentary cinnamon in the cake and in the frosting was a treasure. And the sweetness of the the dulce the leche and the strawberries paired well with the chocolate cake. The cake was moist, but not heavy, the filling was not overpowering, just a tease in the middle. And the frosting was the pièce de résistance. A symphony of flavors with a dramatic ending.
Cinnamon Chocolate Cake with Cinnamon Mascarpone Frosting
by The Sweet Chick
Prep Time: 20-30 minutes
Cook Time: 30 minutes
Keywords: bake dessert chocolate cinnamon dulce de leche whipped cream cake
Ingredients (two 9 inch cakes)
For the cake
2 cups sugar
1 3/4 cups flour
3/4 cup cocoa
1 1/2 teaspoon baking powder
1 1/2 teaspoon baking soda
1 teaspoon salt
1 teaspoon ground cinnamon
2 eggs
1 cup milk
1/2 cup crème fraîche or sour cream
2 teaspoons vanilla extract
3/4 cup boiling water
For the filling
1/2 cup dulce de leche
1/2 tablespoon crème fraîche or sour cream
1 cup fresh strawberries, thinly sliced
For the frosting
2 cup heavy cream
16 ounces mascarpone cheese, room temperature
1 cup confectioners' sugar, sifted
1/2 teaspoon cinnamon
3 drops red food coloring
Instructions
For the cake
Preheat oven to 350º F.
In a large bowl, sift together sugar, flour, cocoa, baking powder, baking soda, cinnamon and salt.
In a stand mixer place eggs, milk, vanilla, and crème fraîche. Mix on low for about 1 minute.
Add dry ingredients to wet ingredients and mix on low for about 3 minutes until all incorporated.
Stir in boiling water and carefully mix on low until batter is smooth (batter will be thin).
Divide batter into two greased 9 inch cake pans.
Bake at 350º F for 30 minutes or until toothpick inserted in center comes out clean.
Cool completely before filling.
For the filling
In a small bowl mix together the dulce de leche and crème fraîche, until smooth.
Using a pastry bag with tip or a Ziplock bag with tip cut off, pipe a border around the outer edge of the first cake.
Fill in with the dulce de leche mixture and spread evenly with spatula.
Then placed sliced strawberries over the mixture.
Place second cake on top of first one, lining up the edges.
Place cake in fridge while preparing frosting.
For the frosting
With an electric mixer on medium speed, whisk heavy cream until stiff peaks form (be careful not to overbeat, or cream will be grainy).
In another bowl, whisk together mascarpone, cinnamon and confectioners' sugar until smooth. Gently fold whipped cream into mascarpone mixture until completely incorporated. Add food coloring as you fold.
Using your pastry bag and favorite tip or with a spatula, spread the frosting over the cake, completely covering it, then place in fridge to set. Keep refrigerated.
Cupcake recipe adapted from Hershey's Kitchens
Filling recipe by The Sweet Chick
Frosting recipe adapted from Martha Stewart