We had an open house over the weekend to bring some more interested buyers into our home and hopefully spark a sale. Prepping the house each time a potential buyer wants to come see it has become a nuisance, but we are keeping out fingers crossed that we will find someone to buy our home. So I didn't have much time for baking, but I was in the mood for something chocolaty and I found a bag of Cherry M&M's at Target the other day that I have been dying to try. Chocolate and cherry cookies seemed like a great idea.
I do like cherry flavored food, and dark cherries, but I do not like maraschino cherries. And what I detest the most is a finding one inside a perfectly good piece of chocolate. Yuck!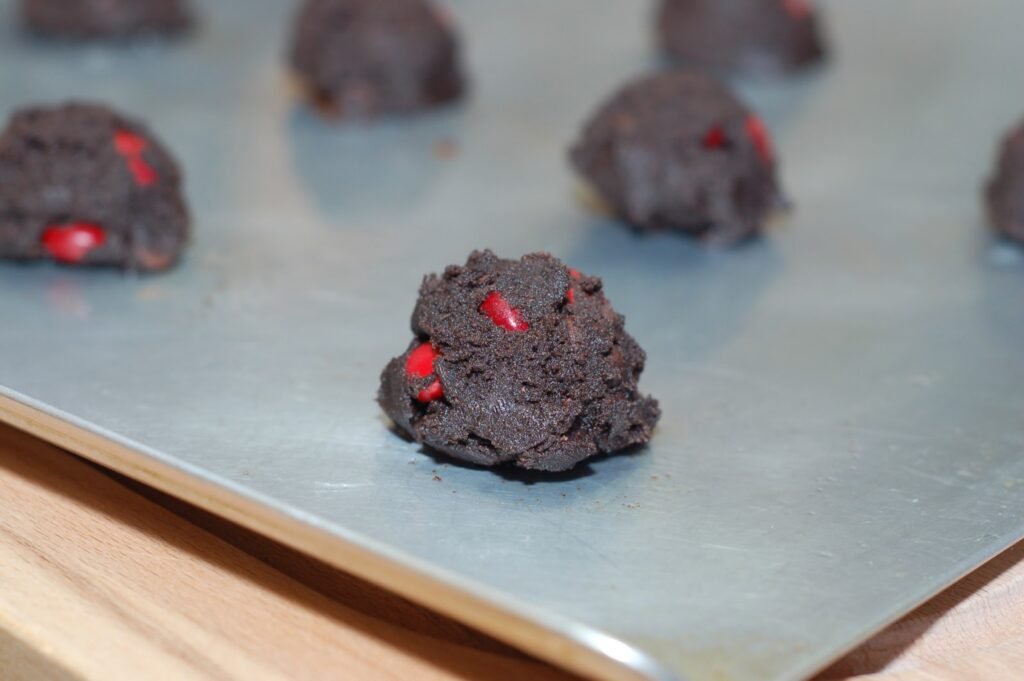 I did try the M&M's before baking and they were quite good. I thought they would pair well with a deep dark chocolate cookie, so I substituted Hershey's Dark Cocoa for regular cocoa in the original recipe.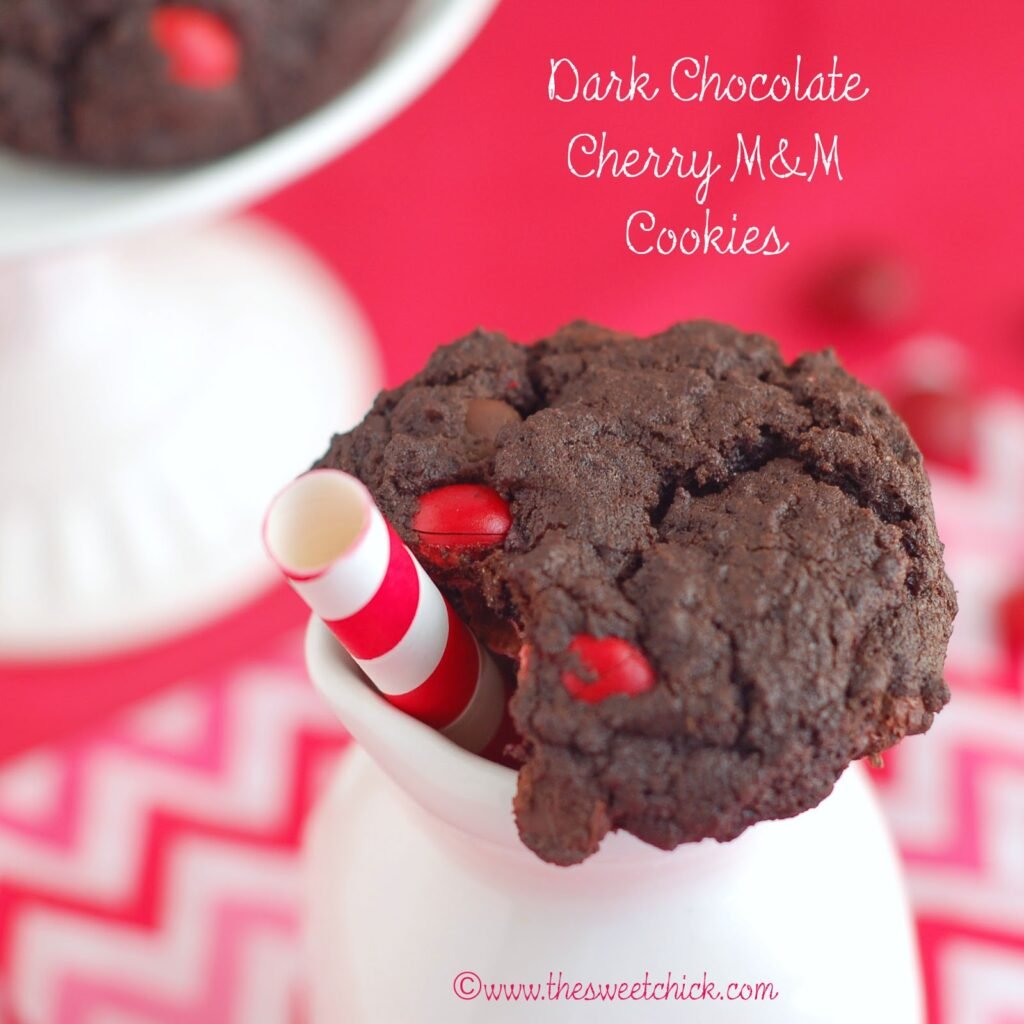 I am quite happy with my decision. These cookies are so rich and flavorful. I couldn't stop eating them. These are intense cookies. Eat at your own risk (of not being able to stop). If you feel like sharing, these would be a great Valentine's gift.
Dark Chocolate Cherry M&M Cookies
by The Sweet Chick
Prep Time: 15 minutes
Cook Time: 10-12 minutes
Keywords: bake dessert snack dark chocolate cherry cookie American
Ingredients (24 cookies)
1/2 + 2/3 cups semi-sweet chocolate chips
1 cup all purpose flour
1/4 cup Hershey's Dark Cocoa
1 teaspoon baking soda
1/2 teaspoon salt
1/2 cup (1 stick) butter, softened
1/2 cup light brown sugar
1/4 cup granulated sugar
1 large egg
1 teaspoon vanilla
1 cup Cherry M&M candies
Instructions
Preheat oven to 325º F.
Place 2/3 cups chocolate chips in a glass container and microwave at 30 second intervals until fully melted, stirring in between. Set aside.
In a stand mixer combine flour, cocoa, baking soda and salt. Mix on low until well blended.
Add butter and sugars and mix for 1 minute.
Pour in the melted chocolate, then add egg and vanilla and mix well.
Add the remaining 1/2 cup chocolate chips and mix on low until fully incorporated.
Then add the M&M's and mix by hand as not to break the candies.
Place by cookie scoop full on greased baking sheets about 2 inches apart.
Bake at 325º F for 10-12 minutes or until the tops have cracked and a tooth pick inserted in the middle comes out with moist crumbs.
Place cookies on cooling rack and let cool completely.
Then enjoy with a nice tall glass of milk!