Sorry, but I still can't get enough of the chocolate and ginger combo. I am addicted. I just want to put it in everything. I think they need to make a chocolate ginger cereal. Oooh…that would be really good!
Regretfully, I only got to sample one of these heavenly scented cupcakes before shipping them out to my daughter's school. I signed up to bake once a month for hot lunch days. Which is good, because if these had stayed in the house, I would have eaten them all myself. Well, maybe I would have to fight my husband for them. He loves ginger too.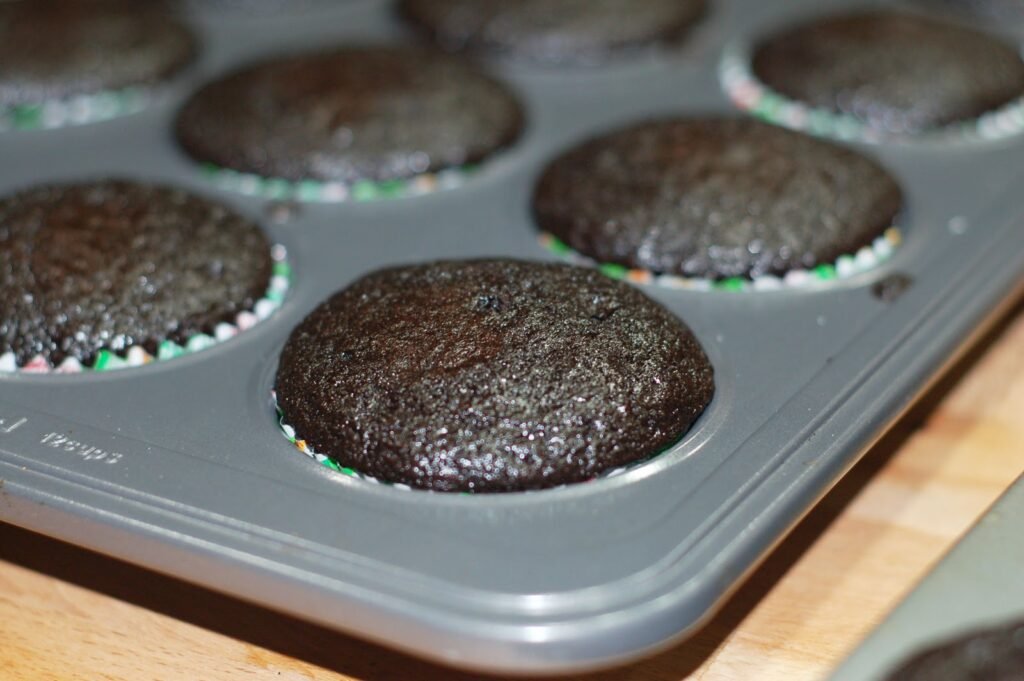 I like that the cupcakes were light an airy.  I wanted to add a light fluffy frosting like my Cinnamon Mascarpone Frosting, but that would require the cupcakes to stay refrigerated, so it wouldn't work in this case.  I did use mascarpone cheese anyway, but in more of a buttercream style frosting.
I may or may not have squeezed the contents of my pastry bag into my mouth as I savored the creamy mascarpone frosting. I think I will just blame it on the Elf on a Shelf. I have seen him get into all sorts of trouble on Instagram. He made me do it.
These go great with a tall glass of eggnog. Go ahead and make some for your holiday party.
Dark Chocolate Ginger Cupcakes with a Vanilla Mascarpone Frosting
by The Sweet Chick
Prep Time: 20-30 minutes
Cook Time: 15 minutes
Keywords: bake dessert ginger cinnamon cloves molasses Christmas cupcake
Ingredients (30 cupcakes)
For the cupcakes
2 cups sugar
2 cups all purpose flour
3/4 cup Hershey's Special Dark Cocoa
1 1/2 teaspoon baking powder
1 1/2 teaspoon baking soda
1 teaspoon ground ginger
1 teaspoon ground cinnamon
1 teaspoon ground cloves
1 teaspoon salt
2 eggs
1 cup milk
1/2 cup dark molasses
1/4 cup vegetable oil
1 cup boiling water
For the frosting
8 oz. mascarpone cheese
8 tablespoons (1 stick) unsalted butter, softened
4 cups powdered sugar
2 tablespoons eggnog (or milk)
2 teaspoons vanilla bean paste (or pure vanilla extract)
Instructions
For the cupcakes
Preheat oven to 350º F. Line muffin tins with cupcake liners.
In a large bowl, sift together sugar, flour, cocoa, baking powder, baking soda, ginger, cinnamon, cloves and salt.
In a stand mixer place eggs, milk, molasses, and oil. Mix on low for about 1 minute.
Add dry ingredients to wet ingredients and mix on low for about 3 minutes until all incorporated.
Stir in boiling water and carefully mix on low until batter is smooth (batter will be thin).
Pour batter into prepared muffin tins using a small ladle, until 3/4 full.
Bake at 350º F for 15 minutes or until toothpick inserted in center comes out clean.
Cool completely before frosting.
For the frosting
In a stand mixer, cream together the mascarpone and butter until well combined.
Add powdered sugar 1 cup at a time, stirring in between.
Add eggnog (or milk) and vanilla. Mix on medium until all incorporated and smooth.
Frost cupcakes anyway you like, with a piping bag or a spatula. Feel free to add sprinkles.
Then go ahead and peel one open and take a bite!
(cupcake recipe adapted from Hershey's Kitchens)