Ok, Valentine's is over.  Time for some St. Patrick's Day fun.  Are you with me?  I had a lot of fun with Guinness recipes last year (Dark Chocolate Rice Krispie Treats, Dark Chocolate Guinness Fudge, and Guinness Dirt Cake Shooters) and already have a few ideas in my head for this year's celebration.  And since St. Patrick's Day is the day after my birthday, it's always a celebration.  Today I made these Dark Chocolate Guinness Cookies.  If you like rich dark chocolate and moist fudgy cookies, you are going to love these.
I wanted a deep, dark, intense cookie, so I used dark brown sugar, dark cocoa, and dark chocolate chips. These flavors really compliment the Guinness beer.
The oatmeal gives the cookies a nice texture. Guinness is a thick, heavy beer. I wanted the cookies to reflect that heartiness. The white chocolate chips change up the flavors a little bit.
The cookies did spread a little, but still remained a good thickness. I used parchment paper on top of my baking pans for these cookies. I am glad I did. The cookies were too soft to remove from the pan right away, so I was able to slide the parchment paper and cookies off the pan, onto the counter to let them cool more while being able to continue using my pan to bake the rest of the cookies.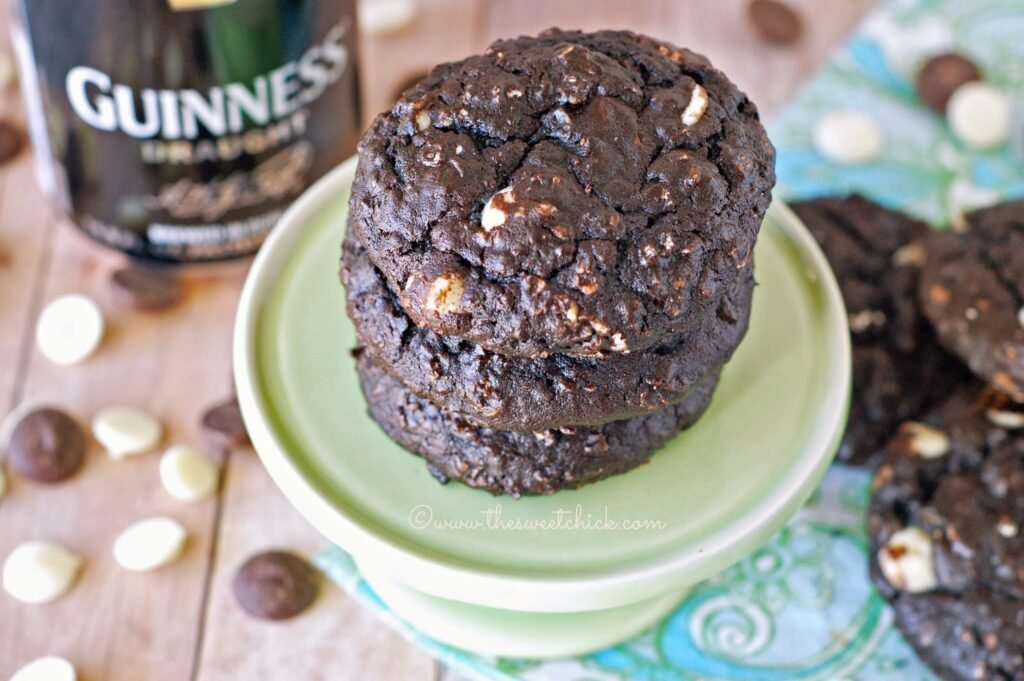 The cookies came out moist, soft, chewy, fudgy, and absolutely delicious. They taste great on their own with the mix of white and dark chocolate, but if you really want to enhance the flavor, drizzle a little bit of caramel on them and sprinkle on a little bit of sea salt. Oh my, that just brings it to a whole other level of intense flavor.
Come on, join the fun. What will you make with your Guinness for St. Patrick' Day?
Dark Chocolate Guinness Cookies
by The Sweet Chick
Prep Time: 15 minutes
Cook Time: 10-12 minutes
Keywords: bake dessert snack dark chocolate guinness beer oatmeal St. Patrick's Day cookie American
Ingredients (36 cookies)
For the cookies
3/4 cup butter, softened
3/4 cup sugar
1/2 cup dark brown sugar
1 egg
1/2 cup Guinness beer
3/4 cup all purpose flour
3/4 cup Hershey's Special Dark cocoa
1/2 teaspoon salt
3/4 teaspoon baking soda
1 2/3 cups quick oats
1 cup white chocolate chips
1/2 cup dark chocolate baking chips
Optional toppings
Instructions
For the cookies
Preheat oven to 350°F.
In a stand mixer, cream together the butter and sugar until smooth. Then add egg and beer. Mix on low until well blended.
In a medium bowl combine the flour, cocoa, salt, and baking soda. Slowly add the dry ingredients to the mixer bowl.
Add quick oats and mix on low until completely incorporated.
Then add the white chocolate and dark chocolate chips. Mix until they are evenly distributed.
Use a cookie scoop to place batter onto parchment lined baking sheets. Place scoops at least 2 inches apart.
Place in oven and bake for 10-12 minutes. (I baked mine for 12.)
Remove cookies from oven and slide parchment paper with cookies off the baking sheet onto a flat surface and let cool for a few minutes before placing on cooling rack to cool completely.
Optional toppings
Once cooled, you can drizzle cookies with caramel and sprinkle with sea salt before serving. Enjoy!