I have found my pot of gold at the end of the rainbow. Inside were these fabulous donuts. They are full of dark chocolate flavors and Guinness beer made even more decadent by being topped with a light, creamy buttercream frosting made with Bailey's Irish Cream. The combination of all the flavors takes me straight over the rainbow. They are out of this world. I really worked hard on not eating them all myself. Instead, I was kind enough to share these with my neighbors. They are so helpful when it's time for taste testing.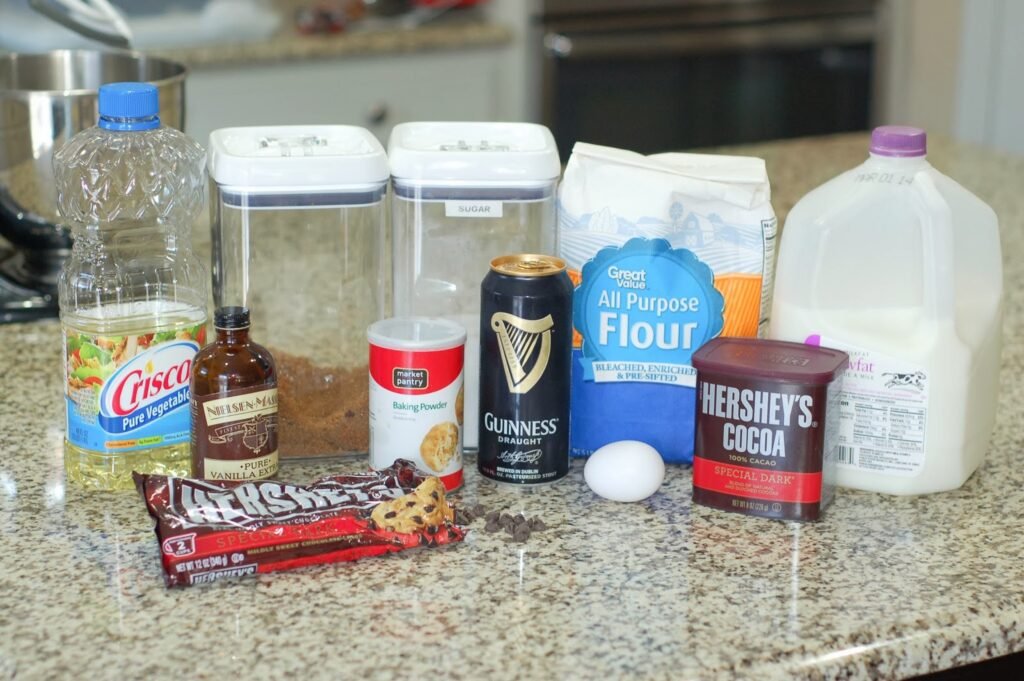 I baked these donuts in the oven using my Wilton donut pans.  They are the regular sized donuts, not the mini ones.  I actually adapted my recipe for Mini Chocolate Oreo Donuts to make these.
Like the Dark Chocolate Guinness Cookies I made the other day, I used dark brown sugar, dark cocoa, and dark chocolate chips.  Dark chocolate and Guinness are just the best of friends.
The frosting was super easy to make and it had the most delicious flavor without being too sweet. It paired well with the moist chocolate donuts.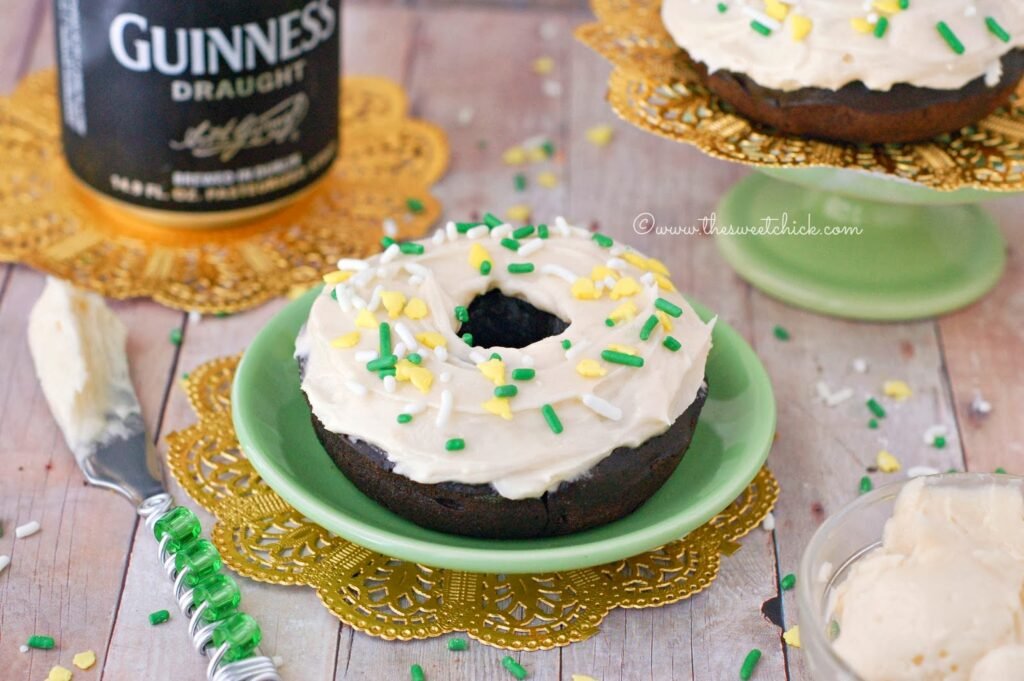 I got a lot of great compliments from my neighbors on these Dark Chocolate Guinness Donuts. The only ones that were not happy were the kids. They couldn't eat the donuts because of the alcohol content. But I usually sugar up the neighborhood kids with my other treats, so now it was time for the adults to enjoy. What kind of treats are you making for St. Patrick's Day?
Dark Chocolate Guinness Donuts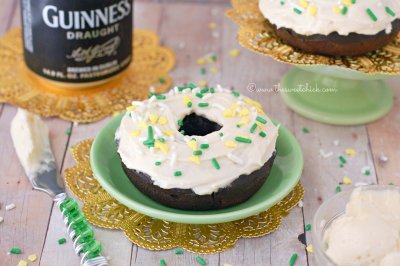 by The Sweet Chick
Prep Time: 20 minutes
Cook Time: 5-7 minutes
Keywords: bake dessert snack guinness beer dark chocolate chips dark cocoa Bailey's Irish Cream St. Patrick's Day donuts American
Ingredients (14 donuts)
For the donuts
1 3/4 cups all purpose flour
1/2 cup Hershey's Special Dark cocoa
1/2 cup dark brown sugar
1/4 cup granulated sugar
1 tablespoon baking powder
1 egg, beaten
3/4 cup Guinness beer
1/2 cup milk
1/4 cup vegetable oil
1 teaspoon vanilla extract
1 cup Hershey's Special Dark chocolate chips
For the frosting
1/2 cup vegetable shortening (Crisco)
1/2 cup butter, room temperature
3 cups powdered sugar
4 tablespoons Bailey's Irish Cream
1 teaspoon vanilla extract
Instructions
For the donuts
Preheat oven to 425° F.
In a stand mixture combine the flour, cocoa, sugars, and baking powder. Mix on low until well blended.
Add egg and beer, mix on low until completely mixed, scraping down sides of bowl as needed.
Then add milk, oil, and vanilla extract and continue mixing until fully incorporated.
Finally, add chocolate chips and mix just until well distributed.
With a spoon or a Ziplock bag with the tip cut off, fill each well of your greased donut pan with the batter. You want to fill it just a slight bit less than flush.
Place pans in the oven and bake for 5-7 minutes or until a toothpick inserted in the center comes out clean.
Remove from the oven and place donuts on a cooling rack and cool completely before adding frosting.
For the frosting
In a stand mixer, cream together the shortening and butter. Then add sugar and mix on low until well blended.
Next add the Bailey's and vanilla extract. Mix on medium speed until smooth.
Frost each donut with a spatula and add sprinkles if you want.
Note
Donuts can be left at room temperature in an airtight container. I placed mine in the fridge because it was a very hot day here today, but I left them out at room temperature for a while before eating. They taste better at room temperature.