Sorry, but I was in a dark place this past week. Dark chocolate place that is. I love, love, love dark chocolate. Whenever I eat a piece of milk chocolate, I always feel like something is missing. Then I eat a piece of rich, flavorful dark chocolate and my taste buds do a happy dance. There is this little deli near the office that I frequent when I need a snack and they carry the best dark chocolate bar with pistachios. It is to die for. I wanted to try to incorporate those flavors into a cookie. I think I got it right.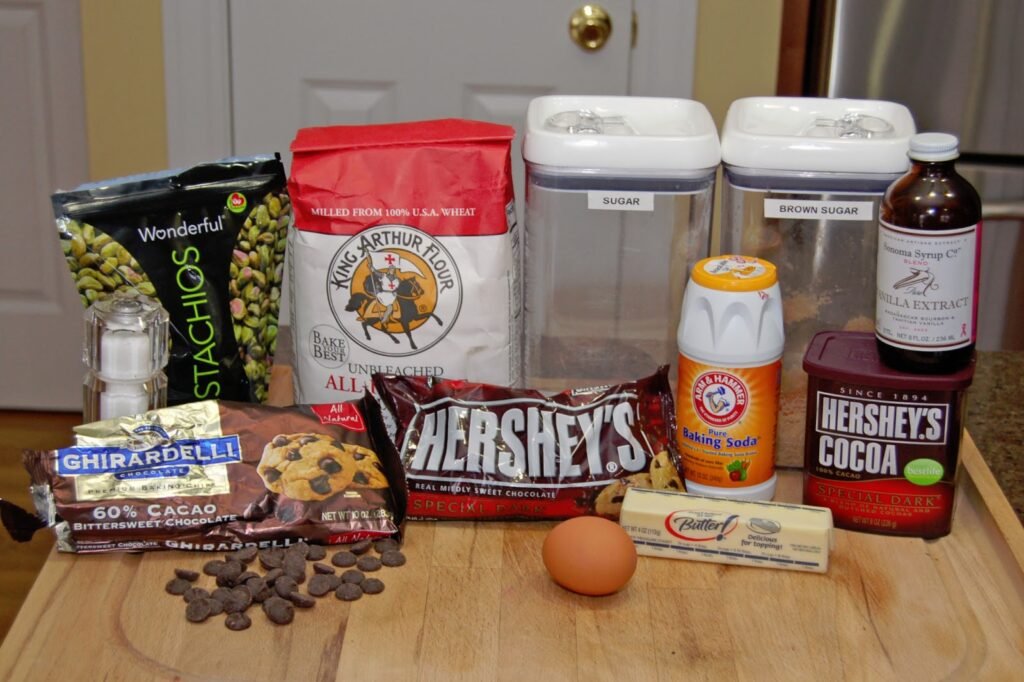 I was lucky enough to find a bag of shelled pistachios so I didn't have to sit there and open them up one by one. Of course having that bag in the house is very tempting. Pistachios are just so tasty. I usually only eat a hand full at a time because it takes so long to open the shells, especially the ones that don't have a crack in them.
For theses cookies, I used the same basic recipe as the Dark Chocolate Cherry M&M Cookies, just changed the chocolate a bit and added pistachios instead of M&M's.
I baked up one batch and did a taste taste. They were good, but lacking something. So I added a pinch of sea salt to the tops of the second batch before popping them in the oven. Oh boy, that was it. The sea salt really brought the dark chocolate and pistachio flavors together. My taste buds were very happy.
Dark Chocolate Pistachio Cookies
by The Sweet Chick
Prep Time: 15 minutes
Cook Time: 10 minutes
Keywords: bake dessert snack dark chocolate dark chocolate chips cookie American
Ingredients (32 cookies)
2/3 cup Ghirardelli 60% cocoa bittersweet baking chips
1 cup all purpose flour
1/4 cup Hershey's Dark cocoa
1 teaspoon baking soda
1/2 teaspoon salt
1/2 cup (1 stick) butter, softened
1/4 cup sugar
1/2 cup light brown sugar
1 large egg
1 teaspoon vanilla extract
1 cup Hershey's Dark chocolate chips
1 cup shelled pistachios
Instructions
Preheat oven to 325º F.
Place the baking chips in a glass container and microwave at 30 second intervals until fully melted, stirring in between. Set aside.
In a stand mixer combine flour, cocoa, baking soda and salt. Mix on low until well blended.
Add butter and sugars and mix for 1 minute.
Pour in the melted chocolate, then add egg and vanilla and mix well.
Add the chocolate chips and pistachios and mix on low until fully incorporated.
Place by cookie scoop full on greased baking sheets about 2 inches apart.
Sprinkle each cookie with a pinch of sea salt.
Bake at 325º F for 10 minutes or tooth pick inserted in the middle comes out with moist crumbs.
Place cookies on cooling rack and let cool completely.