The same laws of nature that cause the half and half to swish through my iced coffee preside over the universe, and hence the universe resides in a cup. The swishes and swirls, on a macro level, remind me of photos I've seen of nebulae, frozen moments of a frenetic, cosmic dance. They're gossamer and ghostly and seem to encompass all that is mysterious, ephemeral, and otherworldly. I like the juxtaposition of the two ideas as I prepare my morning cup.
I've been enamored with culinary swirls lately, the ones that happen effortlessly through the process of mixing and folding and pouring. I'm not sure anything manmade can emulate the unintended complexity that such acts bloom into being, though I'm sure the masters at Pixar are certainly trying.
I especially love the streaks that occur when chocolate is folded into meringues.
And when peanut butter is folded into a chocolate tart.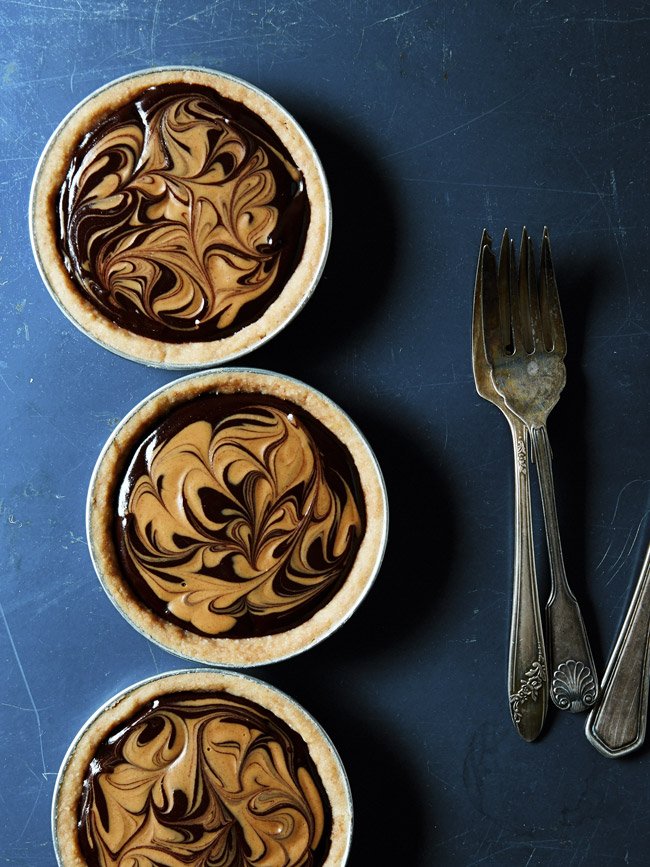 Onto other topics. I've been nominated for a Saveur Best Food Blogs award in the Best Photography category! What an honor! And I'm really kind of flabbergasted. I mean, I'm sure that among the minimum requirements that must be met in order to be considered a food blog, consistency is one of them? Did I mention this news is weeks-old? But, cool beans anyway! Thank you to whoever nominated me!
Finally, because this IS a food blog, I'm going to leave you with the recipe for the chocolate peanut butter tarts shown above. I've made them four times in the last couple weeks—for two birthdays and twice just because—and think I've got the recipe down. While the original recipe is intended for a 9″ tart pan, individual tarts trump giant tarts, period. The crust to filling ratio is just about perfect, and they look damn cute too. The swirls are formed simply by dropping warmed-up peanut butter in teaspoonfuls onto the chocolate, then swirling them around with a skewer. There's no way to mess up—nature will take care of all the intricacies.
CHOCOLATE PEANUT BUTTER TARTS
Adapted from Chow
Makes 4 3.5″-tarts
Ingredients:
For the crust:
1/4 cup (half a stick) unsalted butter, melted
2 T granulated sugar
pinch salt
1/2 cup + 2 T all-purpose flour
For the filling:
6 oz. semi-sweet chocolate
2 T unsalted butter
1/2 cup heavy cream
2 T granulated sugar
pinch salt
2 to 3 T smooth peanut putter for swirling
Directions:
For the crust: In a small bowl, mix the butter, sugar, and salt. Add the flour and gently mix until just combined. Divide the dough into four equal pieces and press each piece evenly into 3.5″ tart pans, including up the sides. Trim the tops and place the tart pans in the fridge until firm, 15 – 30 minutes. Preheat oven to 350 degrees F.
When firm, remove the crusts from the fridge and prick evenly with a fork. Bake about 20 minutes until golden brown. Remove from oven and let cool.
For the filling: While the crusts are cooling, melt the chocolate and butter in a double-broiler. In a small saucepan, heat the heavy cream, sugar, and salt until boiling, then reduce heat to low and simmer for 1 minute. Pour the cream mixture over the chocolate and stir until evenly combined. Pour the chocolate mixture evenly into the tart pans and let cool for about 10 minutes.
Heat up the peanut butter (the microwave works best) so that it's runny, about 20 seconds. Using a teaspoon, drop mounds of peanut butter onto the chocolate ganache. Use as much or as little as you want; you'll have to experiment to discover your preferences. Using a skewer or a chopstick, gently swirl through peanut butter in swoops. Don't overdo it or the pattern will dilute.
Let set for another hour or so until the tarts aren't quite as jiggly. You can also refrigerate the tarts at this point, but they taste better at room temperature, so remove them from the fridge about an hour before serving.