Wow! The past ten days have been nutty. My poor 6 year old daughter has been out of school with pneumonia. We have been battling, fevers, horrific coughing, really bad nose bleeds, very messy sneezing and extreme boredom. The good news is that she is finally feeling better and is able to return to school.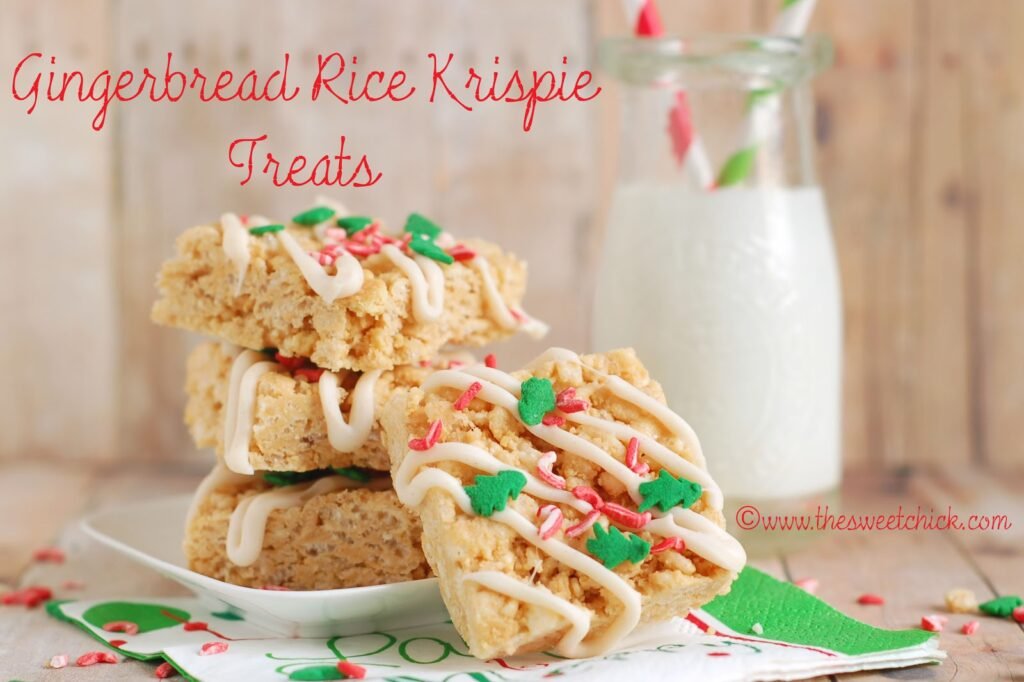 Now I have time to share with you this recipe I have been holding onto.  A friend of mine was kind enough to find me a package of Gingerbread Oreos.  I have been wanting to make gingerbread Rice Krispie treats, so this came at the right time.  I am a big fan of Rice Krispie Treats.  They are chewy and crunchy and you can make them so many ways.  Aimee over at Shugary Sweets has a love of them also.  She made her Gingebread Rice Krispie Treats using Jello Gingerbread Pudding mix.  Check out her recipe here.
I have yet to find gingerbread pudding mix in any store. I was lucky just to get the Oreos. I did taste one before chopping them all in the food processor. They really do taste like gingerbread.
Oh, and the smell of Oreos as they were being chopped up was heavenly. I think I need to get a gingerbread candle.
While you can make these are regular squares and decorate them any way you like, I though I would have a little fun. I pulled out a gingerbread man cookie cookie and cut out a few little guys to decorate like gingerbread men cookies. You can even put them on a popsicle or lollipop stick for the kids.
These would be great for a school Christmas party or to make for Santa on Christmas Eve with his glass of milk.
I really like how they came out. Simple, but cute. You can embellish them with mini M&M's if you prefer.
I used Wilton's white and chocolate candy melt to make the gingerbread man and I used Wilton's eggnog candy melt for the squares.
Gingerbread Rice Krispie Treats
by The Sweet Chick
Prep Time: 15-20 minutes
Cook Time: 5 minutes
Keywords: stove top dessert snack rice krispies Gingerbread Oreos egg nog candy melt
Ingredients (25 bars)
For the treats
3 tablespoons butter
5 cups mini marshmallows
1 package (15.25 oz.) Gingerbread Oreos, chopped
6 cups Rice Krispie Cereal
optional toppings
Wilton's eggnog candy melt
holiday sprinkles
Instructions
For the treats
In a large sauce pan, melt butter and marshmallows over low heat. Stir until completely melted.
Remove from heat and add Rice Krispie cereal and chopped Oreos. Mix until all is well incorporated.
Then pour the mixture into a greased 9 x 13 pan or a cookie sheet and spread it evenly with a piece of waxed paper.
Place in fridge to cool.
optional toppings
When treats have set, melt candy melt per directions on package and place in a piping bag or Ziplock bag with tip snipped off. Drizzle the candy in diagonal pattern across the Rice Krispie treats and add sprinkles.
Place the treats back in the fridge to cool.
After candy melt had hardened, cut the treats into squares and have a bite!