Last night my husband and I hosted a mini Octoberfest at home.  He has been brewing his own beer for a while now.  When he has a batch ready we usually invite over some family and friends for a taste testing.  This new batch is a Heritage Lager.  Very smooth, no after taste.  Goes down easy.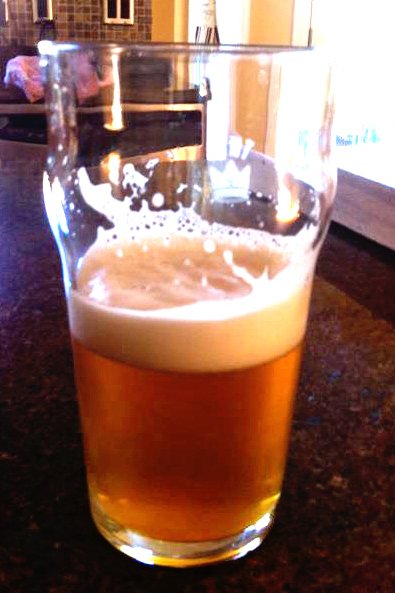 I wanted to make some sweets to go along with the beer.  I scoured the internet and found a recipe for Guinness Chocolate cupcakes.  The original recipe called for cream cheese frosting, but I found a recipe for peanut butter frosting instead.  Beer and nuts go well together, so I figured they should work in a cupcake too.  The cupcakes themselves came out so good.  They were moist and that touch of Guinness goodness really went well with the chocolate.  It reminded me of the Guinness chocolates I ate in Ireland earlier this year. 
Guinness Chocolate Cupcakes
by Dave Lieberman
Ingredients
12 ounces Guinness® stout
1/2 cup milk
1/2 cup vegetable oil
1 tablespoon vanilla extract
3 large eggs
3/4 cup sour cream
3/4 cup unsweetened cocoa powder, plus more for garnish
2 cups sugar
2 1/2 cups all-purpose flour
1 1/2 teaspoons baking soda
Directions
Makes 24 Cupcakes
Preheat oven to 350°F.
In a large mixing bowl, combine the Guinness®, milk, vegetable oil, and vanilla. Beat in the eggs one at a time. Mix in the sour cream.
In a large mixing bowl, whisk together the cocoa, sugar, flour, and baking soda. Gradually mix the dry ingredients into the wet Guinness® mixture.
Butter 24 muffin tins and divide the batter among the muffin tins.
Bake 20-25 minutes until risen and set in the middle but still soft and tender. Cool before turning out of the tins.
The original recipe for penaut butter frosting ended up being too sweet and too much peanut butter, so I ransacked the pantry too see what else I can add to fix the problem.  I found a jar of marshmallow fluff so I started added it a heaping tablespoon at a time until I got the right taste.  Yep, peanut butter and fluff definitely complement each other.  The frosting was awesome, I had to stop myself from eating it before there was none left for the cupcakes.
Peanut Butter Fluff Frosting
adapted from How to Eat a Cupcake
1 stick unsalted butter, softened
1 cup creamy peanut butter
4 cups confectioners' sugar
1/2 cup marshmallow fluff
2-4 tablespoons milk
Blend butter and peanut butter until smooth. Sift in confectioners' sugar and beat on low speed. Add milk and increase speed to high. Add fluff. Beat for 1 minute.
The fluff also added a great consistency to the frosting.  It was light, fluffy and kept it's shape when I swirled it over the cupcakes.  And it held up well when I added chopped honey roasted peanuts for enhanced flavor and a little crunch.  They looked to pretty to eat.
I got to use my new cupcake tower to display them.  I even made a cute little sign to go with it.
I love how they came out.  They look great and they tasted even better.