Just when I though May was busy, then came June. I have not had much time to breathe yet. Every weekend has been taken up by family events. The most important one being my daughter's birthday. So of course I was busy making treats for her. Here is what I have been doing for those that don't follow my on Instagram.
 First up were some treats for her party at school.  I made some cookie dough cupcake pops.  You can find the recipe and the how-to here.
Then I made some cupcakes fop her party at a miniature golf place with her friends and cousins. I just used a Funfetti cake mix and made some buttercream frosting. I used some green candy melt to make the leaves. I drew the leaves on a wax paper and then peeled them off when the candy melt set.
Pink and green glittery sprinkles added the final touch. My daughter thought they were pretty, which is not bad considering she mostly likes boys stuff and her favorite color is blue.
When I asked her what she wanted on her cake for the family party we were having after her friend's party, she said she wanted an outer space theme. Yes, leave it to my daughter to make my life challenging. She has a fascination with outer space, planets, constellations, and stars ever since Santa brought her the Children's Atlas of the Universe two years ago.
I didn't want to disappoint her, so I racked my brain for a way to make it work. For the frosting, I bought a can of blue frosting and added some black frosting to it to make it darker. I swirled on some extra black frosting to give the cake more dimension and brushed on some edible glitter dust for added effect.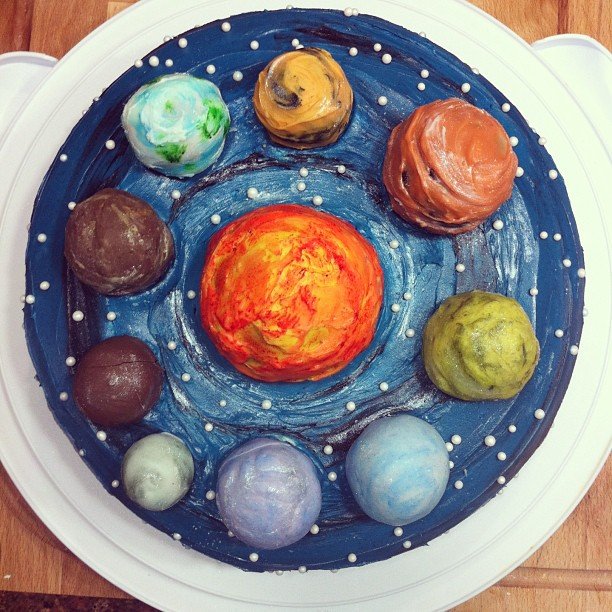 For the planets, I used an Oreo and cream mixture to form the balls. Then dipped them in candy melt and painted on them with gel food coloring. They were not the best looking things, but not bad for someone who does not do cake decorating for a living. My daughter was pretty impressed and thrilled that she had planets on her cake.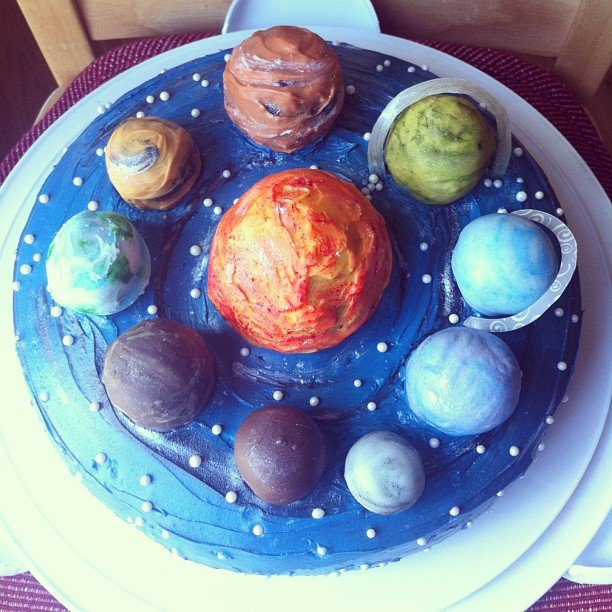 Of course, when she saw me adding the little pearl balls for the stars, she asked me to make some constellations. Seriously? I just busted my hump making these planets. Sheesh! I did try to make some, but it wasn't really that easy. Those little pearl candies are very slippery creatures. I also couldn't find a way to make edible rings for the planets, so I had to resort to vellum paper from my scrapbooking stash. Other than that everything was edible.
The inside was a just a white cake (from a box) that I filled with some homemade dulce de leche and strawberries. I got lots of props on the cake the day of the party. I was able to make it all the way through to the blowing out of the candles when out of nowhere, I got slammed with a stomach virus. I had to quietly slip away from the party and spent the rest of the day in bed. Not cool.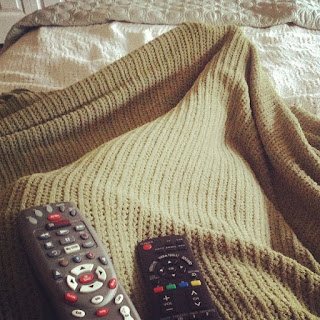 At least this time, the virus did not cause me to pass out face first and smash up my face. But it did put a kink in my Father's Day plans. I was not able to indulge in all the yummy food my mom made for brunch.
Now I am almost back to my regular eating. I am trying to keep it healthy. But I am dying to get back to baking some yummy treats. Next week is my last week of work, after that I will have more free time to do the things I love. So stay tuned!