Things have been pretty busy over here. We had some out of town family come to visit last week and this week my parents are driving down to see out house for the first time since we moved. I haven't has much time to play around in the kitchen, but I wanted to make something for when my parents come. I think they are going to like these Lemon Blueberry Basil Rice Krispie Treats. They were inspired by a lemon basil martini I had last week when I was out to dinner.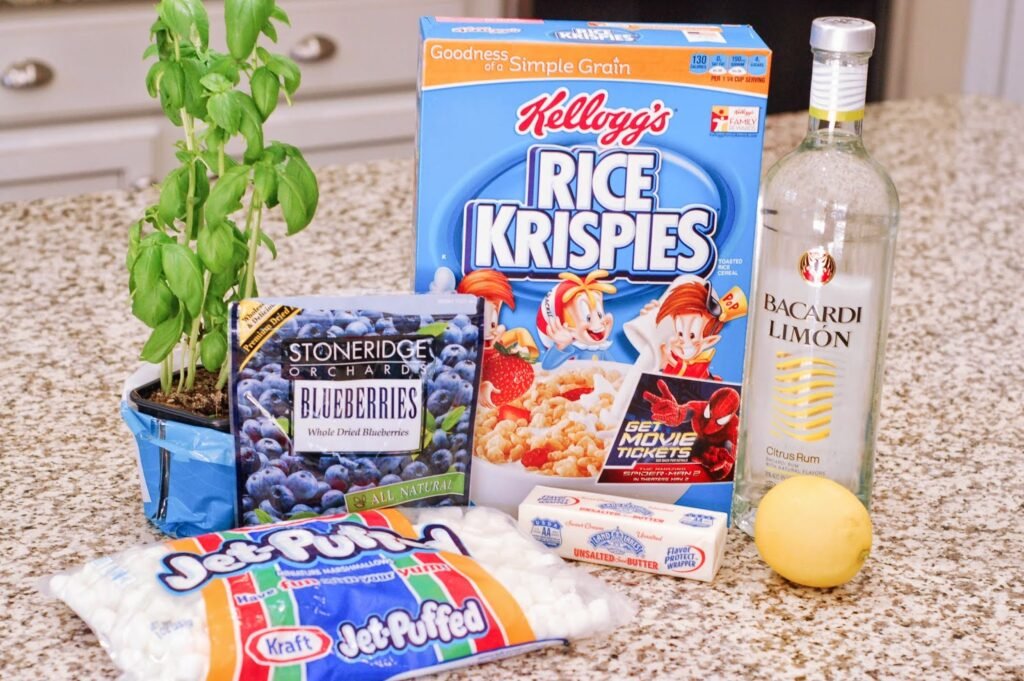 Yep, I put a little Bicardi Limon Rum in these.  You can leave it out if you want, but I like having treats that are for adults only sometimes.  This recipe is adapted from my Lemon Meringue Rice Krispie Treats and my Lime Coconut Rice Krispie Treat with Tequila. 
I used fresh lemon and basil to add lots of flavor.  I have not had success in adding fresh fruit to Rice Krispie treats, so I used dried whole blueberries.  For the frosting, I kept it light.  I adapted a basic marshmallow fluff frosting recipe like I did for my Chocolate Pumpkin Rice Krispie Treats.  It's really easy to make, it had a nice texture, and it tastes great.
The overall results were perfect. You've got the tartness of the lemon, the sweetness of the blueberries and the frosting, with a hint of basil. You really don't taste the alcohol. The flavors are all light and summery. They are so easy to put together and you don't need to bake. These would be perfect for a picnic. I may need to make another batch for our Memorial Day picnic coming up this weekend. We are getting together with a bunch of neighbors to celebrate. I think they are going to like these Lemon Blueberry Basil Rice Krispie Treats too.
Lemon Blueberry Basil Rice Krispie Treats
by The Sweet Chick
Prep Time: 20 minutes
Cook Time: 5 minutes
Keywords: no bake dessert snack lemon blueberries basil rice krispies rice krispie treats American spring summer
Ingredients (24 squares)
For the treats
3 tablespoons butter
4 cups mini marshmallows
1 teaspoon fresh lemon juice
1 1/2 teaspoon lemon zest
2 teaspoons Bacardi Limon Rum
2 tablespoons fresh, chopped basil
5 cups Rice Krispie cereal
1 package (4 oz.) whole dried blueberries (about 3/4 cup)
For the frosting
1/2 cup butter, room temperature
1 cup powdered sugar
1 cup marshmallow fluff
1 teaspoon fresh lemon juice
1/2 teaspoon lemon zest
1 teaspoon Bicardi Limon Rum
Instructions
For the treats
In a large sauce pan, melt butter and marshmallows over low heat. Stir until completely melted.
Remove from heat and add lemon juice, zest, and rum. Stir until completely mixed.
Then add the Rice Krispie cereal, dried blueberries, and the basil. Mix until all is well incorporated.
Then pour the mixture into a greased 9 x 13 pan or a cookie sheet and spread it evenly with a piece of waxed paper.
Place in fridge to cool and set.
For the frosting
In a stand mixer, cream together the butter and the powdered sugar.
Then add the marshmallow fluff and mix on medium until light and fluffy, scraping down the sides of the bowl as needed.
Add the lemon juice, zest, and rum and mix until well blended.
Spread over the cooled treats and place back into the fridge to set.
Once the frosting is set, cut the treats into squares and serve ( you can add yellow or blue sprinkles if you like). Enjoy!
This recipe may be shared at these fabulous parties.