I am taking a break from pumpkin recipes to bring you a different squash, butternut squash.  My typical method of cooking it is to slather it in maple syrup and bake it in the oven.  It is sooo tasty that way.  So I thought I'd incorporate that taste into a bread.  I've made Maple Zucchini Nut Bread and Maple Pumpkin Chocolate Chip Bread, so why not Maple Butternut Squash Bread. There really is not much I wouldn't add maple syrup to.

For my first attempt at making this bread, I just shredded the butternut squash and added it to the batter.  It was okay, but not as flavorful.  So the second go 'round, I made a squash puree.  It's really easy.
I took half a butternut squash, cut it in half and scooped out the seeds.  If you want to use the whole squash, go ahead.  You can have the leftover puree as a side dish for dinner.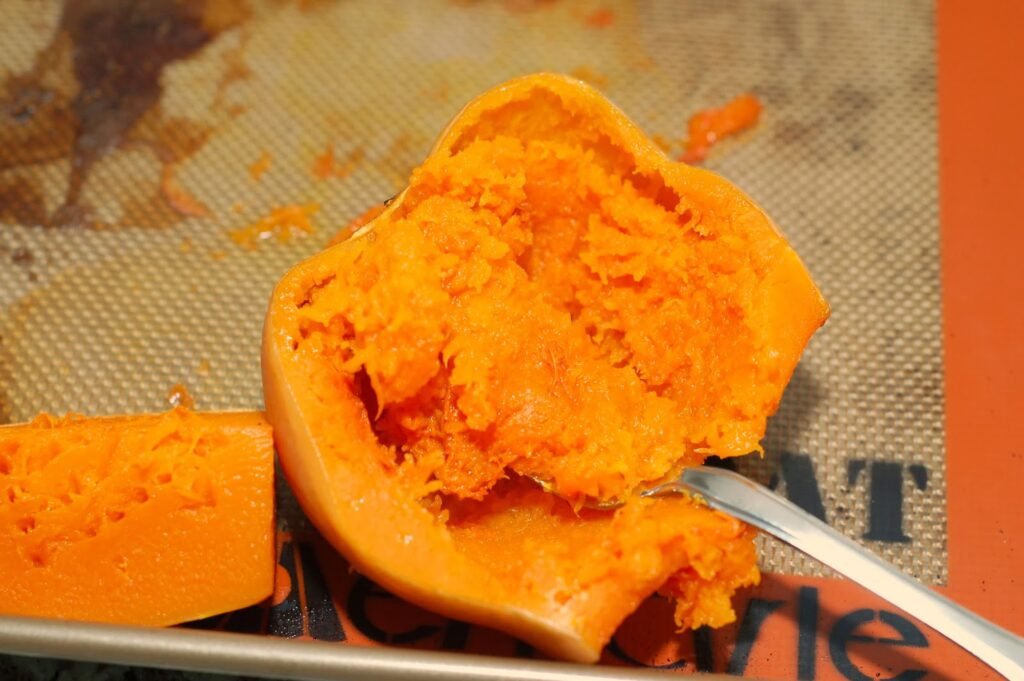 Then I flipped the two halves cut side down in a pan,added a cup of water and baked it in the oven at 350º for 30-40 minutes till it was fork tender.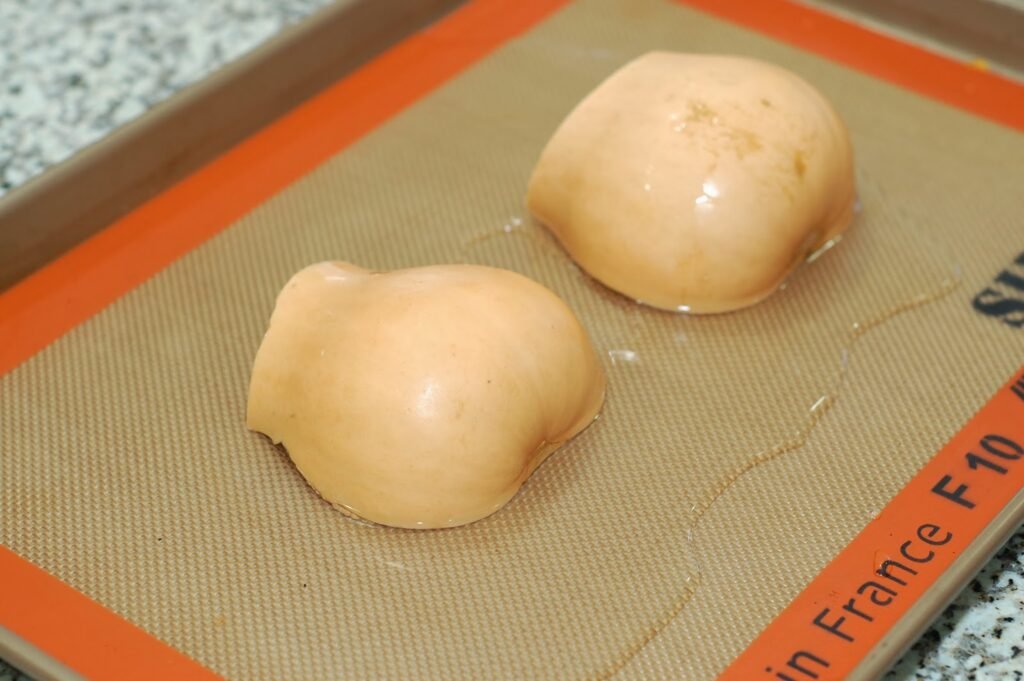 Then I just scooped out the mushy squash.  You only need a cup for the recipe.  If you have extra you can mix it with a little butter and maple syrup and have it as a snack or save it for dinner.
For the bread I just used the plain puree because I was already going to be adding maple syrup and spices.  I added a crumble topping for a little bit of crunch.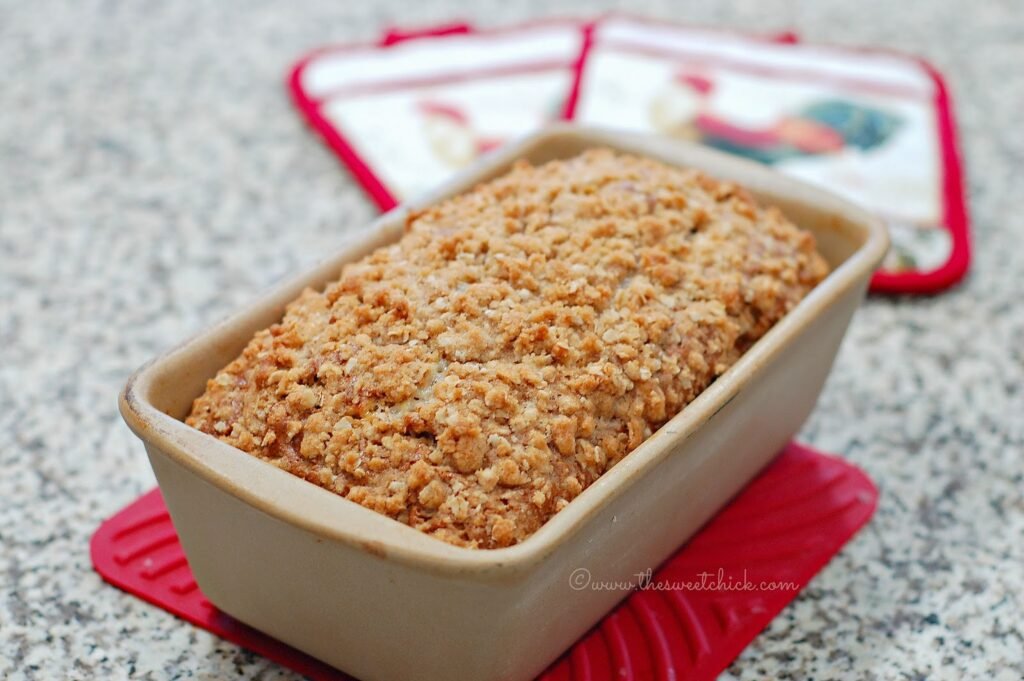 I baked my bread in my 9″x 5″ Pampered Chef Stoneware Loaf Pan.  This recipe makes one loaf or you can use it to make muffins if you want.  It should make about 12 muffins.  For muffins I would bake it at 350º for about 15 minutes.
My husband had already devoured the first loaf I had made and had liked the flavors.  I just tweaked this recipe a bit to perfect it and he said it was even better.  The puree really brings out the flavor of the butternut squash.  The maple syrup gives it a nice sweetness and the allspice is a perfect compliment to the squash.  This loaf was gone in no time also.  The kids loved it too!  This would be great for holiday dinners or just anytime time at all.
Maple Butternut Squash Bread
by The Sweet Chick
Prep Time: 15 minutes
Cook Time: 50 minutes
Keywords: bake bread dessert maple syrup walnuts white chocolate chips butternut squash bread muffins American fall
Ingredients (1 loaf)
For the bread
1 3/4 cups all purpose flour
1/2 cup light brown sugar
1/2 teaspoon baking powder
3/4 teaspoon baking soda
1/2 teaspoon salt
2 teaspoons ground allspice
2 eggs, beaten
1/2 cup pure maple syrup
1/2 cup oil
1 cup butternut squash puree
1 teaspoon vanilla
1/2 cup quick oats
1 cup white chocolate chips
1/2 cup chopped walnuts
For the crumble
1/4 cup light brown sugar
2 tablespoons all purpose flour
2 tablespoons quick oats
2 tablespoons butter, melted
Instructions
Preheat oven to 350º F.
For the bread
In a stand mixer blend together the flour, sugar, baking powder, baking soda, salt and spice.
Then add eggs, maple syrup, oil and vanilla. Mix on low speed until everything in incorporated.
Scrape down the sides and bottom of the mixing bowl. Then add the butternut squash puree and oats. Mix on low speed for 2 minutes.
Add the white chocolate chips and walnuts. Mix until they are evenly distributed in the batter.
Pour the batter into a greased loaf pan.
For the crumble
In a small bowl mix together the flour, sugar, and oats.
Then add the butter and mix with a fork until all crumbly.
Sprinkle the mixture evenly over the bread batter.
Place the loaf pan in the preheated oven and bake for 45-50 minutes or until a toothpick inserted in the center comes out clean.
Then cut yourself a slice and enjoy!