The weather is finally warming up.  We are the 80's this week.  And this South Carolina sun is a scorcher.   I really need to buy a truck load of sunscreen this year.  The only downside to the nice weather is the pollen count.  Apparently allergies are worst here than New England.  I have been sluggish for two weeks now.  I feel like just laying down and sleeping all the time.  And my allergies are not even as bad as my husband's or son's.  So I can just imagine how they feel.  I did find some energy to make these Maple Carrot Cupcakes though.  I love carrot cake and what better way to enjoy it than with some pure maple syrup.
I went back to my mom's original carrot cake recipe and adapted it slightly to add some maple syrup.  My other adaptation were these Carrot Cake Muffins.
I only used baking soda in this recipe instead of baking soda and baking powder.  I wanted a flatter cupcake.  Also, instead of shredding my carrots, I chopped them in the food processor which resulted in a finer, minced carrot consistency and more carrot per cup.  You can shred yours if you want though.  Besides substituting some of the original sugar content with maple syrup, I also substituted some with brown sugar.
For the frosting I just made my favorite Cinnamon Mascarpone Frosting, but you can also add a little maple syrup to it like I did for the Carrot Cake Muffins.  I love it because it's so light and fluffy.  I used an Ateco frosting tip #827 to decorate and Wilton Spring Mix sprinkles. The cupcake liners are Wilton also.  I found them at Walmart.
The cupcakes came out super moist and full of carrot flavor.  They are not overly sweet, just the right amount.  You also get some nice chunks of pecan and raisins.  The frosting is a perfect compliment.  I handed them all out to the neighbors and had requests for seconds.  That's success!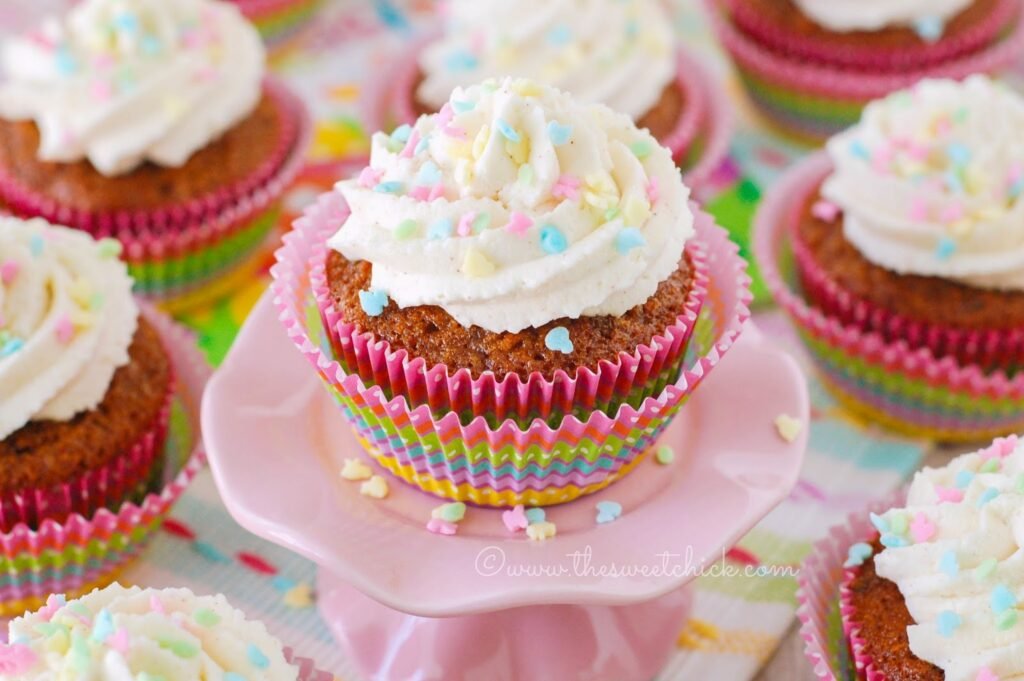 Maple Carrot Cupcakes
by The Sweet Chick
Prep Time: 20 minutes
Cook Time: 15-20 minutes
Keywords: bake dessert carrots cinnamon maple syrup pecans Easter cupcake American spring
Ingredients (32 cupcakes)
For the cupcakes
1 cup sugar
1/2 cup brown sugar
1 cup all purpose flour
1 1/14 cup whole wheat flour
1/2 teaspoon salt
2 teaspoons baking soda
2 teaspoons ground cinnamon
4 eggs, beaten
1 cup vegetable oil
1 cup maple syrup
2 teaspoons vanilla
3 cups grated/minced carrots
1 cup raisins
1/2 cup chopped pecans
For the frosting
2 cups heavy cream
16 ounces mascarpone cheese, room temperature
1 cup confectioners' sugar, sifted
1/2 tsp. cinnamon
Instructions
For the cupcakes
Preheat oven to 350ºF.
Place sugars, flours, baking soda, salt, and cinnamon in stand mixer bowl. Mix on low till well blended.
Add beaten eggs, oil, maple syrup, and vanilla. Mix on low for 2 minutes. Then stop and scrape down sides. Continue mixing on low until mixture is well blended.
Add carrots, raisins, and pecans. Mix until all are incorporated.
Pour mixture into greased or lined muffin tins.
Bake on 350ºF for 15-20 minutes or until toothpick inserted in center comes out clean. (My top oven took 20 min., the bottom one baked in 15 min.)
Then take out of oven and place on cooling rack.
For the frosting
With stand mixer on medium speed (with whisk attachment), whisk heavy cream until stiff peaks form (be careful not to over beat, or cream will be grainy).
In another bowl, stir together mascarpone, cinnamon, and confectioners' sugar until smooth.
Gently fold whipped cream into mascarpone mixture until completely incorporated.
Use immediately on cooled cupcakes. (If you are not doing any fancy piping, just using a spatula, you may want to half the frosting recipe. Or you can save the extra to use as a fruit dip.)
After frosting the muffins, keep them refrigerated.
This recipe may be shared at these fabulous link parties.