I hope everyone had a fun-filled Valentine's weekend.  My husband and I spent the weekend with the kids at Legoland.  Not very romantic, but it was fun.  At least the parts where my four year old didn't take off on us or throw a fit when he didn't get his way.  Such is life with kids.  I am happy to be home in my own bed and cooking fresh meals again.  We had a lot of fast food at the park and on the road, but now it's back to healthy eating, like these Maple Ginger Banana Muffins.  I kept wanting to try making these during the holidays, but never got around to it.  I figured now was as good a time as any.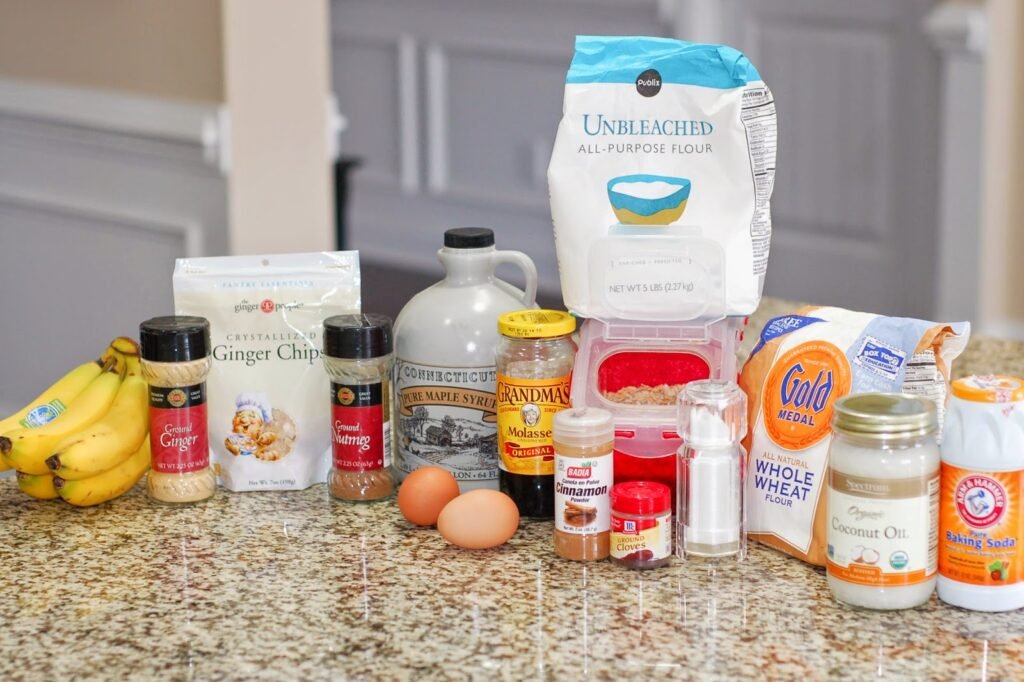 I just tweaked my usual muffin recipe to include molasses, spices, and crystallized ginger chips.
The smell of ginger and molasses as these muffins were baking was truly intoxicating.  I couldn't wait to eat one.
They came out perfectly spiced, moist, and light.  The banana flavor actually took a backseat in these muffins.  They are more of a spiced gingerbread muffin with secret healthy ingredients.  The crystallized ginger chips are what give these Maple Ginger Banana Muffins their distinct flavor.  I bought mine at World Market, but you can find them online also.  They are made by The Ginger People.  I highly recommend them.
These muffins are definitely are "Yum".  I think I may have eaten three already.  Just for quality assurance, of course. I think it's time to go test another one.
Maple Ginger Banana Muffins
by The Sweet Chick
Prep Time: 15 minutes
Cook Time: 15-18 minutes
Keywords: bake breakfast bread snack healthy banana maple syrup ginger chips molasses muffins bread American
Ingredients (20 muffins)
1/2 cup pure maple syrup
1/2 cup coconut oil
2 eggs, room temperature
1/2 cup molasses
2 medium ripe bananas, mashed
1 cup whole wheat flour
2/3 cup all purpose flour
2 teaspoons ground cinnamon
1 teaspoon ground ginger
1/4 teaspoon ground nutmeg
1/4 teaspoon ground cloves
1 teaspoon baking soda
1/2 teaspoon salt
3/4 cup rolled oats
1/2 cup crystallized ginger chips
Instructions
Preheat oven to 375ºF.
Place solid coconut oil in a microwave safe bowl and microwave for about 20 seconds until melted.
In a stand mixer bowl add maple syrup, oil, eggs, mashed bananas, and molasses. Mix on low speed until well blended.
Then add the flours and mix on low until smooth.
In a small bowl or measuring cup, combine all the spices, salt, and baking soda. Add mixture to the mixer bowl and mix until completely incorporated.
Next, add the rolled oats and ginger chips, mixing until they are evenly distributed.
Spoon batter into greased/lined muffin tins until about 3/4 full.
Bake at 375ºF for 15-18 minutes or until toothpick inserted in center comes out clean.
Remove from oven and allow to cool for a few minutes in the pan , then transfer muffins to a cooling rack to cool completely.
Notes
If you don't have any ripe bananas available, simply place them in the oven while it is preheating and wait for them to turn brown/black, then remove, cool and use.