OK, now I am ready for fall.  I opened up my first can of pumpkin puree today and made these Maple Pumpkin Banana Muffins.  They are filled with all sorts of goodness and they are healthy.  I used pure maple syrup instead of sugar, replaced some of the flour with whole wheat flour and used coconut oil.  I am trying to be a good mom and send healthy treats to school, so I have been baking muffins and freezing them to have on hand.  These ones may not last until I freeze them though.  Even my picky eating son loved them.  Of course he does love maple syrup and bananas, so that helps.  Healthy treats don't have to lack flavor.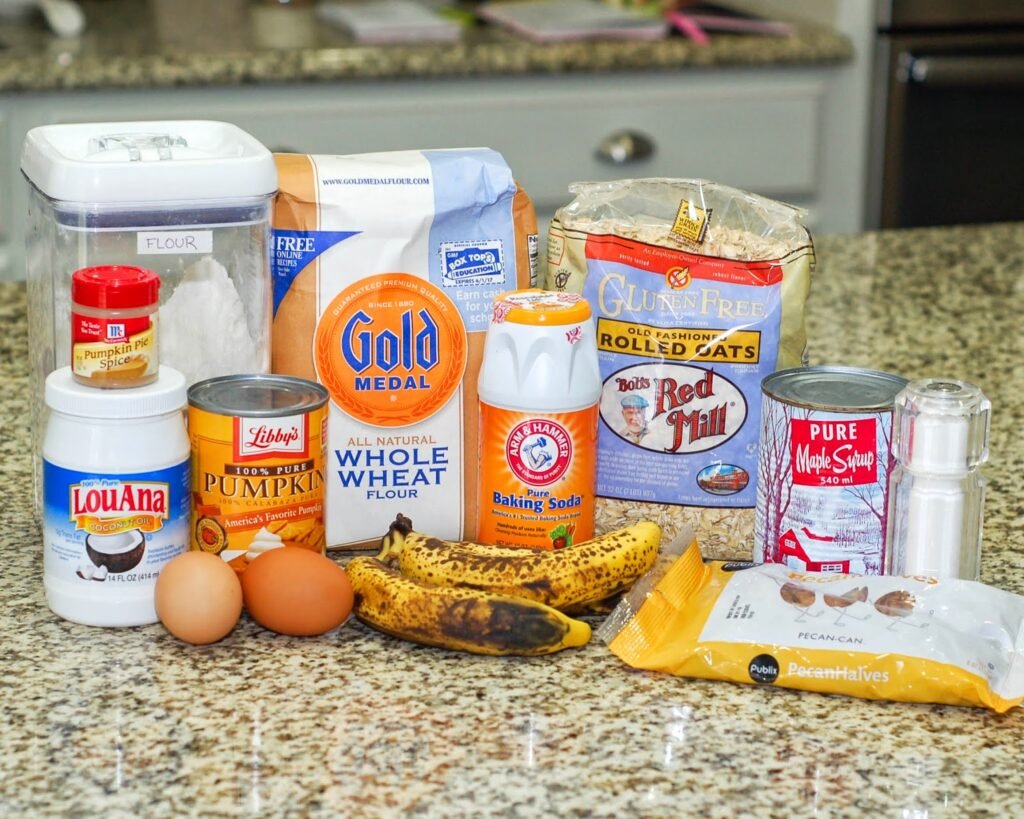 I used my recipe for Strawberry Coconut Banana Muffins as a base for these.  I just swapped out a few ingredients and added some maple syrup and rolled oats.
They are simple to put together and bake up fast.  You can make some for your kids after school and they can eat them warm, with a bit of butter.
The maple added enough sweetness without the need for sugar.  The banana and pumpkin purees blended together for a great flavor combination and added the right amount of moistness to the muffins.  The banana is the most predominate flavor, but you can tell there is another flavor in the background.  The rolled oats and pecans gave some texture to the muffin.  Overall they baked well and came out light and fluffy.  I may add more batter to each liner next time to get a taller muffin, but quite honestly for kids they are just the right size.  So go ahead and make some for your kids tomorrow or for yourself.  They do taste great with coffee.
Maple Pumpkin Banana Muffins
by The Sweet Chick
Prep Time: 15 minutes
Cook Time: 15 minutes
Keywords: bake breakfast snack bread healthy maple syrup pumpkin coconut oil rolled oats muffins American fall
Ingredients (20 muffins)
1/2 cup pure maple syrup
1/2 cup coconut oil
2 eggs, room temperature
1/2 cup pumpkin puree
2 medium bananas, mashed
1 cup all purpose flour
2/3 cup whole wheat flour
1 teaspoon pumpkin spice
1 teaspoon baking soda
1/2 teaspoon salt
3/4 cup rolled oats
1/2 cup chopped pecans
Instructions
Preheat oven to 375ºF.
Place solid coconut oil in a microwave safe bowl and microwave for about 20 seconds until melted.
In a stand mixer bowl add maple syrup, oil, eggs, and pumpkin puree. Mix on low speed until completely blended.
Then add mashed bananas and mix until smooth.
In a medium bowl, combine flours, pumpkin spice, baking soda, and salt. Mix with a spoon until well blended.
Add the flour mixture to banana/pumpkin mixture and mix on low until completely incorporated.
Next, add the rolled oats and pecans, mixing until they are evenly distributed.
Spoon batter into greased/lined muffin tins until about 3/4 full.
Bake at 375ºF for 15 minutes or until toothpick inserted in center comes out clean.
Remove from oven and enjoy warm or place on cooling rack and eat later.