I kept promising my husband I would make him some banana muffins. My first attempt was a total recipe fail. The muffins tasted good, but were heavy like bricks. Then my husband suggested I make strawberry banana muffins (he wanted to make sure he got credit for that idea), so I researched some recipes I could adapt. I knew I wanted to add some maple and cinnamon flavor in there. Hubby was quite pleased with the results.
I totally forgot to take pictures of the ingredients like I normally do. I was in a rush to get the house clean before our open house this past weekend.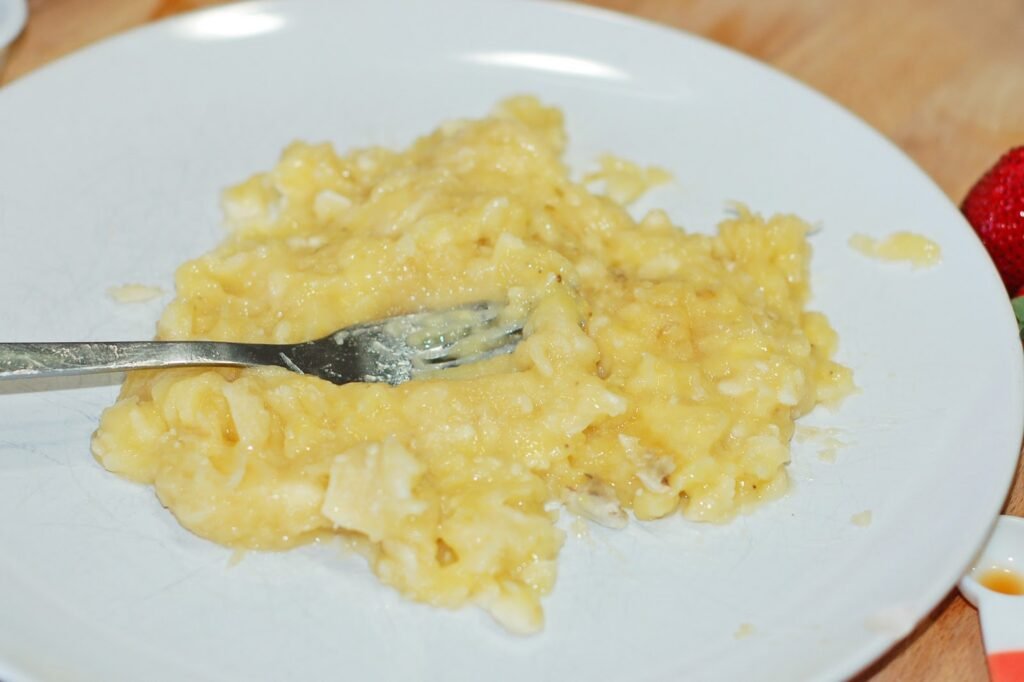 Well, good thing is, the house has never been so clean. My husband even dusted all the trims and doors, while I cleaned bathroom and put away stacks of laundry. I even straightened up the closets in case anyone dared take a peek. Now if it could only stay like that for more than a day.
I read somewhere that if you fold your strawberries into the flour, they won't sink to the bottom of the muffins, so I tried it. And it worked.
I couldn't wait to get these babies into the oven. The recipe makes 12 muffins, so it's a one pan deal.
I love warm muffins straight out of the oven. Plus I am always too eager to find out if they came out good.
These came out beautifully. So light, like a feather. Not like the banana bricks I made previously. They were moist, full of banana and strawberry flavor. The maple flavor was very light, not overly sweet. Perfect for breakfast or a snack. You can feel good about yourself after eating these because they have not just one, but two healthy fruits in them.
Maple Strawberry Banana Muffins
by The Sweet Chick
Prep Time: 15 minutes
Cook Time: 15 minutes
Keywords: bake bread breakfast dessert snack banana strawberry maple syrup cinnamon muffins American spring summer
Ingredients (12 muffins)
2/3 cups light brown sugar
1/4 cup oil
2 eggs
1/4 cup pure maple syrup
1/2 teaspoon vanilla extract
2 medium bananas, mashed
1 2/3 cups all purpose flour
1 teaspoon cinnamon
1 teaspoon baking soda
1/2 teaspoon salt
1 cup finely chopped fresh strawberries
Instructions
Preheat oven to 375ºF.
In a large bowl add sugar, oil, eggs, maple syrup and vanilla. Mix on low speed with hand mixer until completely blended. Then add mashed bananas and mix until smooth.
In a medium bowl, combine flour, cinnamon, baking soda, and salt. Mix with a spoon until well blended, then add strawberries and gently mix until strawberries are covered with the flour mixture.
Next, add the flour/strawberry mixture to banana mixture and mix with spoon until completely incorporated.
Spoon batter into greased/lined muffin tins until about 3/4 full.
Bake at 375ºF for 15 minutes or until toothpick inserted in center comes out clean.
Remove from oven and enjoy warm or place on cooling rack and eat later. Either way, enjoy!