I can't believe it's December already. The whole year went by so fast. Over all, it was a good year, but I am really looking forward to some happy changes for the new year. I try to remind myself that in life, everything happens for a reason. I just need to find the patience to wait and see how it all pans out.
While I wait I will continue doing what makes me the happiest…baking!  Ever since I made those Chocolate Ginger Cookies, I have had cravings for something else chocolaty and spicy.  So over the weekend, I dusted off my Babycakes donut maker and made these Chocolate Ginger Donuts.
I kinda mashed up the recipe for Hot Chocolate Donuts with the recipe for Churro Donuts.  I added and subtracted a few things to come up with a donut that was just as delicious as the cookies.  I happily succeeded!  The Ghiradelli Double Chocolate Hot Cocoa mix added just the right chocolate flavor, that was
enhanced by the molasses and the spices. It tasted like Christmas!
I finally got to use this Tovolo pancake pen I bought a while back at Sur La Table. It was perfect to fill up the reservoirs in my babycakes machine. A lot less messy than how I did it in the past. I love this thing.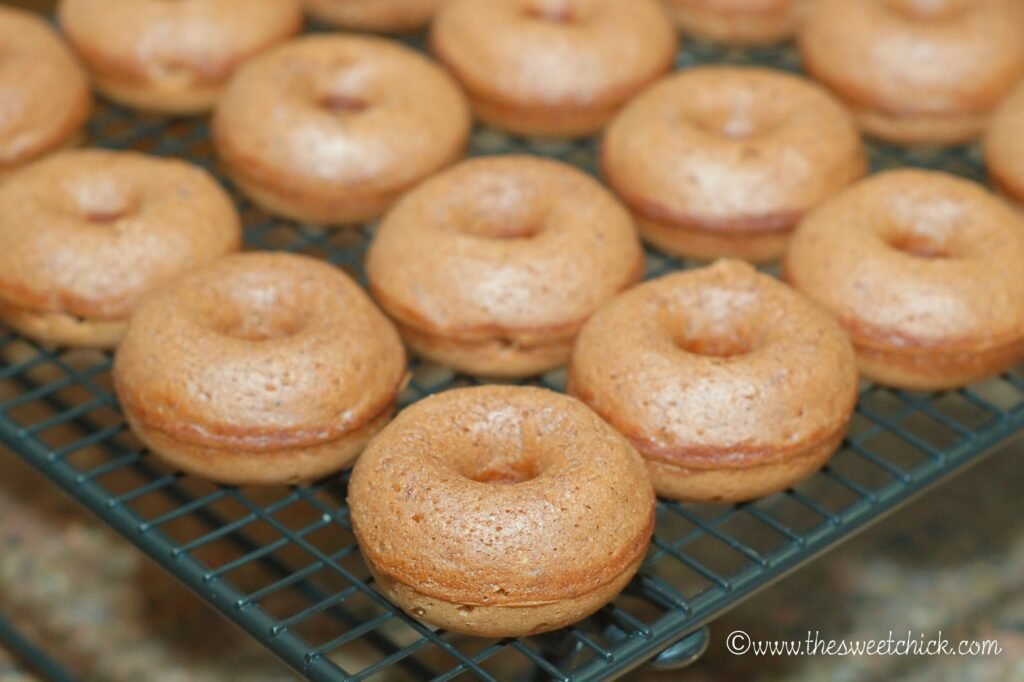 Look at these beauties, they came out soft, moist and made the house smell like gingerbread. For toppings I chose to try Wilton's Eggnog Candy Melt. Of course, I had to taste the candy melt before using it. Thank goodness I bought two bags. That was the best flavor candy melt I have had so far.
The combination of eggnog and chocolate ginger definitely worked well together. All the tastes of the holidays. With the Christmas themed sprinkles I added, the donuts look like mini Christmas wreaths. These would be great for a holiday gift basket or holiday party.
Or you can add your own sprinkles and make them for any occasion.
Mini Chocolate Ginger Donuts with an Egg Nog Topping
by The Sweet Chick
Prep Time: 15 minutes
Cook Time: 4 minutes
Keywords: bake dessert snack chocolate ginger egg nog Christmas donuts
Ingredients (30 mini donuts)
For the donuts
1 1/4 cups all purpose flour
1/2 cup hot chocolate mix
1 tablespoon baking powder
1/4 teaspoon ground cloves
1/4 teaspoon ground ginger
1/4 teaspoon ground cinnamon
1/2 cup sugar
1/3 cup vegetable oil
1 egg
1/2 cup milk
1/4 cup white vinegar
2 tablespoons dark molasses
For the topping
1 bag (10 oz.) Wilton's Eggnog Candy Melt
sprinkles
Instructions
For the donuts
Preheat your Babycakes donut maker.
Mix milk and vinegar together and set aside for 5-10 minutes until it forms curds.
Meanwhile, in a medium bowl stir together the flour, hot chocolate mix, baking powder, and spices. Set aside.
Using a hand mixer or stand mixer on low, beat together oil and sugar. Add egg and molasses.
Then stir in the milk/vinegar and mix well.
Slowly add the dry ingredients to the wet ingredients. Mix on low for 2-3 minutes, making sure to have a nice smooth mixture.
Use a piping bag , a Ziplock bag with tip cut off, or a Tovolo pancake pen, to fill each donut reservoir of your Babycakes donut maker with about 2 tbsp of batter.
Bake for about 4 minutes or until toothpick inserted in center of donut comes out clean.
(For those using a mini donut pan in the oven, preheat oven to 425ºF and bake for 4-6 minutes or until toothpick inserted in middle of donut comes out clean.)
For the topping
Place candy melt in a microwave safe bowl and melt according to package instructions, stirring until mixture is completely smooth.
Then dip each donut in the warm candy melt and place on cooling rack.
Add sprinkles before the candy melt sets.