Growing up, my mom stayed home and raised four kids while my father worked two jobs to support us. My mom made sure we had a home cooked meal everynight and always made a dessert to eat after dinner. Sometimes it came from a mix and other times it was made from scratch.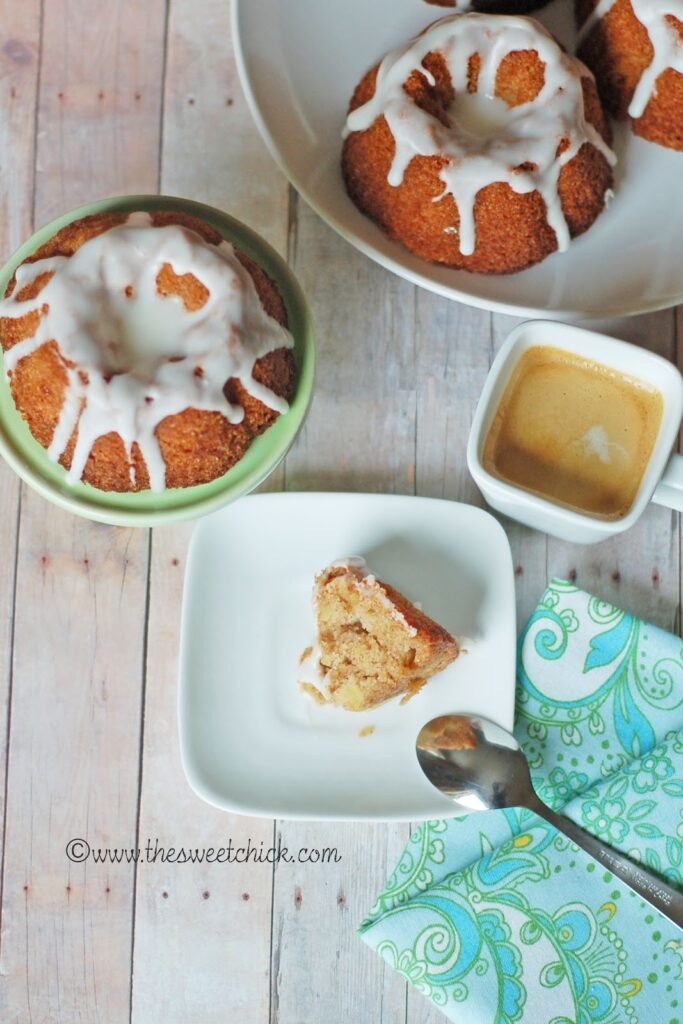 This apple cake is from her batch of recipes – her bits and pieces of yellowed paper with handwritten recipes that have been folded and unfolded many times over the years. Some papers even have fingerprints of food, others have splatters of oil. My mom never had a need for a fancy cookbook. She had recipes passed down to her by family members or passed along to her by friends.
I think she had the right idea. All her desserts were delicious and were made with ingredients you could find in any pantry. I am pretty sure I got my sweet tooth from her. I don't know from whom this recipe originated, but mom has been making it for as long as I can remember.
The ingredients for this cake were very basic. I just used the apples I had in the fridge. They were a mix of two different kinds. I don't think it really matters what kind of apples you use.
The original recipe is for one regular bundt pan cake, but my mom had given me this cute mini bundt cake pan, so I made twelve mini cakes. You can find similar pans on Amazon mini bundt pans.  I have also used this recipe to make cupcakes before (see here).  The cakes are very moist and very heavy in weight , but they just fall apart in your mouth.  You can't eat just one bite.  The glaze is not overpowering.  It's just to add a little decoration.  You don't want to put too much.
Just look at those chunks of apple..oh and the specks of cinnamon….mouthwatering! I have to go get myself another piece now after looking at all these pictures. Hope you enjoy it as much as I do.
Mom's Apple Cake
Prep Time: 10-15 minutes
Cook Time: 20 minutes
Keywords: bake dessert cinnamon apple cake
Ingredients (12 mini bundt cakes)
For the cakes
2 cups all purpose flour
2 cups sugar
4 teaspoons baking powder
4 teaspoons cinnamon
1 cup vegetable oil
4 teaspoons vanilla extract
4 eggs
4 cups chopped apples (about 3-4 big apples)
1 teaspoon salt
For the glaze
1 cup powdered sugar
2 tablespoons milk
1 teaspoon Crisco vegetable shortening
Instructions For the cakes
Preheat oven to 350º F. Grease and flour your pan. I use Baker's Joy spray.
In a large bowl or in a stand mixer, mix together flour, sugar, baking powder and cinnamon.
Then add the oil, vanilla, eggs and salt. Mix until smooth, then add apples and stir until all incorporated.
Bake for 20 minutes. (For cupcakes, bake 15-20 minutes. For one large bundt cake, bake for 1 hour)
Simply flip over the pan to remove the cakes and place on a rack to cool.For the glaze
In a small bowl mix together powdered sugar, milk and Crisco. Whisk until it becomes a liquid.
Using a large spoon, slowly pour the glaze around the tops of the cakes and let drizzle down the sides. Use immediately before glaze sets.