I was looking for something to make with Nutella in it. I found this recipe on Healthy food for living. It seemed interesting so I tried it out.
Nutella Nanaimo Bars
Prep Time 25 Minutes
Cook Time 1 Hour
   Servings 36  
Difficulty Easy
Ingredients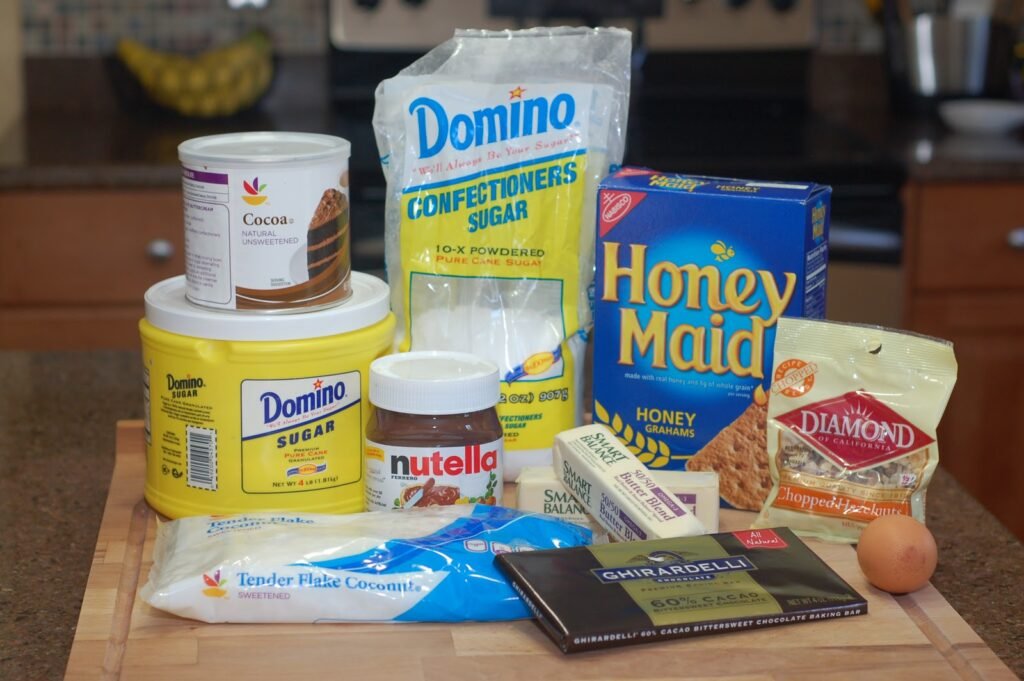 2 sticks Salted Butter, Divided
½ cups Granulated Sugar
5 Tablespoons Unsweetened Cocoa Powder, Preferably Dutch Process
1 whole Large Egg, Beaten
1-¼ cup Graham Cracker Crumbs
1 cup Shredded Unsweetened Coconut
½ cups Skinned Toasted Hazelnuts, Chopped
3 ounces, weight Nutella
6 ounces, weight Powdered Sugar
4 ounces, weight Bittersweet Chocolate
Preparation Instructions
1. For the bottom Layer: Melt 1 stick butter, granulated sugar and cocoa on top of a double boiler. Add egg and stir to cook until the mixture is thick enough to coat the back of a spoon. Remove from heat. Stir in crumbs, nuts and coconut. Press firmly into an ungreased 10×6 pan, and chill until no longer warm to the touch.
2. For the middle layer: Combine Nutella with 6 tablespoons of softened butter until thoroughly combined. Add powdered sugar and mix until it's incorporated and the mixture is the texture of soft frosting. Spread it evenly on top of the bottom layer, and chill for at least 30 minutes.
3. For the top layer: Melt bittersweet chocolate and remaining 2 tablespoon of butter over low heat. Cool. Once cool, pour over the middle layer and chill until firm.
4. Cut into small squares and enjoy.

It was quite easy to make and it tasted delicious.  The bars are not too sweet and not too heavy.  They are creamy and chocolaty. There is no baking involved, just a little top of the stove action.  And while the first two layers were chilling for a half hour, I cleaned up the horrible mess I made all over the kitchen.  I love to bake, but I always make a mess.  I need a magic wand to clean up after me.