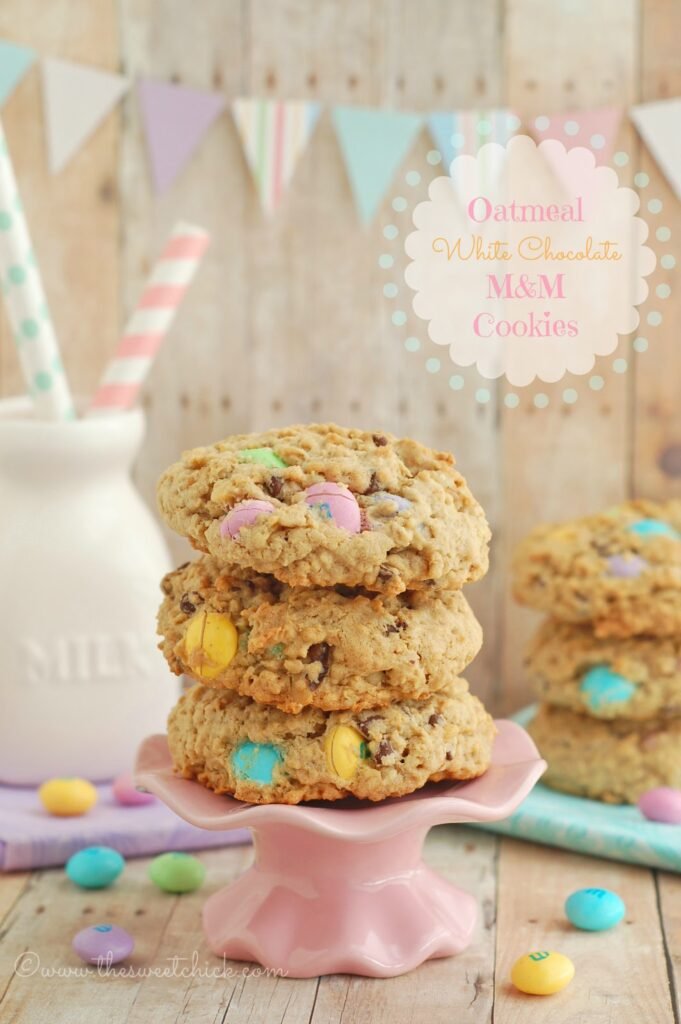 I had to make cookies for my daughter's school again the other day. So I went through my baking supplies to get some inspiration. I found some white chocolate chips, mini chocolate chips, and some maple butter in the fridge. Hmmm…what to make? I pulled out the can of Quaker Quick Oats and looked at the recipe for Vanishing Oatmeal Raisin Cookies. With a little editing, I came up with some great tasting cookies. My husband said they were the best cookies he has had yet. So I made them again, using white chocolate M&M's. And this time I made them jumbo size.
You want to make the maple butter ahead of time.  It is easy to make, just cream together the butter and maple syrup, then place in the fridge for at least an hour.  The longer it sits in there, the better the flavors fuse together.  The recipe for maple butter makes way more than you need, but no worries, just keep it in the fridge.  Maple butter can be used for lots of recipes.  I even use it to saute vegetables, especially squash.  Or use it to mash your sweet potatoes.  It doesn't need to be used for only baked goods.  You can even spread it on your toast in the morning.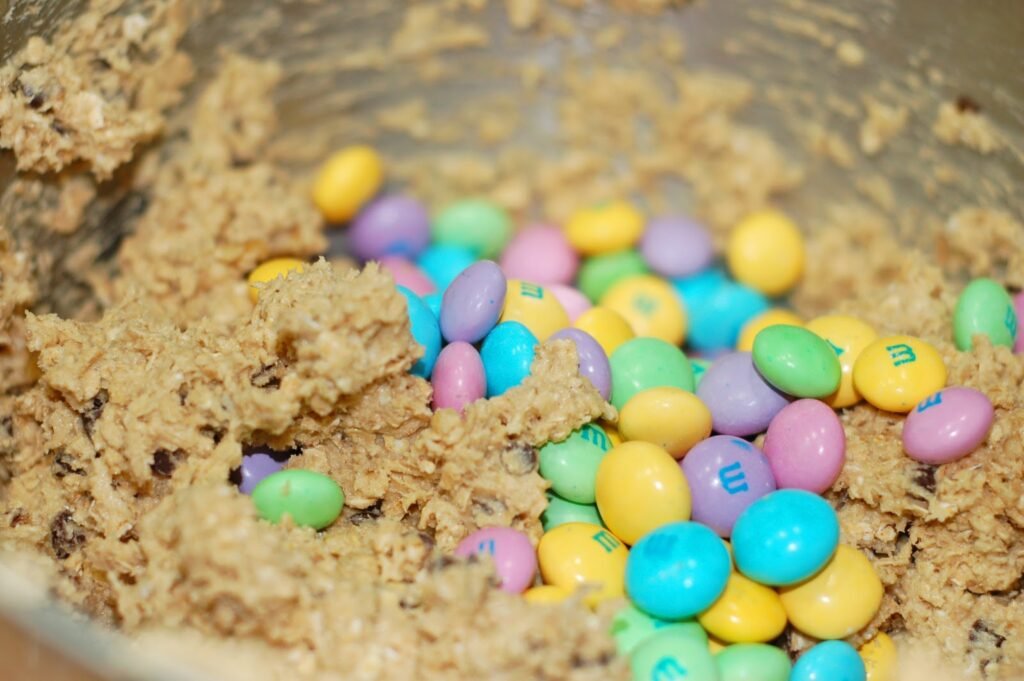 Since these white chocolate M&M's are larger than regular M&M's, I decided to make a bigger cookie.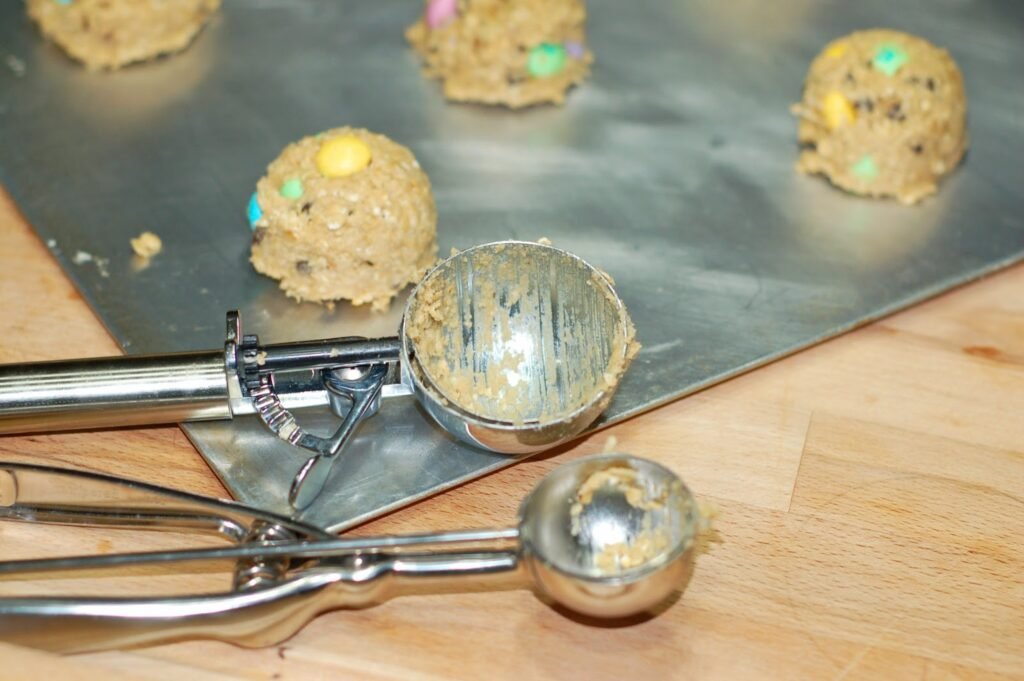 The smaller scoop is my regular cookie scoop. The larger scoop I usually use to fill my cupcake liners, but this time I used it to make jumbo cookies.
Those are some big cookies. They fill up the palm of my hand and I don't have small hands.
So be prepared to share with someone, if you don't think you can handle all this goodness. (Yeah, right.)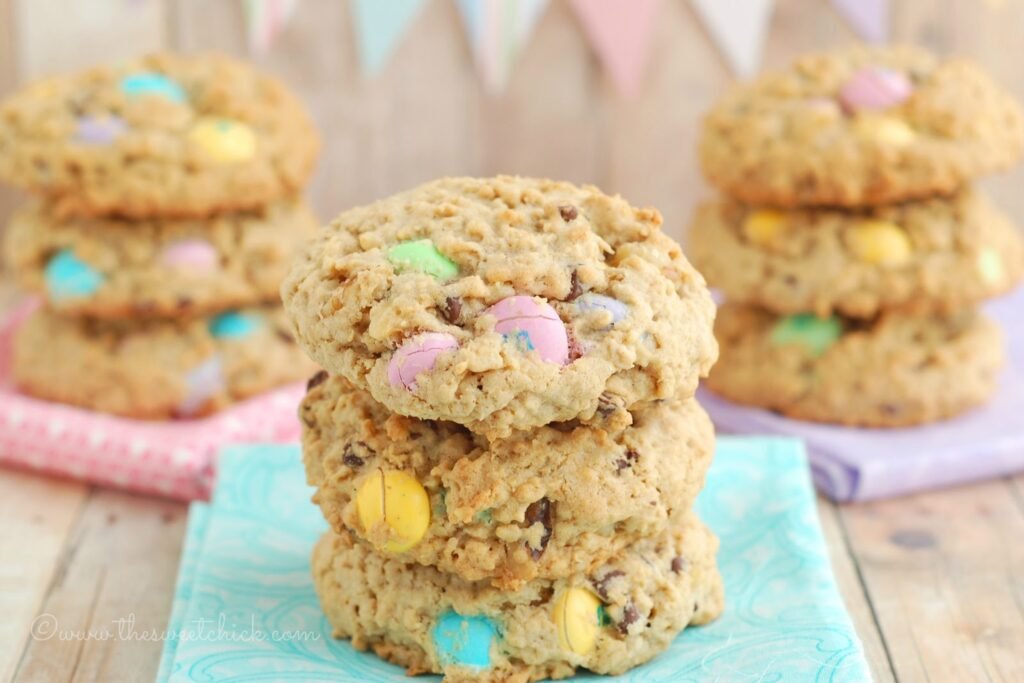 The maple really intensified all the flavors in this cookie, the white chocolate, the mini chocolate chips, the walnuts and the cinnamon. You are going to need a very big glass of milk to go with these!
Oatmeal White Chocolate M&M Cookies
by The Sweet Chick
Prep Time: 20 minutes
Cook Time: 15 minutes
Keywords: bake dessert snack quick oats chocolate chips white chocolate m&ms walnuts Easter cookie American
Ingredients (20 jumbo cookies)
For the maple butter
3/4 cup butter, softened
1 cup pure maple syrup
For the cookies
1/2 cup butter, softened
6 tablespoons maple butter
3/4 cups light brown sugar
1/2 cup granulated sugar
2 eggs
1 teaspoon vanilla
1 1/2 cups all purpose flour
1 teaspoon baking soda
1 teaspoon cinnamon
1/2 teaspoon salt
3 cups Quaker Quick Oats
1/2 cup walnuts
1/2 cup Nestle mini chocolate chips
1 cup White Chocolate M&Ms
Instructions
For the maple butter
Place the butter in a small microwave safe bowl and heat in the microwave for 20 seconds, until softened.
Add maple syrup and mix together with hand mixer until smooth.
Place in fridge for 1 hour to set.
For the cookies
Preheat oven to 350º F.
In a stand mixer cream together the butters and the sugars on medium speed.
Add egg and vanilla and mix well.
In a medium bowl combine the flour, baking soda, cinnamon and salt until well blended, then slowly add to the wet ingredients.
Next add the quick oats and mix on low until all incorporated.
Then add the walnuts and the mini chocolate chips and continue to mix on low until completely incorporated.
Add the M&M and mix by hand as not to break the shells.
Then with a large scoop, drop by scoopful onto a greased cookie sheet at least 2 inches apart.
Bake at 350º for 15 minutes or until the tops are a golden brown.
Remove from oven and let cool for 2 minutes, then move to a cooling rack to completely cool.
Grab a large glass of milk, dunk and enjoy!