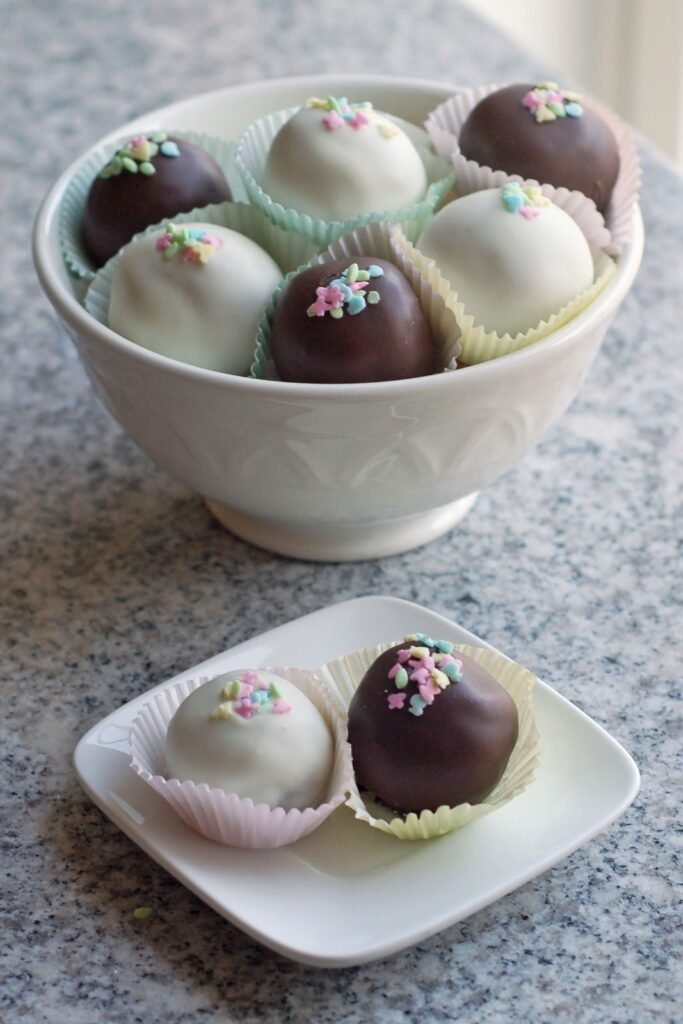 I finally found a package of the new Neopolitan Oreos at Walmart.  I bought two packages.  One to eat and one to make something with.  They were actually pretty tasty. Taste testing is oh so hard, but someone has to do it.  I thought the strawberry/vanilla taste would go perfect with cream cheese.  Kinda cheesecake like.  So  I decided to make Oreo bites.  Same recipe I used to my Pumpkin Pops
I also found these cute spring sprinkles from Wilton at the craft store.  I had to have them! So all I had left to buy was some white candy melt and some white chocolate. And some mini cupcake wrappers to go with my sprinkles. 
Of course I tried one when they were done.  They did have a cheesecake like taste.  Yummy!
Then I decided to make two kinds of Oreo bites.  So back to the store it was to get regular Oreos, more cream cheese, and some dark chocolate melt.  I like using the candy melt because it hardens quick and it stays hard, so when moving the bites around you don't get fingerprints all over them.  But I like to add real chocolate to the mix to add a more intense chocolate flavor.  
Just looking at this photo makes my mouth water.  They are so moist and full of flavor.  These bites are super easy to make and no bake!
Oreo Bites
by The Sweet Chick
Prep Time: 30 min.
Ingredients (24 bites)
1 pkg regular Oreos (or 1 1/2 pkgs Neopolitan Oreos)
8 oz. container cream cheese
1 bag dark chocolate candy melt (or vanilla)
1 bar (4 oz.) Ghiradelli dark chocolate (or white)
sprinkles
Instructions
Grind Oreo cookies in a food processor and hand mix or use stand mixer to combine with cream cheese until it becomes a dough like consistency. Roll Oreo mixture into quarter size balls and place in airtight container lined with wax paper. Places the container in the refrigerator overnight to set.
After the balls are set, melt candy and chocolate in the microwave as per directions on package. (30 second intervals , stirring in between)
Remove Oreo balls from the refrigerator. Dip the Oreo balls into candy coating mixture until all covered. I use a fork. Once covered, remove and softly tap and rotate until excess candy melt falls off. Then place pops on wax paper.
Carefully add the sprinkles to the top of the balls before the candy melt hardens.
When candy melt does harden, scrape off any excess on the bottom of the ball and place in mini cupcake wrapper. Voila, done!