I needed to bring in some treats for my daughter's Christmas party at school this week.  It seemed that all the other mom's were bringing in cookies, so I though I'd change things up a bit.  Waffle sticks are usually a hit with the kids.  Earlier this year I had made some Sugar Cookie Waffle Sticks that they loved, so why not some Peppermint Eggnog Waffles Sticks.  I even found some candy cane candy melt to dip them in.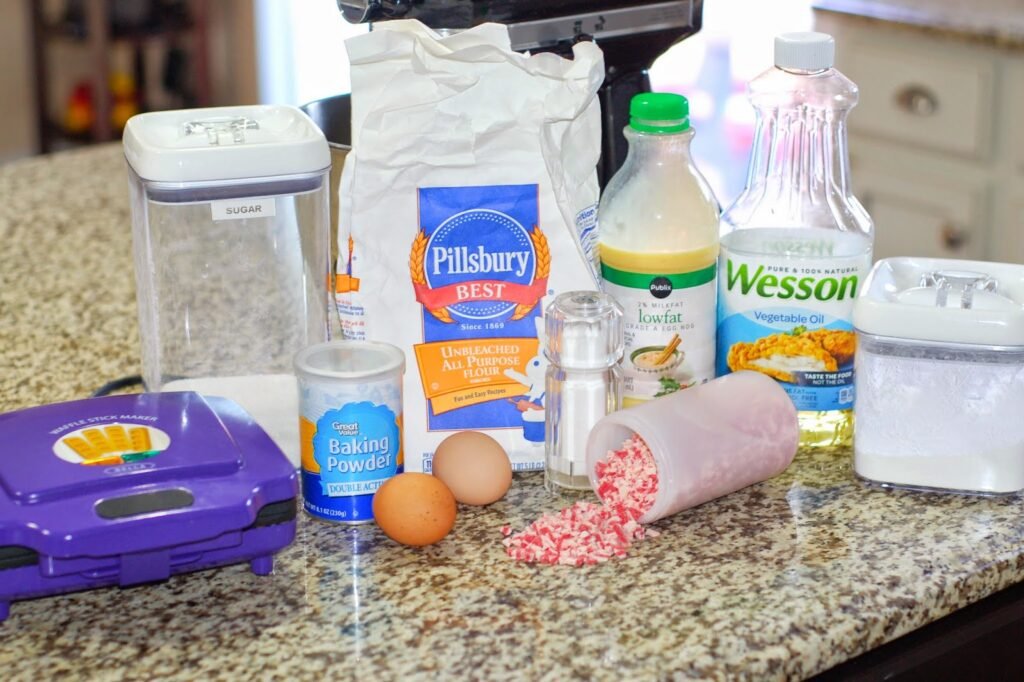 I made these waffle sticks in my Bella Waffle Stick Maker.  It makes six waffle sticks at a time.  It's very easy to use and I have had great results with it.  Not bad for $10 on clearance.  I made a batch of waffles the other week to have on hand for breakfast or to send to school for lunch with a small container of syrup.  I just keep the extra ones frozen until needed. 
I was going to use my stand mixer to make the batter, but I ended up using my hand mixer.   It's a simple batter and really didn't require heavy artillery.  Be careful not to overfill the waffles wells like I did on my first batch.  Also make sure you use a spatula to remove the waffles.  The little bits of melted baking chips are super hot.  I let the waffles cool off before dipping them in the candy melt.  The candy cane candy melt is perfect for these waffle sticks.  It has a nice smooth peppermint flavor.  I found it at Walmart along with the sugar cookie flavor I used for my Eggnog Funfetti Cake Cookies.
You can also make these as regular waffles.  You should be able to make about 6-7 waffles.  You can top them off with Kristen's (Dine & Dish) fabulous Creamy Eggnog Syrup.  I made it one year, to go with my Chocolate Ginger Crepes and it just brought them to another level of deliciousness.  Either way you top your waffles, peppermint and eggnog go really well together. 
Just like these Mini Peppermint Eggnog Donuts I made last year, with an eggnog glaze. Mmmm!
Or this Peppermint Eggnog Fudge I made earlier this month, topped off with some chocolate. Yum!
Peppermint Eggnog Waffle Sticks
by The Sweet Chick
Prep Time: 15 minutes
Cook Time: 3-4 minutes
Keywords: bake breakfast dessert snack egg nog peppermint Christmas waffles American winter
Ingredients (36 waffle sticks)
For the waffles
1 3/4 cups all purpose flour
1/4 cup corn starch
2 tablespoons sugar
1 tablespoon baking powder
1/4 teaspoon salt
2 eggs
1 3/4 cups eggnog
1/2 cup vegetable oil
3/4 cups Andes Peppermint Crunch baking chips
For the toppings
2 bags (10 oz. each) Wilton's Candy Cane candy melt wafers
holiday sprinkles
Instructions
For the waffles
Preheat your Bella Waffle Stick Maker and spray or brush with vegetable oil.
In a medium bowl, mix together the flour, corn starch, sugar, baking powder, and salt.
Then add the egg , eggnog, and oil. Mix until completely blended, using a whisk or a hand mixer.
Finally, add in the baking chips and mix until evenly distributed.
Use a Ziplock bag with tip cut off, or a pancake pen, fill each waffle reservoir flush to the rim with the batter.
Bake for about 3-4 minutes or until toothpick inserted in center of the waffle comes out clean. ( I just went by the timer on the machine.)
Carefully remove waffle sticks from the machine using a plastic or wooden spatula and place hot waffles on cooling rack. (You can serve them as is, with some syrup at this point or let them cool and dip them in candy melt.)
For the toppings
Melt candy wafers according to package instructions. I melted them half a bag at a time.
Dip the tips of each cooled off waffle in the candy melt, then place back on a piece of wax paper until candy sets. If you are adding sprinkles, add them before the candy completely hardens.
Once the candy melt sets, they are ready to serve. Enjoy!
Notes
Waffle sticks can stored in an airtight container at room temperature if making the day before. They can also be refrigerated or frozen. Just let them come to room temperature before serving.