My house is a real disaster zone right now.  I am up to my eyeballs in boxes, packing tape, and bubble wrap.  I have about three quarters of the house packed so far, and can't wait to be done.  In an effort to keep sane, I thought I would take a short break and make some cookies.  I was in the mood for something dark and chocolatey.  When Oh! Nuts sent me those dried pineapple bits and sliced guava I used for my last recipe, they had also sent a huge bag of hazelnuts.  Dark chocolate and hazelnuts sounded like a great match!
I based this recipe off my Chocolate Ginger Cookies recipe.  I liked how soft and chewy they were and I liked the chocolate and spice combo.  But I didn't want a ginger flavor, so I went for nutmeg this time around and I used Hershey's Special Dark Cocoa for a darker, deeper flavor.
The hazelnuts that Oh! Nuts sent were already skinned, so that saved me a lot of time. They taste delicious right out of the bag, but I wanted to toast them a bit in the oven before adding them to the cookies. It gave them a more woodsy flavor, which I thought would go nicely with the spices I was using. I just laid them out on a lined cookie pan and toasted them for 10 minutes at 350ºF.
If you are looking for a different nuts, seeds, or nut butters, Oh! Nuts has a wide variety. Just go to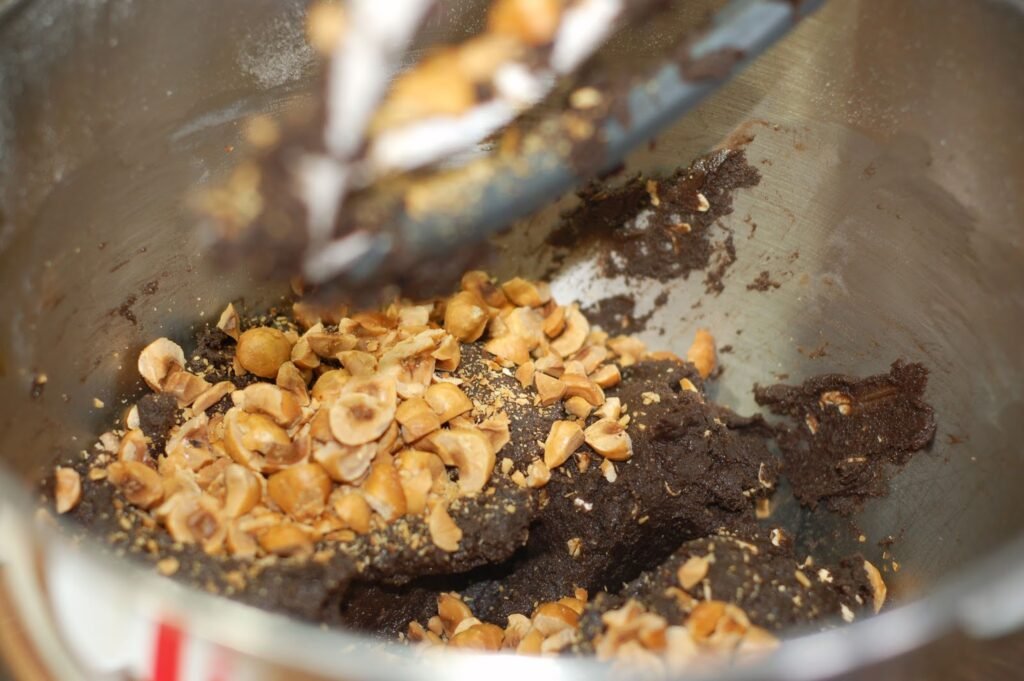 This picture just makes me want to dig in right now and eat the dough right out of the bowl.
Wow! I think I may like nutmeg more in my cookies than ginger. It really brought the dark chocolate and toasted hazelnuts to a new level. I love all the textures too, the chewiness of the cookies themselves, the gooeyness of the dark chocolate chips, the crunchiness of the hazelnuts. They were a hit with my daughter and husband. I had to freeze some before we ate them all. We are going to need snacks on moving day.
Spiced Dark Chocolate Hazelnut Cookies
by The Sweet Chick
Prep Time: 15 minutes
Cook Time: 8 minutes
Keywords: bake dessert snack dark chocolate dark chocolate chips hazelnut nutmeg cookie American fall winter
Ingredients (36 cookies)
2 1/4 cups all purpose flour
1/2 teaspoon ground cloves
1/2 teaspoon ground nutmeg
1/2 teaspoon ground cinnamon
2 teaspoons baking soda
1/2 teaspoon salt
1/4 cup Hershey's Special Dark Cocoa
1 cup brown sugar
3/4 cup (1 1/2 sticks) butter, softened
1/4 cup dark molasses
1 large egg, beaten
4 tablespoons milk
1/2 cup rolled oats
1/2 cup dark chocolate chips
1/2 cup chopped, toasted hazelnuts
Instructions
Preheat oven to 375º F.
In a stand mixer, place the flour, cloves, nutmeg, cinnamon, baking soda, salt, cocoa and sugar. Mix on low speed for 2 minutes.
Then add the butter, molasses, egg, and milk. Mix on low until well blended.
Next add oats, chocolate chips, and hazelnuts. Mix on low until all incorporated.
With a cookie scoop measure out dough and place on greased cookie sheet about 2 inches apart.
Bake 8-10 minutes at 375º F ( I found that 8 minutes was enough time to keep the cookies soft and chewy with a slight crispiness on the outside, but everyone's oven is different).
Remove from the oven and place on cooling racks until completely cooled.
Grab a glass of cold milk or a mug of coffee and a couple of cookies and enjoy!
Disclaimer: Oh! Nuts did provide me with some of the products used to make this recipe, but I was under no obligation to develop a recipe for them nor provide a favorable review. All thoughts and opinions are my own.