Ahh, Sin City.  I don't know why it calls to me, but I do enjoy going there.  My husband is not a big gambler and I don't gamble at all, but we love to go check out the new hotels, casinos, shows, and restaurants.  We went for a few days last week to celebrate our wedding anniversary "sans les enfants".  My mother was kind enough to babysit.  This time in Vegas, my husband and I stayed at the new Aria resort and casino at City Center.  We stayed in a corner room with a gorgeous view of the strip.  The hotel itself was a very modern and sleek looking, but somehow had a warm atmosphere.  The lobby featured plenty of greenery to make it feel warm and welcoming.
Since we arrived late in the evening, out first stop after unpacking was to eat dinner.  We went to Julian Serrano's right inside the hotel.  My husband had eaten there before and said the food was very good.  We ordered several different tapas from the Spanish fare offered.  First we had an appetizer of marinated olives. Very tasty. Then I ordered a Lobster-Pineapple Skewer and a Creamy Risotto made with wild mushrooms, manchego and natural jus.  They were both incredible.  The lobster tail was so fresh and the risotto was overflowing with flavor.
My husband ordered the Traditional Chicken Croquetas with chicken and bechamel; the Spanish Tortilla (not pictured) with potatoes , eggs and onion; and the Pintxode Chorizos, mini chorizos with garlic mashed potatoes.  All very, very yummy.  The tapas hit the spot.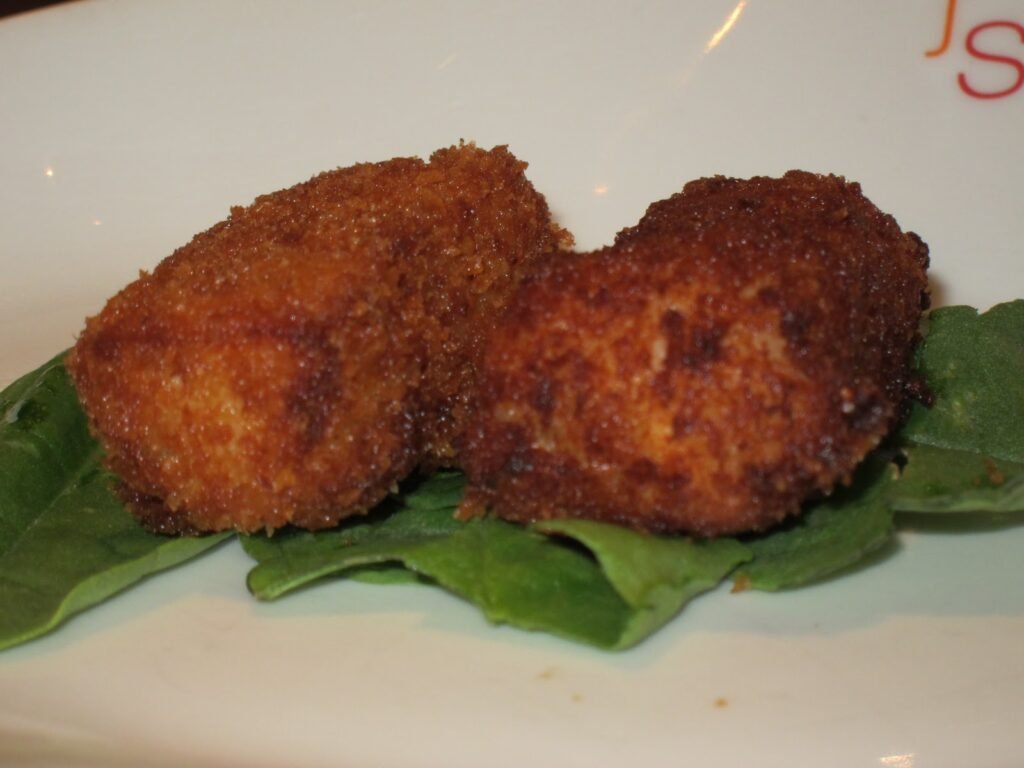 We would definitely recommend this restaurant to anyone looking for native Spanish foods in a friendly warm environment.