Hold on…let me catch my breath.  With Christmas around the corner, I have been doing nothing, but running around trying to get things done.  Shopping for gifts, wrapping gifts, taking pics of the kids for Xmas cards, sending out Xmas cards, going to my daughter's Xmas concert at school, baking goodies for my daughter's Xmas party, going to my mom's to celebrate Xmas….phew…and I am not even done yet.  But I thought I'd take a break to post a little fun project for kids (ok, for parents too).  My mom found these Limited Edition Gingerbread Graham Crackers.  She gave me a pack to make a mini Gingerbread house for my daughter.
How cute!  I have never made a Gingerbread house, perhaps next year I will make one from scratch with the two kids.  For now this is perfect. Quick and easy.  Just how I like it.  I already had some cookie icing on hand and some mini marshmallows and mini M&M's.  Let the creativity begin.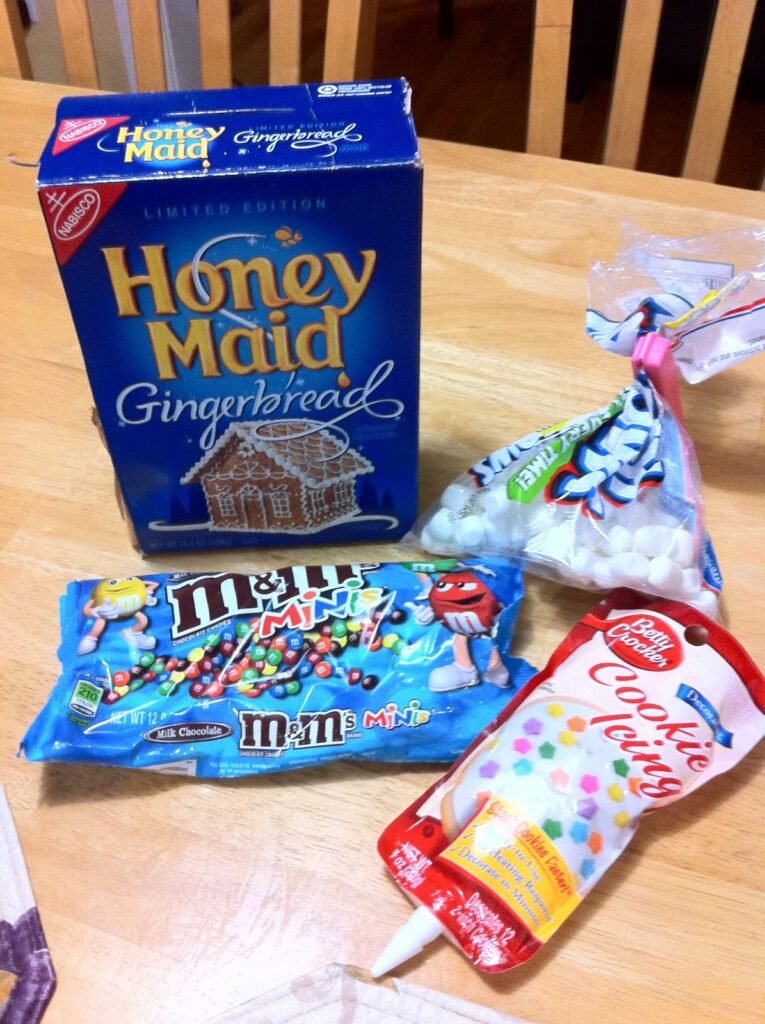 I set to work cutting the pieces and gluing them together to form the basic house shape.  The cookie icing worked great.  It hardens up quite well.  There is a recipe on the Honey Maid box to make your own icing if you want.
My husband did not approve of my building skills and therefore took over the project.  I think he just wanted to have some fun too.
We did of course have to taste test the broken pieces.  Not bad, a very light flavor of gingerbread mixed with graham.  Mmmmm.  Great with a cup of coffee!
Hubby also decorated the house.  My daughter just picked out the color of M&M's she wanted.  The mini marshmallows were used as roof shingles.
My daughter requested a wreath for the door, so we had some Smarties in the pantry.  A green Smartie and a red M&M did the trick.  Looks fabulous, thanks honey.  He did a great job!
We didn't feel to let the Gingerbread house go stale, so we decided to eat it right away.  My daughter took the first couple of bites.  It was quite yummy!   There was also a recipe on the box to make Gingerbread loaves.  I will have to try those next time, if I can find another box of these.