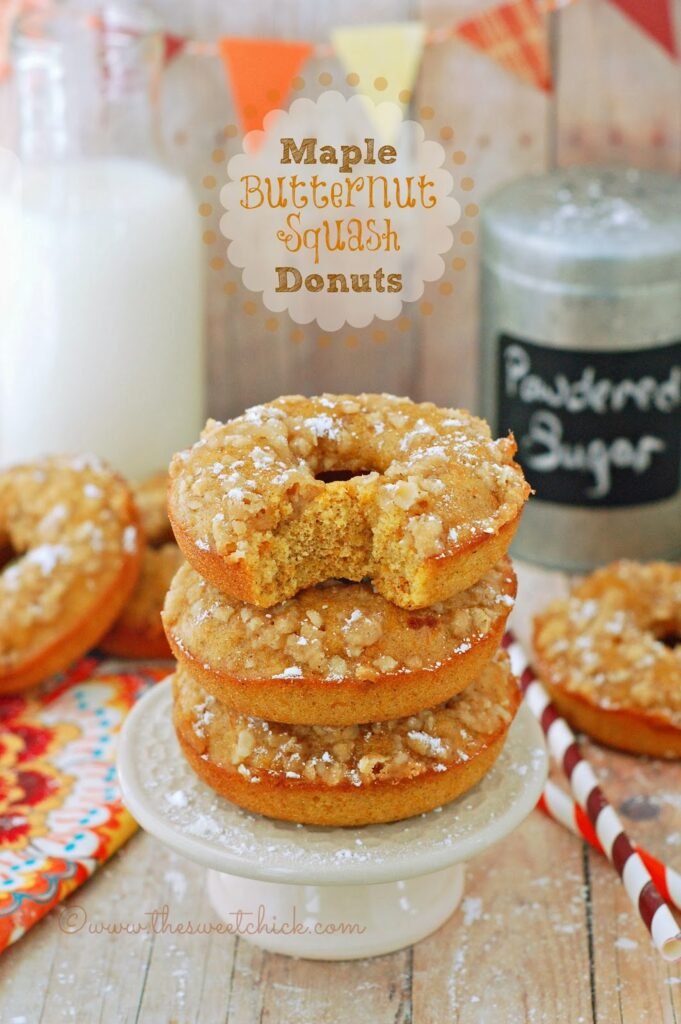 Since my Maple Butternut Squash Bread was a success, I went out to buy more squash to see what else I could make.  I haven't made donuts in a while.  It seemed like a logical choice.  Who can resist a donut?  And we can pretend it's healthy because it has a vegetable in it.  But don't let the vegetable part scare you away.  This is still a sweet treat.  Don't tell anyone, but I think I may like this more that Krispy Kreme's pumpkin spice donut. 
I just went ahead and cooked up the whole butternut squash this time since I am going to be using it for other recipes.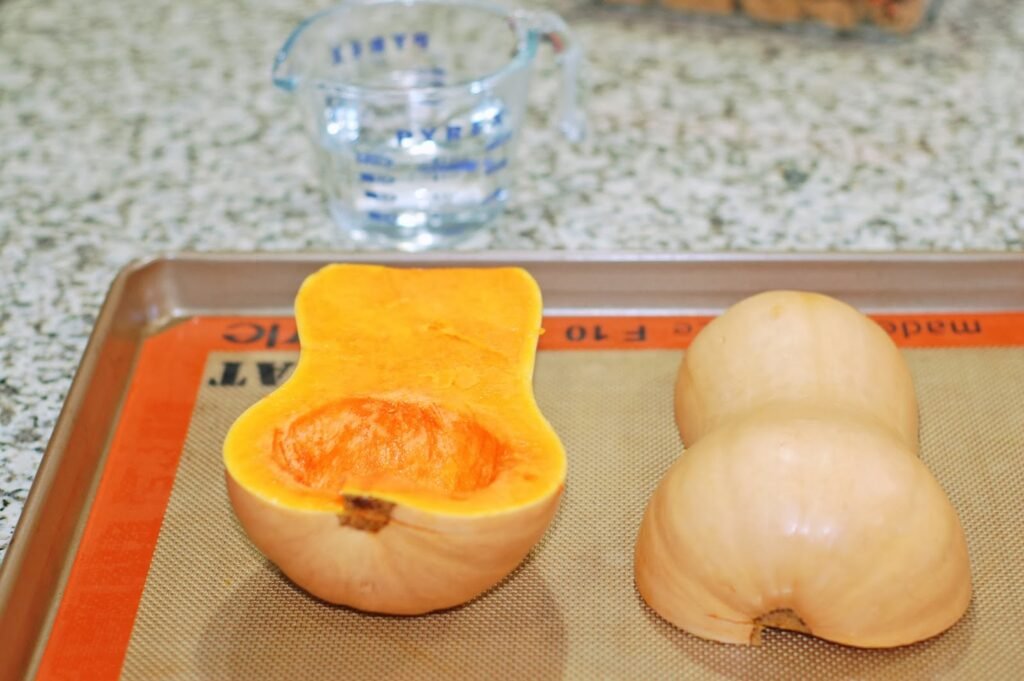 It's so simple.  Just slice the squash in half, scoop out the seeds, and place face down  on a sheet pan.
 Then add a cup of water and bake at 350º F for about 40 minutes or until fork tender.
I just scooped out all the insides with a fork, shredding it as I went along.  I scooped it all the way down to the skin.  You definitely don't want to waste any of this great tasting squash.
Voila! Butternut squash puree.  It's that easy.  I let this cool off a little before baking with it.  Or if you want you can make it ahead and store it in the fridge in an airtight container.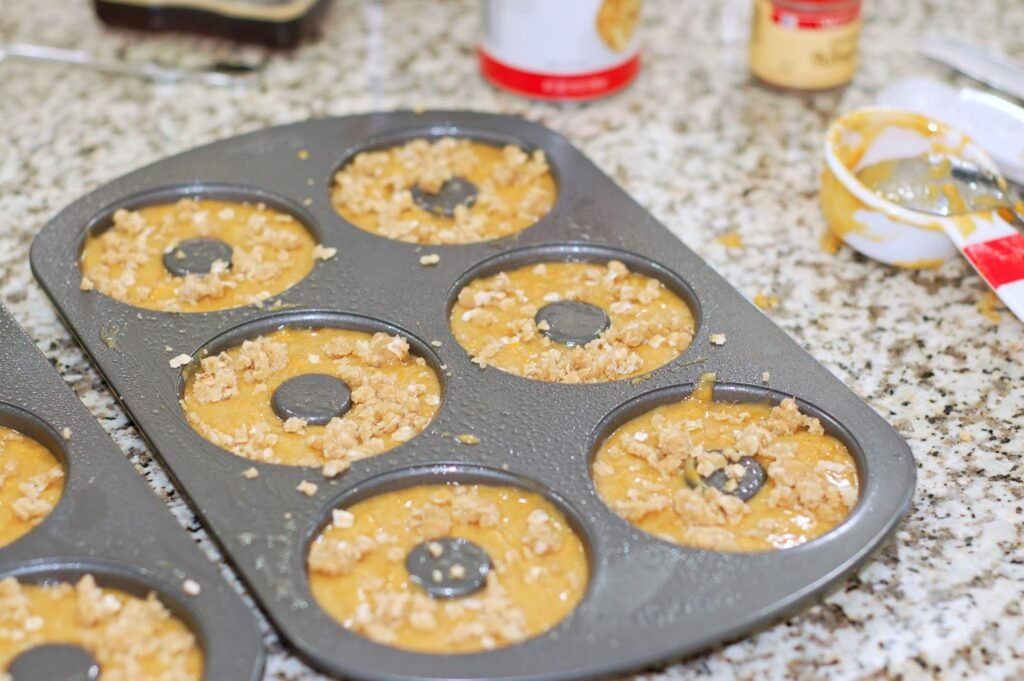 For the topping, I wanted to add a little texture instead of a glaze.  So I chose to do crumble.  I only put about a teaspoon of topping per donut.  If you want more, just double up the recipe and add more.
The butternut squash, maple, and allspice work so well together. You can taste each flavor, neither one overwhelms the other.  They blend smoothly to make a slightly sweet, light donut that is great for any occasion.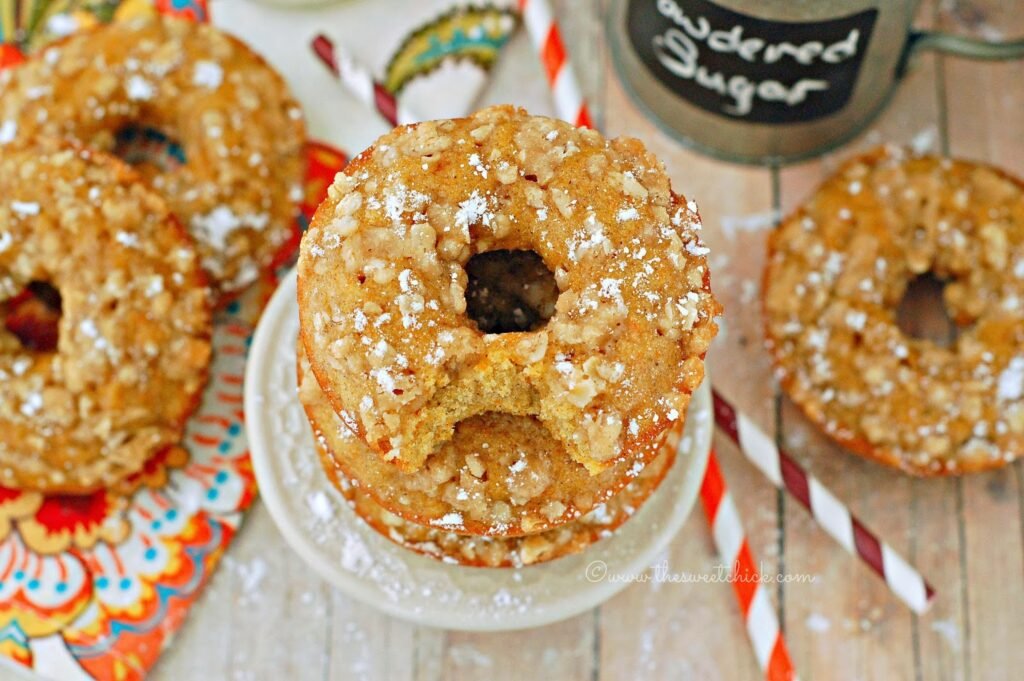 You can sprinkle a little bit of powdered sugar over the tops before serving if you want.  I love messy donuts!
Maple Butternut Squash Donuts
by The Sweet Chick
Prep Time: 15 minutes
Cook Time: 15 minutes
Keywords: bake breakfast dessert snack butternut squash maple syrup donuts American fall
Ingredients (18 donuts)
For the donuts
1/4 cup vegetable oil
1/4 cup pure maple syrup
3 large eggs
1 1/4 cups light brown sugar
1 1/2 cups butternut squash puree
1 1/2 teaspoon ground Allspice
1 1/2 teaspoons salt
1 1/2 teaspoon baking powder
1 3/4 cups + 2 tablespoons all purpose flour
For the topping
1/4 cup light brown sugar
2 tablespoons flour
3 tablespoons quick oats
2 tablespoons butter, melted
Instructions
For the donuts
Preheat the oven to 350°F.
In a stand mixer, beat together the oil, syrup, eggs, sugar, squash, spice, salt, and baking powder until smooth.
Add the flour and mix on low until all incorporated.
Fill the wells of your greased doughnut pans about 3/4 full. I used a little less than 1/4 cup of batter per well. I just filled them with my measuring cup. No fancy equipment this time.
For the topping
Mix the sugar, flour, and oats together. Then add the butter and mix with a fork until all crumbly.
Sprinkle about a teaspoon of the crumble evenly over each doughnut.
Then bake the doughnuts for 15 minutes at 350ºF or until a toothpick inserted in the center comes out clean.
After you remove the doughnuts from the oven, wait a few minutes before taking them out of the pan.
Then gently lift each one up with a small spatula and place them on a cooling rack to cool completely. (Don't flip the pan over because the topping with get messed up.)
If you can't wait for them to cool because the smell is too intoxicating, then go ahead and pop one in your mouth. Just don't burn yourself!