So this happened the same day as my Lime Coconut Rice Krispie Treats with Tequila.  I figured while I had the bottle of tequila out, I'd make good use of it. I did take a few sips of it and hoowee that stuff was strong.  Don't worry, although you do taste the tequila in the finished product, it's balanced with the sweetness of white chocolate and citrus flavor of the limes.  There is no burning sensation as you eat it, only an "OMG this is delicious" moment.
I ended up using two different white chocolates in this recipe due to the simple fact that I didn't have enough of the Baker's chocolate to complete the recipe and I was not going to get in the car to go get some. You are free to use whichever white chocolate you prefer.
I know that 1/4 cup lime rind does sound like a lot, I thought so at first also, but I gave the recipe a chance. And in the end, the lime flavor is not over powering at all.
I wanted a smooth fudge, so I put the shredded coconut flakes in the food processor and pulsed it a few times to get the flakes even finer.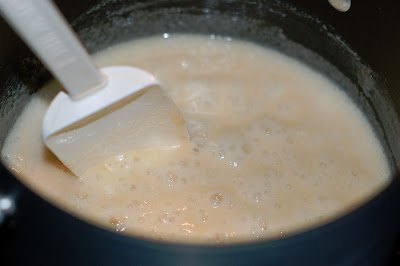 You do have to keep a close eye on the boiling milk, or it will scorch. Just keep stirring.
Mmmm…lime zest. It smells so good. I need to find myself a lime candle to keep in the kitchen. I did find that my chocolate starting hardening up once I took it off the stove, so I ended up putting it back on the stove top on low to be able to blend everything smoothly and it worked.
It came out perfect, smooth and creamy. You can taste all the flavors in this one, the limes, coconut, and tequila. They all pay off of one another, and blend together as one flavor, without one being more overpowering than the other. If you like lime and coconut, you have got to try this.
Tequila Lime Coconut Fudge
by The Sweet Chick
Prep Time: 15 minutes
Cook Time: 10 minutes
Keywords: stove top dessert snack coconut limes tequila fudge American summer
Ingredients (64 squares)
1 can (5 oz.) evaporated milk
1 2/3 cups sugar
1/2 teaspoon salt
12 large marshmallows
12 oz. Baker's Premium White Chocolate Baking Squares
1/2 cup white chocolate chips
2 tablespoons tequila
1/4 cup grated lime rind
2 tablespoons lime juice
1/2 cup shredded coconut
Instructions
In a large saucepan, combine milk, sugar and salt.
Cook over medium heat, stirring constantly until the mixture comes to a boil.
Then cook for 8 minutes, again stirring constantly so that the milk does not scorch at the bottom of the saucepan.
Remove from heat and stir in the marshmallows, chocolate, tequila, lime rind and juice.
If you mixture begins to harden up, simply place pot back on stove top and heat on low until the mixture becomes soft and smooth.
Next add in the coconut flakes and stir until all incorporated and pour into an 8×8 pan lined with parchment paper and spread out evenly.
Then place in fridge until completely set, about 1-2 hours.
Cut into squares, eat, and enjoy!