When I saw these donuts on Love From The Oven, I had to try them.  Christi had the great idea of putting hot chocolate mix in the recipe.  It makes them so rich with chocolate flavor.  You have got to try them.
She just used the chocolate donut recipe from Babycakes and exchanged the cocoa in the recipe for hot chocolate. I went ahead and added mini chocolate chips to her recipe.  You can never have too much chocolate.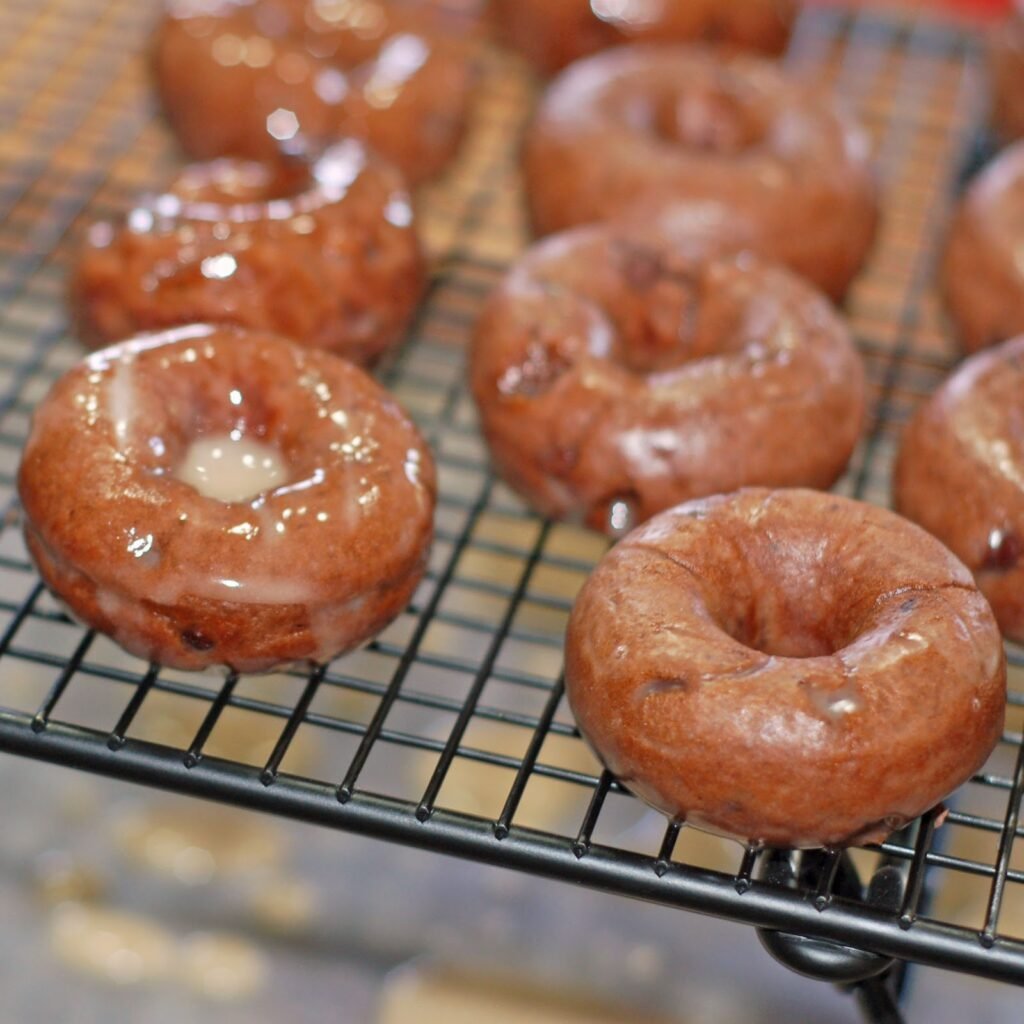 Then she dipped them in glaze, topped them with a marshmallow creme frosting recipe from Kraft Foods and a chocolate glaze recipe from Heather Christo Cooks.
Then sprinkled them with Jet Puffed Marshmallow bits.  Oh my goodness, so many layers of flavors.
Christi has a lot of wonderful recipes, go check out her site.  In the meantime here is the recipe for the donuts.
Mini Hot Chocolate Donuts
by The Sweet Chick
Prep Time: 10-15 minutes
Cook Time: 4-5 minutes per batch
Keywords: bake dessert hot chocolate chocolate chips chocolate marshmallow bits donuts 
Ingredients (24 mini donuts)
For the donuts
1 1/4 cups all purpose flour
1/2 cup hot chocolate mix
1/2 cup sugar
1 tablespoon baking powder
1 egg
1/2 cup milk
2 tbsp white vinegar
1/2 cup vegetable oil
1 teaspoon vanilla
1/4 cup mini chocolate chips
For the glaze
1 cup powdered sugar
1 tsp vanilla extract
4 tbsp milk
For the marshmallow creme frosting
1/4 stick (2 tablespoons) butter/margarine, softened
1/2 jar (3.5 oz.) marshmallow fluff
1/2 teaspoon vanilla
8 oz. powdered sugar
1 tablespoon milk
For the chocolate frosting
1/2 cup light cream
2 tablespoons corn syrup
4 oz. chopped dark chocolate
Toppings
Jet Puffed Marshmallow Bits
Instructions
For the donuts
Mix milk and vinegar together and set aside for 5-10 minutes until it forms curds.
Meanwhile using a hand mixer or stand mixer, beat together oil and sugar. Add egg and vanilla. Stir in the milk/vinegar and mix well.
In a medium bowl stir together the flour, hot chocolate mix, and baking powder .
Slowly add the wet ingredients to the dry ingredients, making sure to have a nice smooth mixture. Then add the chocolate chips and make sure they are well blended.
Use a piping bag or a Ziplock bag with tip cut off to fill each donut reservoir of your Babycakes donut maker with about 2 tbsp of batter.
Bake for about 4-5 minutes or until toothpick inserted in center of donut comes out clean.
Place hot donuts on cooling rack with a wax paper underneath and prepare the glaze.
For the glaze
In a small bowl mix together powdered sugar, vanilla, and milk. You want the consistency to be runny, not thick.
Dip each donut in the mixture and flip it around by hand or with a fork until the whole donut is covered. Then place back on the cooling rack until the glaze is dry.
For the marshmallow creme frosting
Place butter/margarine, marshmallow fluff and vanilla in a small bowl. With a hand mixer, beat on medium speed until well blended. Slowly add sugar and mix well.
Then add milk and mix again. The mixture should be smooth enough to spread, but not too thin that it will melt off the donuts.
I spread it on the donuts with a knife.
For the chocolate frosting
Place chocolate and cream in a microwave safe bowl and heat for 30 seconds, stir, then heat for another 30 seconds until chocolate is all melted.
Remove from microwave and add corn syrup. Stir until well mixed and smooth.
Dip each donut in the chocolate frosting or spread on with knife.
Toppings
While chocolate is cooling sprinkle each donut with marshmallow bits. When cooled, eat and enjoy!
Note:
If you are using a mini donut pan, bake your donuts in the oven at 425ºF for 4-6 minutes or until toothpick inserted in middle of donut comes out clean.
(recipes adapted from Babycakes, Love from the Oven, Kraft Foods, and Heather Christo Cooks)