I have been wanting to try Biscoff cupcakes for that past week. But I wanted to see what would happen if I tried to turn them into s'mores. The Biscoff is a bit sweeter than a graham cracker, but I though if I used a dark chocolate ganache to fill them, it might balance out the sweetness. What?? Me, make something less sweet?? Ask anyone who knows me and they would think something was wrong. But have no fear, sometimes it's all worth it in the end. And these absolutely were. Topped with a marshmallow fluff frosting, these puppies came out better than expected, better than a s'mores!
Don't mind my upside down flour bag. It had a hole in the bottom, so I had put it that way, otherwise that kitchen would look like a snowstorm had passed through.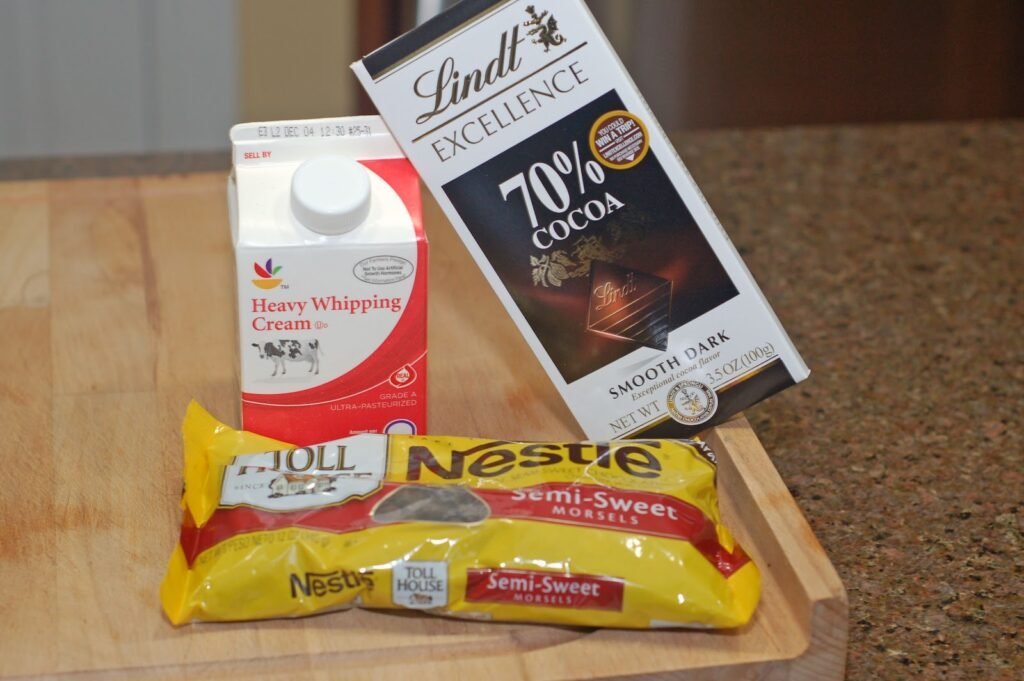 filled cupcakes
At this point feel free to take any defect cupcake and pop it into your mouth. It is for quality control purposes only. Since it was late at night when I made the frosting, I forgot to take any pictures.
Of course before I went to bed I had to try one and gave one to my husband to try so I wouldn't feel so guilty. Oh god, they were delicious. I am glad I made them bite size, the blend of tastes it just perfect. Unfortunately, that just means I will eat more.
Better Than S'Mores Mini Cupcakes
by The Sweet Chick
Prep Time: 20-30 minutes
Cook Time: 10-15 minutes
Keywords: bake dessert biscoff marshmallow fluff chocolate ganache cupcake
Ingredients (24 mini cupcakes)
For the Biscoff Cupcakes
1 cup all-purpose flour
1 cup granulated sugar
1/2 teaspoon kosher salt
1/2 teaspoon baking soda
1/2 cup canola oil
1/2 cup sour cream
1/2 cup Biscoff spread
2 large eggs
2 teaspoons pure vanilla extract
For the Chocolate Ganache Filling
12 ounces chocolate, chopped into small pieces (I used a 3.5oz bar of Lindt dark chocolate and about 3/4 of a 12 oz bag of semi-sweet chocolate chips)
1 cup heavy cream
For the Marshmallow Fluff Frosting
1/2 stick butter, softened
2 cups marshmallow fluff
2 cups powdered sugar
1 teaspoon vanilla
1 tablespoon Wilton meringue powder
2-3 tablespoons milk
Instructions
For the Biscoff Cupcakes
Preheat the oven to 350º F and fill muffin tin with cupcake liners.
Place flour, sugar, salt and baking soda into a large bowl, mix to combine. Set aside.
In a stand mixer or using a hand mixer, place oil, sour cream, Biscoff spread, eggs and vanilla into the bowl and mix on medium speed until well incorporated. Slowly add dry ingredients and mix thoroughly, about 30 seconds. Spoon batter into prepared mini cupcake liners about 3/4 full. Bake for 10-15 or until toothpick inserted in center comes out dry. Remove and let cool completely.
(For regular sized cupcakes, bake 18-22 minutes).
Recipe by healthyfoodforliving.com/recipes
For the Chocolate Ganache Filling
Place chocolate pieces in a large bowl.
Heat heavy cream on medium high until it comes to a boil. Remove from heat and immediately pour cream over chocolate and stir until completely mixed and glossy.
Allow ganache to cool. The longer you allow the ganache to cool, the thicker it will set. You can place it in the fridge to cool faster. The ganache needs to be completely cooled before piping it in the cupcakes.
While the ganache is cooling cut a hole in the middle of each cupcake and scoop out the center (not all the way to the bottom). I used a vegetable peeler, but you can also try a apple corer.
With a frosting piping bag or a plastic freezer bag with tip cut off, pipe the ganache filling into each cupcake and place back in the fridge.
Recipe by https://www.healthyfoodforliving.com/recipes/
For the Marshmallow Fluff Frosting
In a stand up mixer or using a hand mixer, blend butter and marshmallow fluff until smooth.
Sift in confectioners' sugar and meringue powder and beat on low speed.
Add vanilla and milk and increase speed to high. Beat for 1 minute.
Using a frosting piping bag and your favorite tip, frost each cupcake and place back in fridge to set.
Recipe by The Sweet Chick