These bright and cheerful beauties came about after I found a bag of lemon meringue marshmallows at Walmart. I thought, hmmm, lemon meringue Rice Krispie treats? Yep, that sounded like a good idea. By adding fresh lemon juice and rind, I achieved a nice tartness. And the meringue balanced it off with a little bit of sweetness. If you love lemon meringue pie, you are going to love these fun, easy treats.
The Rice Krispie bars are pretty basic…cereal, marshmallows, butter, and some lemon juice and rind.
For the meringue, I made a Swiss Meringue.  I kind of combined Martha Stewart's recipe and Sweetapolita's intructions.  I did heat my egg whites and sugar in my stand mixer bowl over a pot of water.  And I heated them to 160º F.
I did not however, have any cream of tartar, so I skipped on that. But the meringue did hold up anyway.
I did my little happy dance when it all worked out. I really didn't feel like going out to the store at night just for cream of tartar.
At this point you can spread this delicious marshmallowy goodness on top of the Rice Krispie treats and cut into squares.
Or, if you feel creative, you can pull out your cookie cutters and cut out cute Easter shapes, then spread them with the meringue.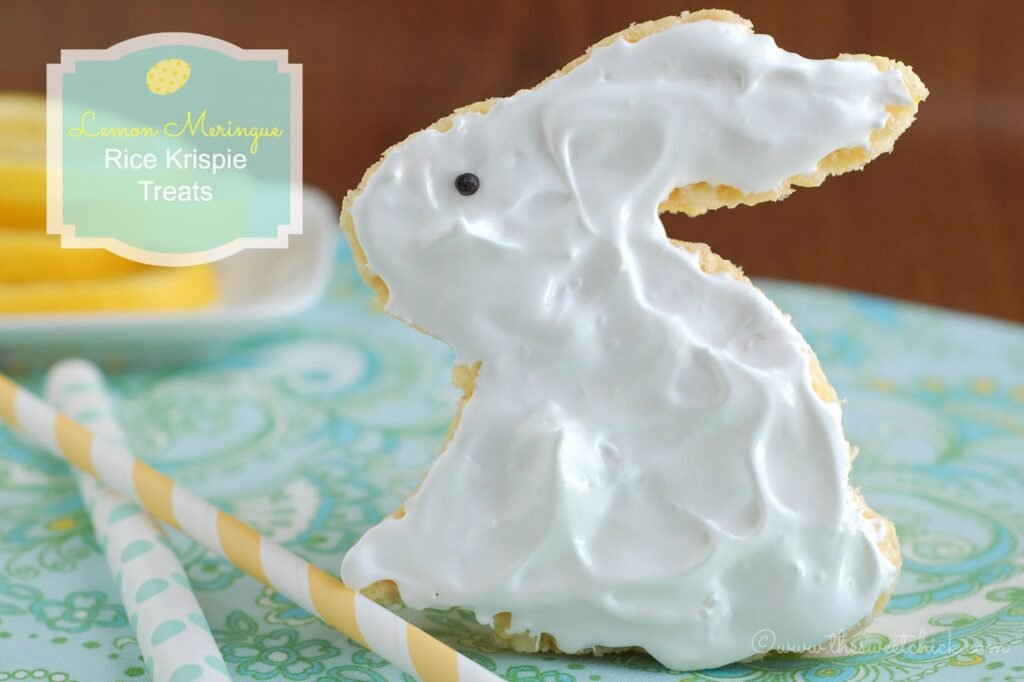 For the bunny, I left the meringue white and I added a dab of Wilton's black decorating frosting that I used here.
For the chickie, I added a bit of Wilton's yellow gel food coloring to the meringue. And I cut a wedge of an orange candy melt wafer to make the beak. You can probably use an orange gummy candy also.
Also for added interest, if you have a kitchen hand torch, you can torch the tops of the meringue to give it that "baked"look. Don't worry , they still taste the same whether you torch them or not.
Lemon Meringue Rice Krispie Treats
by The Sweet Chick
Prep Time: 20 minutes
Cook Time: 10 minutes
Keywords: stove top dessert snack lemon rice krispies meringue Easter bars rice krispie treats American
Ingredients (24 squares)
For the treats
3 tablespoons butter
1 bag (8 oz.) Campfire Lemon Meringue Mallow Bursts
1 teaspoon fresh lemon juice
1 teaspoon lemon zest
5 cups Rice Krispie cereal
For the meringue
2 egg whites
1/2 cup sugar
1/4 teaspoon vanilla extract
Instructions
For the treats
In a large sauce pan, melt butter and marshmallows over low heat. Stir until completely melted.
Remove from heat and add lemon juice and zest. Stir until completely mixed.
Then add the Rice Krispie cereal. Mix until all is well incorporated.
Then pour the mixture into a greased 9 x 13 pan or a cookie sheet and spread it evenly with a piece of waxed paper.
Place in fridge to cool and set.
For the meringue
Fill a medium saucepan with about 1 inch of water and bring to a simmer over medium heat.
Place egg whites and sugar in a metal stand mixer bowl and clip on a candy thermometer. Place bowl over simmering pot of water.
Whisk egg whites/sugar mixture constantly until the temperature reaches 160º F on the thermometer.
Then remove bowl from stove and attach to stand mixer with whisk attachment.
Starting at medium/low speed, begin to whisk egg whites/sugar mixture for about 2 minutes.
Then increase to a medium/high speed and whisk until mixture thickens and the mixer bowl is cool to the touch, about 10 minutes. Then add vanilla extract and give it one more good whisking to blend well.
The texture of the meringue should be fluffy and it should have a glossy finish. (It should look like marshmallow fluff you buy in a jar.)
With a spatula, spread meringue over the cooled Rice Krispie treats, cut into squares and enjoy!
Note: the Rice Krispies can be made ahead of time, but the meringue needs to be made the day of or the night before you plan to serve it. The meringue can be kept in an airtight container in the fridge for about one day, but after that it will become dry.