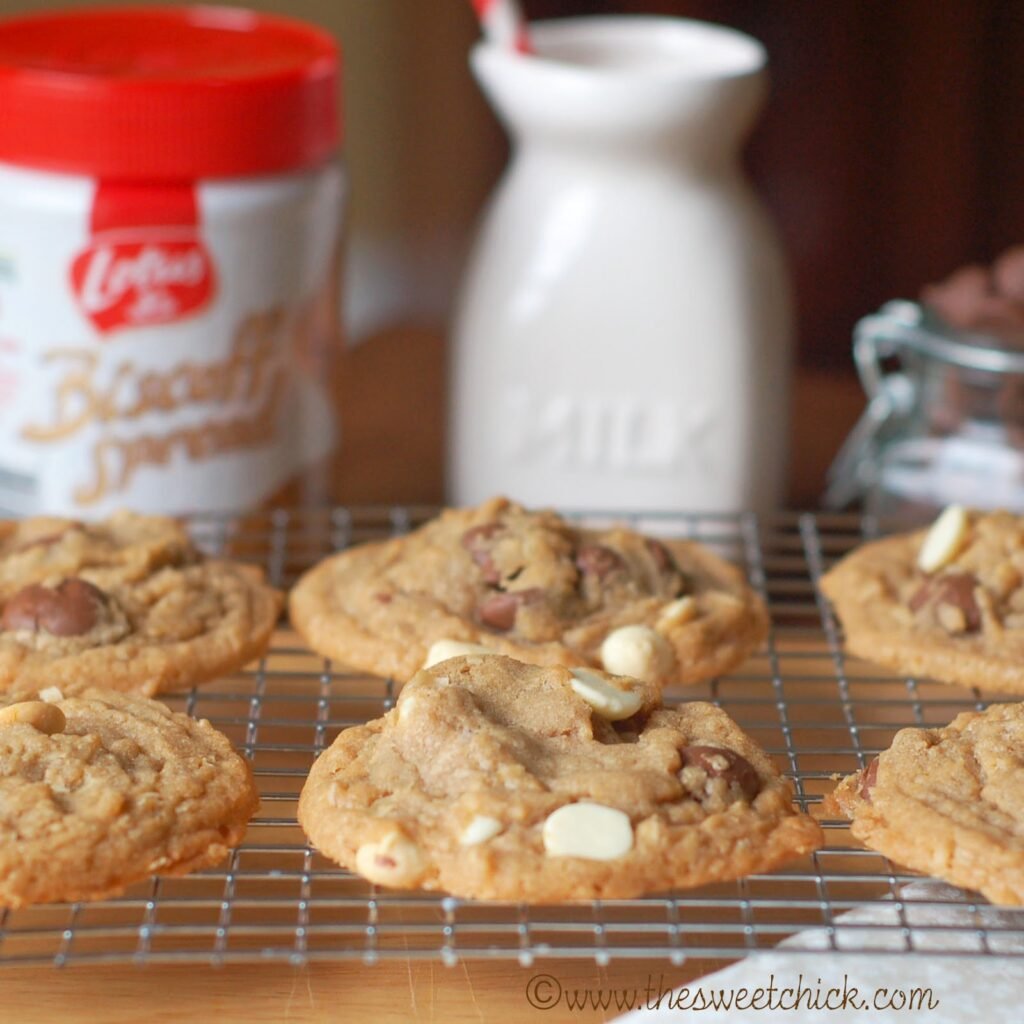 I had two jars of Biscoff Spread open in the cabinet.  I don't know how that happened, but I didn't want them to go to waste.  So I dutifully used one jar to make some cookies.  I made some similar cookies the other day and they were good, but a little too sweet.  So I fiddle with the recipe a little.  Switched some things, added others.  It's like being a scientist.  Sometimes you just have to find the right formula.
The ingredients are quite simple.  You may have these in your pantry all ready.
I could eat them just like this.  I know raw eggs are bad for you, but I grew up licking all my mom's cake batter bowls and I am still here to talk about it.
Bottom line, these cookies came out like I wanted, not too sweet.  They had plenty of Biscoff flavor and the two chocolates blended in well as the cookie melted in my mouth.  Mmmm, Mmmm, good!
Biscoff Oatmeal Double Chocolate Chip Cookie
by The Sweet Chick
Prep Time: 15 minutes
Cook Time: 10 minutes
Ingredients (32 cookies)
3/4 cup Biscoff Spread
1/2 stick (1/2 cup) Crisco Vegetable Shortening
1/2 cup granulated sugar
1/3 cup light brown sugar
4 tablespoons milk
1 teaspoon pure vanilla extract
1 large egg
1 1/2 cups all purpose flour
3/4 teaspoon baking soda
1/4 teaspoon salt
1/2 cup Quaker quick oats
1 cup chocolate chips ( I used mini Hershey kisses, but you can use semi-sweet or dark)
1/2 cup white chocolate chips
Instructions
Preheat oven to 350º F.
In a large bowl or stand mixer combine the Biscoff spread, shortening, both sugars, milk, and vanilla. Beat at medium speed of electric or stand mixer until well blended. Then add egg and blend again.
In a separate bowl blend together the flour, baking soda, and salt. Add this dry mixture to the wet mixture and mix on low speed.
Slowly add the oats and chocolate chips until all is well blended.
Using a medium cookie scoop, drop the balls of dough onto a greased cookie sheet about 2 inches apart.
Bake for 10 minutes or until cookies are a golden color. Then let cookies cool on cookie sheet for 2 minutes before removing and placing on cooling rack.
Grab a glass of milk and dunk one in. Eat and enjoy!