The holidays are not over yet and neither is my obsession with chocolate and ginger.. I hope everyone enjoyed their Christmas celebrations. I know I did. My daughter was quite thrilled that Santa brought what she had asked for and my son could care less about opening gifts or playing with his new toys. But we did get to spend the whole day together just hanging around in our pajamas and having a nice family nap time. I really needed that.
I made these scones to bring to the office and share with my co-workers, but somehow they never left the house. My husband and I ate them all ourselves.
We ate some with our coffee. We ate some with our tea. We ate some for dessert. We ate some for breakfast. They are great anytime.
You can make them with or without the glaze.  We tried them both ways and they still had a lot of flavor.  They spices are not overly intense, but do play up the cocoa.  They chocolate flavor is much less subdued then my Chocolate Ginger Cookies, but these are not meant to be cookies.
I made a very simple glaze to go along with the chocolate and ginger flavors. I used egg nog and powdered sugar.
At first I brushed it on with a pastry brush, but then I decided they looked too pretty so I went back and drizzled some more glaze over them to messed them up a bit.
And then to finish them off, I sprinkled the glaze with some cinnamon sugar.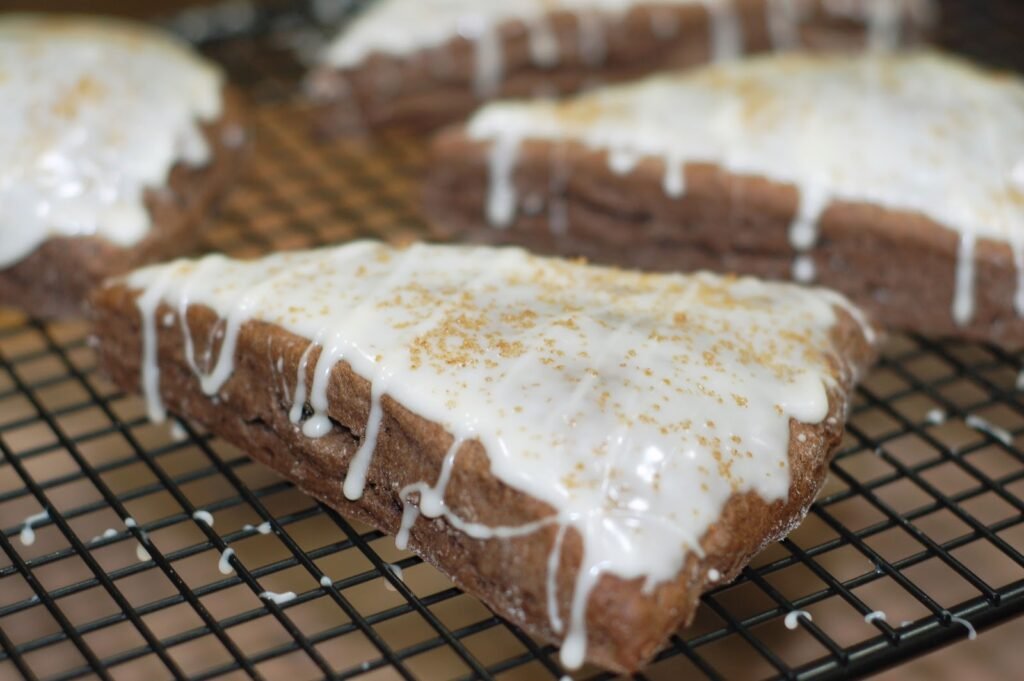 See this one here. It's calling your name. Come on, take a bite, I won't tell.
Chocolate Ginger Scones with an Egg Nog Glaze
by The Sweet Chick
Prep Time: 10-15 minutes
Cook Time: 15 minutes
Keywords: bake breakfast dessert snack chocolate ginger egg nog cinnamon Christmas scones winter
Ingredients (8 scones)
For the scones
2 cups flour
1/3 cup sugar
1/4 teaspoon ground cloves
1/4 teaspoon ground ginger
1/4 teaspoon ground cinnamon
2 tablespoons Hershey's Dark Cocoa
2 tsp baking powder
6 tbsp cold butter
1/2 cup milk
1 egg
2 tablespoons dark molasses
For the glaze
1 cup powdered sugar
3 tablespoons egg nog
For the topping
1/4 cup brown sugar
1/2 teaspoon cinnamon
Instructions
For the scones
Preheat oven to 425º F.
In a stand mixer, mix flour, sugar, baking powder, spices, and cocoa. Cut up butter and add to flour mixture. Mix on low for 2 minutes.
In a separate bowl mix egg and milk until blended and add to the flour mixture.
Then add molasses and mix until all incorporated. The batter will be a dough like consistency.
Take the dough and roll it into one big ball. Place the ball onto a lightly floured surface and flatten out to about an inch thick. With a knife or pizza cutter, divide the dough circle into equal triangles. I made eight big scones, but you can make yours a little smaller if you like.
Separate the triangles and place on a cookie sheet.
Bake at 425 degrees for 15 minutes. Place on cooling rack.
For the glaze
In a medium bowl whisk together the powdered sugar and egg nog until smooth.
When scones have cooled off, brush or drizzle on the glaze and let it set.
For the topping
In a small bowl mix together the brown sugar and cinnamon, then sprinkle over the glaze before it sets.