So the original post for this recipe got deleted and of course I didn't have a back up, so I don't remember what I wrote. That will teach me. Anyway, I will just have to come up with something new to say. Like how incredibly easy these Krispie Pumpkin Spice Oreo Tartlets are to make and you don't even need to turn on an oven. They are a perfect blend of two of my favorite desserts, Rice Krispie Treats and Oreo Truffles. Does that have you intrigued yet? Well, keep reading.
For the tartlet shell, I simply made some chocolate Rice Krispies and added some Hershey's Chocolate with Almond Spread. It gave the mixture a nice nutty flavor. But you can go ahead and use Nutella if you like or just skip the spread all together.
I used a tartlet pan to mold the Krispie treats, but you can do the same in a regular muffin tin. This would be an easy thing for the kids to do, just let the batter cool off a little before placing it in the molds. I used a cookie scoop to evenly distribute the batter. For the Oreo truffle filling, I used a mini scoop to place it inside the shells and flattened it out with a spatula.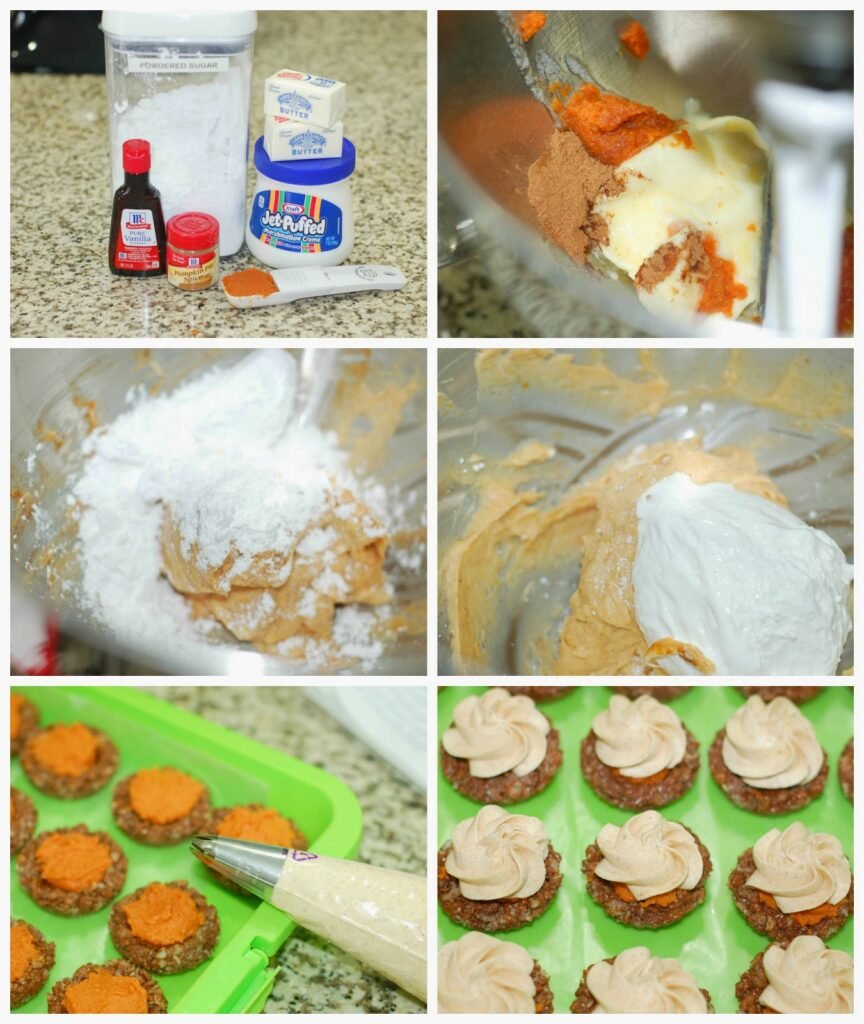 The frosting is the same one I used for my Chocolate Pumpkin Rice Krispie Treats, pictured below. I like how light, yet flavorful it is.
I also like how all the flavors of these treats come together so well, especially the pumpkin spice in Oreos and in the frosting.
Just look at it. A nice crunchy shell, with a creamy center, topped with a light, fluffy frosting. There is texture, flavor, and visual appeal. What more could you ask for?
Krispie Pumpkin Spice Oreo Tartlets
by The Sweet Chick
Prep Time: 30 minutes
Cook Time: 5 minutes
Keywords: no bake dessert snack pumpkin pumpkin spice Pumpkin Spice Oreos marshmallow fluff Halloween rice krispie treats tartlets American fall
Ingredients (24 tartlets)
For the crust
1 1/2 tablespoons butter
2 cups mini marshamllows
1/4 cup Hershey's Chocolate Spread with almonds
3 cups chocolate crispy rice cereal
For the filling
4 oz. cream cheese, softened
12 Pumpkin Spice Oreos, crushed
For the frosting
1/2 cup butter, softened
1 tablespoon pumpkin puree
1/2 teaspoon vanilla extract
1/2 teaspoon pumpkin spice
1/2 cup powdered sugar
1/2 cup marshmallow fluff
Optional toppings
24 Brach's Pumpkin Spice candy corn
sprinkles
Instructions
For the crust
In a large sauce pan, melt butter and marshmallows over low heat. Stir until completely melted.
Remove from heat and add chocolate spread. Stir until mixture is smooth.
Next add the rice cereal and stir until completely blended.
With a cookie scoop fill each cavity of a greased tartlet pan(or muffin tin) with the rice cereal mixture.
Then press and mold the mixture into a pie shell shape with you hands.
For the filling
In a medium bowl, mix together the cream cheese and crushed Oreos. (I just did it by hand.)
With a mini scoop, place a scoop of mixture into the center of each crispy shell.
Using a small spatula, flatten out the scoops to fill the shell.
Place the pans of treats in the fridge to set while you make the frosting.
For the frosting
In a stand mixer, beat butter, pumpkin puree, vanilla, and pumpkin spice on low until well mixed.
Add powdered sugar and beat on low until it is well blended into the butter mixture, then beat on medium/high until fluffy.
Then add the fluff and beat on low speed until all incorporated.
Remove treats from the fridge. With a cake decorating bag and Wilton 1M tip, swirl a small amount of frosting onto each treat.
Place the treats back in the fridge for the frosting to set. (I kept my treats in the fridge in an airtight container.)
Optional topping
If you are adding sprinkles or candy corn, add them before placing the frosted treats back in the fridge.