The fall weather down south is a lot different from the fall weather back home.  Here, I am still wearing my flip flops, capris, and short sleeves.  Back home I would have to be bundled up with long pants, socks, shoes, sweater, and a jacket.  I have not seen a lot of trees changing colors, but the fall decorations help me remember what season it is.  It is pumpkin season!  I have ideas floating in my head as to what else I can make with pumpkin puree.  I need to get them out.  Here is one of them.  This recipe is based off the Maple Pumpkin Rice Krispie Treats I made last year.
The ingredients are pretty basic and assembly is a breeze.  If you ever need to make a quick treat or dessert, Rice Krispie treats are the way to go.  And you can make them so many different ways.
The big flavor in these particular treats are the Hershey's Pumpkin Spice Kisses.  These are delicious all on their own, but adding them to my Rice Krispie treats brought them to a whole other level.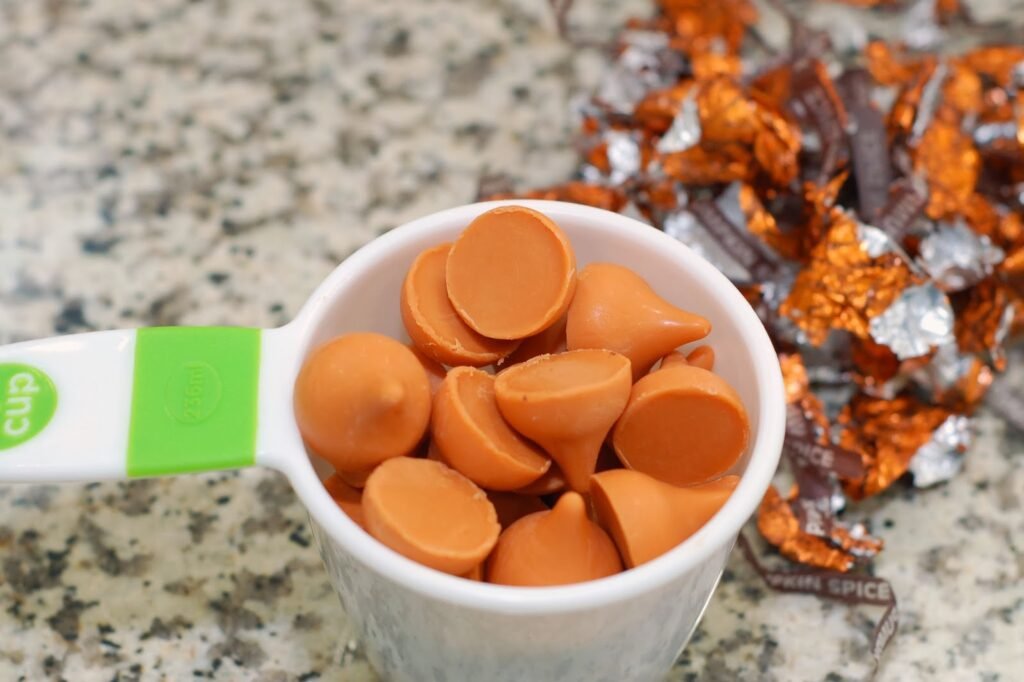 I didn't even chop them.  I just threw them into the warm marshmallow mix until they melted, so the flavors would spread evenly throughout the treats.
Dark chocolate and pumpkin spice are always a winning combo in my book.  Last year I used them to make the Maple Pumpkin Rice Krispie Treats and Maple Pumpkin Chocolate Chip Bread.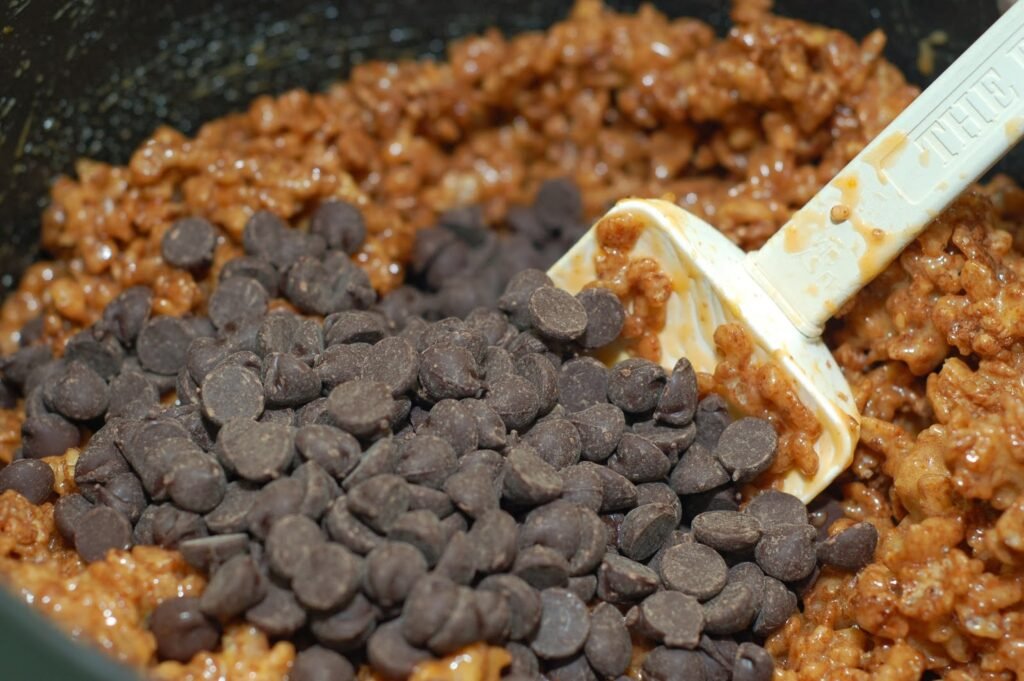 Can you smell that pumpkin spice?  If not, get closer to your screen. Just kidding. Now these treats can be finished at this stage or you can be crazy like me and add another layer of flavor.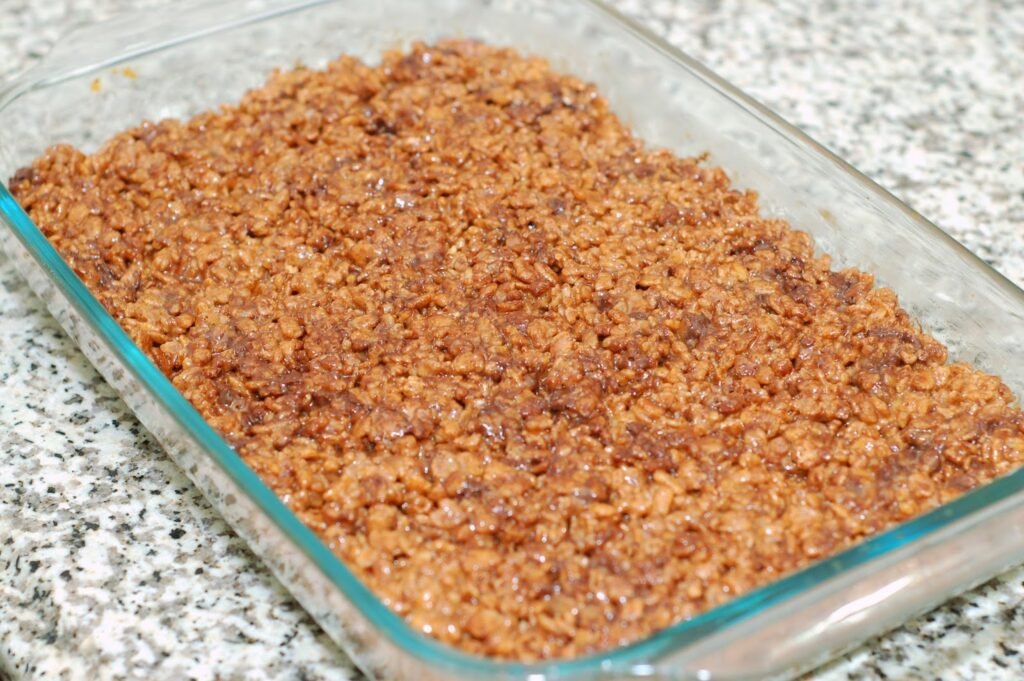 I found this really easy recipe for a marshmallow fluff frosting that I adapted for my recipe.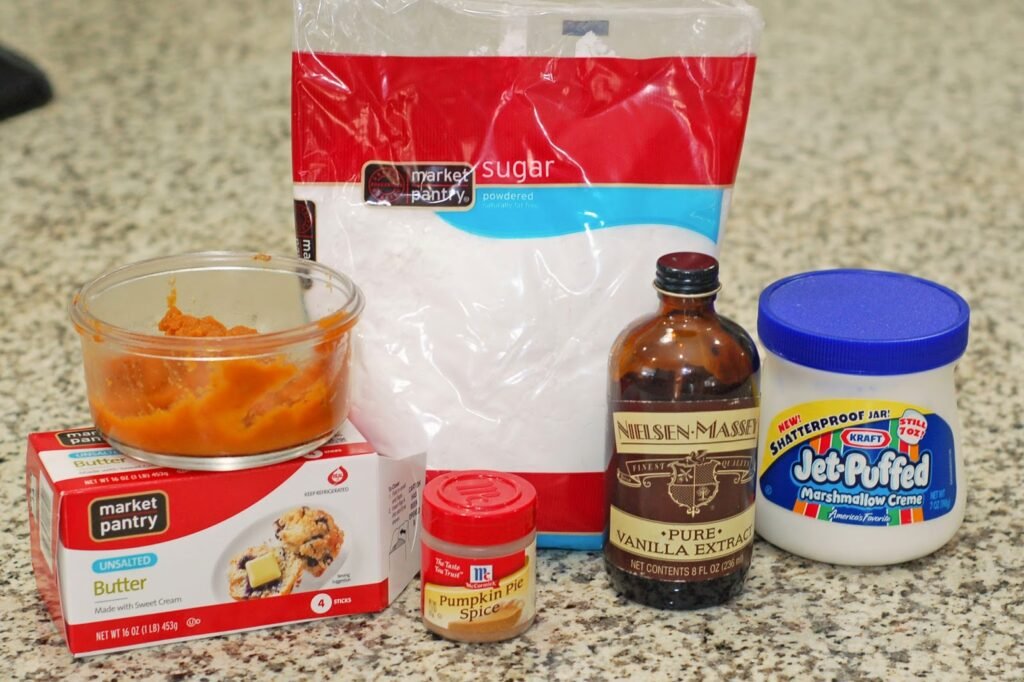 It is so light and fluffy and not too sweet.  I am going to have to make some more to frost some cupcakes.
 You have to hurry and frost the treats before you eat the frosting with a spoon.  It is that good.
I've got another winning Rice Krispie Treat flavor and a winning combo of treats and frosting.  The pumpkin spice flavors in both came together nicely.  The textures of soft, fluffy frosting and crunchy Rice Krispies will keep the party going in your mouth.  And the dark chocolate will make your tongue dance for joy.  Go on and make some today!
Chocolate Pumpkin Rice Krispie Treats
by The Sweet Chick
Prep Time: 15 minutes
Cook Time: 5 minutes
Keywords: no bake snack dessert dark chocolate chips rice krispies pumpkin marshmallows bars rice krispie treats American
Ingredients (24 squares)
For the treats
5 tablespoons butter
4 cups mini marshmallows
1/3 cup pumpkin puree
1 cup Hershey's Pumpkin Spice Kisses
1/4 teaspoon salt
7 cups Cocoa Krispie cereal
1 cup dark chocolate chips
For the frosting
1 cup butter (2 sticks)
2 tablespoons pumpkin puree
1 teaspoon vanilla extract
1 teaspoon pumpkin spice
1 cup powdered sugar
1 jar (7 oz.) marshmallow fluff
Instructions
For the treats
In a large sauce pan, melt butter, marshmallows, and pumpkin puree over low heat. Stir until completely melted.
Remove from heat and add salt and Pumpkin Spice Kisses. Stir until the candies are all melted and mixture is smooth.
Next add Rice Krispies and stir until completely blended.
Then add the chocolate chips and stir gently. Some of the chocolate may melt. It's ok.
Pour the mixture into a greased 9 x 13 pan or a cookie sheet and spread it evenly with a piece of greased waxed paper.
Place in fridge to cool.
For the frosting
In a stand mixer, beat butter, pumpkin puree, vanilla, and pumpkin spice on low until well mixed.
Add powdered sugar and beat on low until it is well blended into the butter mixture, then beat on medium/high until fluffy.
Then add the fluff and beat on low speed until all incorporated.
Spread frosting evenly over cooled treats and add sprinkles if desired.
Place treats back in fridge for frosting to set.
Once frosting is set, cut treats into squares and enjoy.