I was supposed to share this recipe last week, but things got super busy. Hubby and I received notice for some new showings on our house, so we were scrambling around getting the house clean and doing some redecorating. We keep crossing our fingers that our house will sell soon. The sooner it sells, the sooner we can move to warmer weather.
I was looking to whip up some no bake cookies with ingredients I already had in the pantry.  This recipe was inspired by Nutella No-Bake Cookies by What Katie's Baking and Parents Magazine Chocolate Marshmallow Meltaways.
It just requires a little stove top boiling and some decorative prepping. Or you can just eat it straight out of the pot and save some time.
If you like chocolate and cappuccinos you will love these and the intoxicating scent that it brings to your kitchen.
If you didn't eat this straight out of the pot then you can just scoop the mix onto a wax paper with a cookie scoop.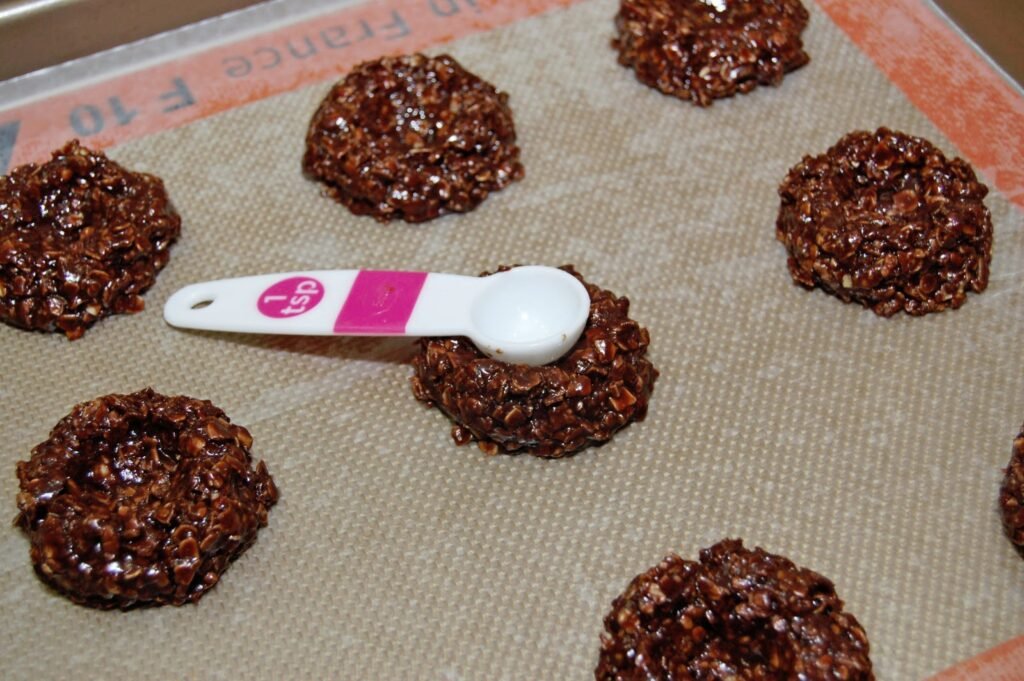 Then once they have set after a minute or so, just make a dent in the middle. I used a teaspoon scoop to make the dent.
Fill in the middle with fluff and drizzle with caramel. Done. Now you can take a bite of this soft chewy, gooey, decadent mocha cappuccino treat. Oh yeah! It's that good.
No Bake Mochaccino Cookies
by The Sweet Chick
Prep Time: 15-20 minutes
Cook Time: 1 minute
Keywords: no bake dessert snack mocha cappuccino spread quick oats marshmallow fluff caramel cookie
Ingredients (30 cookies)
For the cookies
1 cup sugar
4 tablespoons cocoa
8 tablespoons (1 stick) butter
1/2 cup milk
1 cup Jif Mocha Cappuccino flavored Hazelnut Spread
1 tablespoon pure vanilla extract
3 cups quick oats
For the filling
3/4 cup marshmallow fluff
For the topping
1/4 cup caramel/ caramel topping
Instructions
For the cookies
Place sugar, cocoa, butter and milk in a medium saucepan and bring to a boil over medium heat.
Boil for 1 minute.
Remove from stove top and add Jif spread, vanilla and oats. Mix until all incorporated.
Using a cookie scoop, drop by scoopful onto wax paper and let set for 1-2 minutes.
Make a well in the middle of the cookies with your finger or the back of a teaspoon scoop.
For the filling
Place approximately 1 to 1 1/2 teaspoons of fluff into each cookie well. The fluff will settle and become smooth by itself.
Place cookies in fridge for 5 to 10 minutes (while you clean up).
For the topping
Place caramel/caramel topping in a ziplock bag with tip cut off and drizzle over each cookie (or just dip a fork in the caramel and wave it back and forth over the cookies.)
Now take a bite!