I was in the mood for shortbread cookies the other day.  I found this recipe for Easy Shortbread Cookies.  It's really is easy and it only has 4 ingredients.  Of course I added my own spin on it.  I rolled them in sugar and turned them into thumbprint cookies and added some preserves.  Oh, and I also changed the flavor to almond.
 These are all the ingredients you need.  You probably already have them in your pantry.
I used a cookie scoop to measure out each cookie.  I rolled them into 1 inch balls and then rolled them in sugar.
Then I used the back of a teaspoon scoop to press down and make a well into each cookie before putting them in the oven.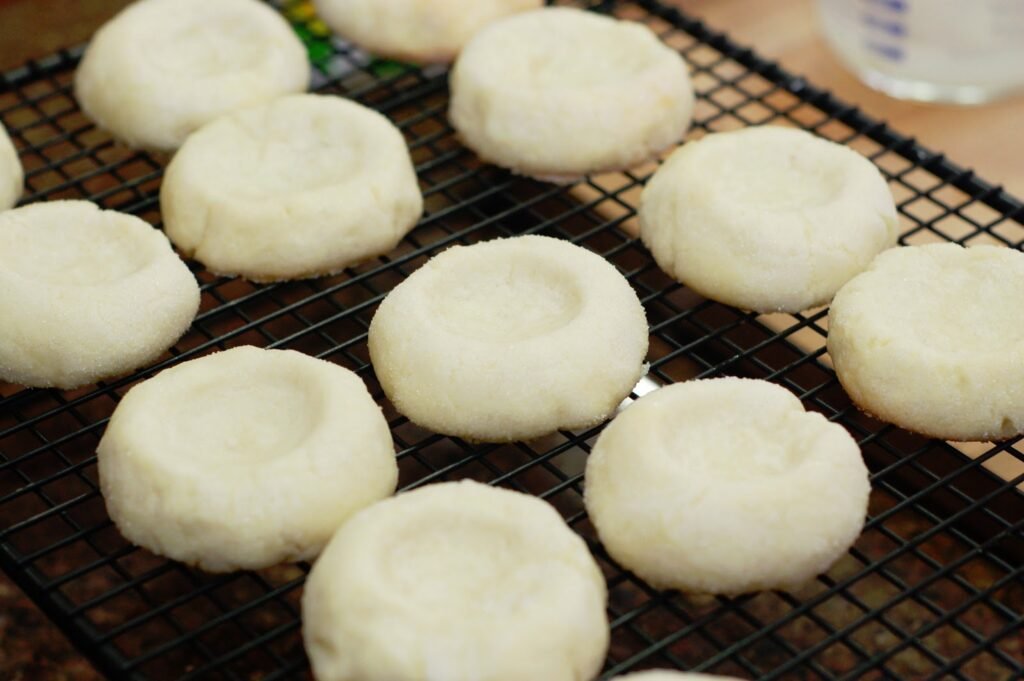 Here they are cooling off, before being slathered with preserves.  I still had a jar of raspberry jam and some blueberry chutney left over from the mini pies the other day.  But you can use whatever suits your fancy.  These cookies were perfect.  Soft, buttery, melt in your mouth good.  Yes, they do make lots of crumbs, but I won't tell anyone if you lick them off the table.
Almond Shortbread Cookies
by The Sweet Chick
Prep Time: 20 minutes
Cook Time: 16 minutes
Keywords: bake dessert snack almond butter cookie
Ingredients (24 cookies)
For the cookies
1 cup (2 sticks) butter
3/4 cup powdered sugar
1 teaspoon pure almond extract
2 1/2 cups all purpose flour
1/4 cup granulated sugar
For the topping
your choice of preserves/jelly/jam
Instructions
For the cookies
Preheat oven to 350º F.
In a stand mixer, mix butter, powdered sugar, and almond extract. Mix on low until well blended.
Slowly add flour and mix until the dough starts to come together. (If dough is too crumbly, add 1-2 tablespoons softened butter, until dough holds together.)
Scoop dough with cookie scoop and roll into a 1-inch ball.
Dip ball into granulated sugar and roll around until completely covered. Then place ball on greased cookie sheet and press down on the ball with the back of a teaspoon scoop.
Repeat for all cookies.
Then bake at 350º F for 14-16 minutes or until bottoms are a light golden brown.
Remove from oven and place cookies on cooling rack and let cool completely.
For the topping
Grab a jar of your favorite jam, jelly, or preserves and scoop about a teaspoon full into the center of each cookie. Enjoy!