Another amazing sweet that my Argentinian in-laws introduced me to was Dulce de Membrillo.  Here in the states, it translates as Quince Jam.  Quince a a fruit that kind of looks like a pear, but is very bitter if eaten raw.  The Argentinians boil it down and makes jam or jelly out of it.  Usually the jam is in a block form and easy to slice. 
The easiest way to eat it and my favorite is to take a slice of quince jam and place on top of a slice of cheese (either a soft cheese like brie or a hard, sharp cheese) and lay both on top of a salty cracker.  Oh my, a taste bud's delight!  The cheese and the salty cracker balance out the sweetness of the quince jam in the perfect way.
Quince jam can be found in your local Spanish market.  If you can't find it, you can also substitute guava paste.  Goya makes guava paste and it is sold in supermarkets.  You will find it in the Spanish aisle with all the Goya products.  It is sweet like membrillo and the same consistency.  It also tastes great with cheese.
Ok, just for haha's I just checked on Amazon to see if they sold dulce de membrillo and wouldn't ya know it, they do.  Those guys sell everything.  So there you go, if you don't have a Spanish market near you, just check out Amazon.com.  They also sell dulce de batata, which is a sweet potato jam.  My husband likes it, but I am not a big fan.  I like membrillo or guava better.  I think because they are sweeter.
I am always looking to try different things and wanted to come up with something different with the membrillo. And I wanted to try out my cute new pan that I bought at TJ Maxx.  I thought, why not try mini tartes.  I kept the membrillo/cheese combo, but swapped out the cracker for crescent roll dough.  Of course, I could have made my life easy and just rolled up the two ingredients into the crescent rolls, but that darn pan was just crying to be used.  How could I say no?  Doesn't your bakeware ever call out to you?
I just unrolled the crescent dough and without separating the triangles, I rolled it out just a tiny bit thinner and cut it into squares to fit in my pan.
Then I cut the membrillo to fit in the tartes.  I put a nice thick slice at the bottom.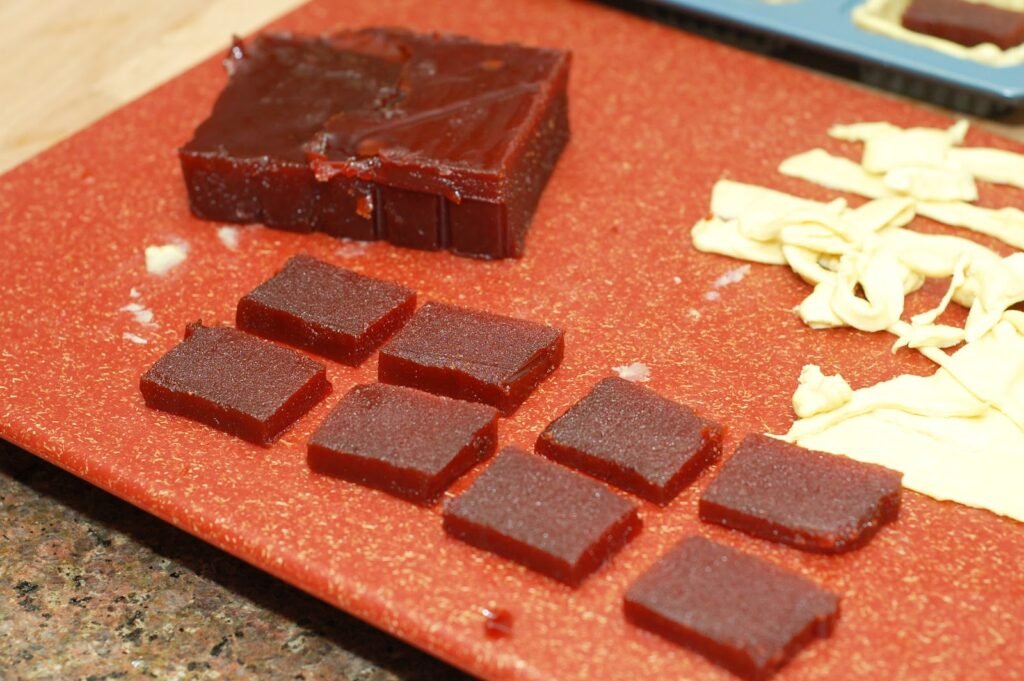 I layered the brie on top.  Don't forget to cut off the rind.
Then I rolled out the left over dough and cut small strip to create a criss cross pattern over the cheese.
I think they came out pretty good for my first try.  I did try one while it was piping hot.  Oh the cheese was so gooey and the membrillo so sweet.  Mmmmmm!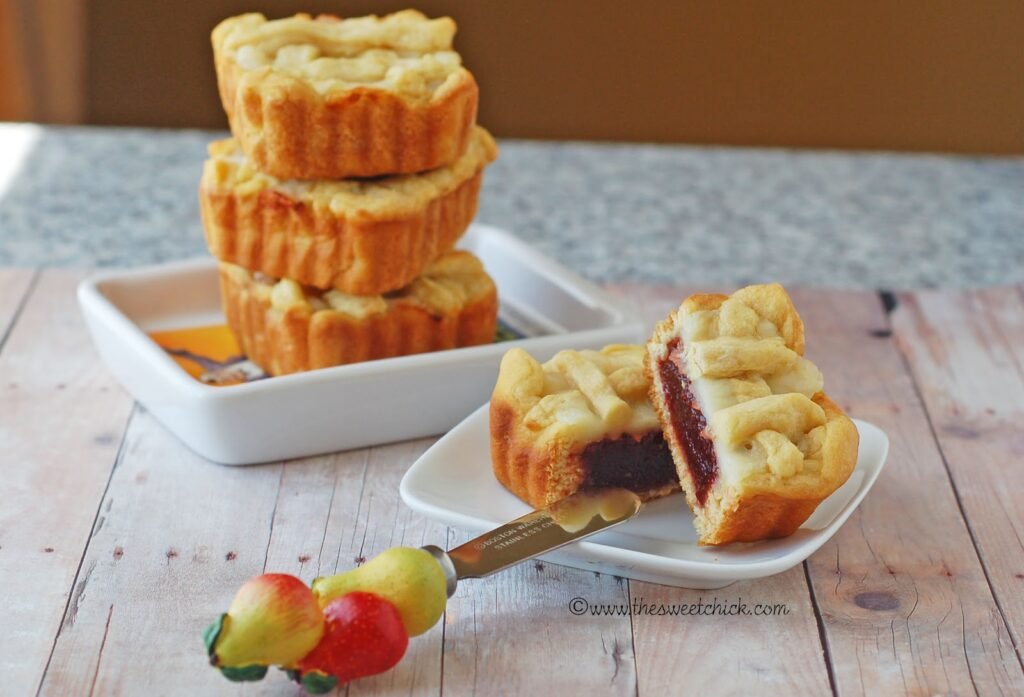 Dulce de Membrillo and Brie Tartelettes
by The Sweet Chick
Prep Time: 15-20 min
Cook Time: 11-13 min
Ingredients (serves 12)
1 pkg. (1 lb) dulce de membrillo (quince jam)
2 pkgs. (8 oz) crescent rolls
1 container (15 oz) Brie cheese
Instructions
Preheat oven to 375 degrees F.
Unroll the crescent dough and lay out flat without separating the triangles. Using a rolling pin, roll out the dough into rectangles and then cut into 12 squares to fit in the muffin tin.
Carefully line each of the muffin cavities with a crescent square and press into place.
Cut a slice of membrillo and a slice of Brie to fit the squares, placing the membrillo on the bottom and the Brie on top.
With the left over crescent dough cut thin strips to layer over the brie in a criss cross pattern. Four strips to each square.
Bake at 375 degrees F for 11-13 minutes or until golden brown. Let the tartelettes cool off a few minutes before removing from muffin tin. Then eat and enjoy!