Yay! Our Halloween party has finally arrived. It was delayed one week due to a crazy snowstorm that passed through the northeast and knocked down all the trees onto power lines and left us in the dark.
But alas, the snow has melted and it's time to party. The theme this year was kings and queens. My husband went as the King of Pop (Michael Jackson) and I as a Queen Bee. This was an adult only Halloween party that our friends hosted. As such, I wanted to make some adult brownies.
What better combo than chocolate and beer. The Guinness Cupcakes I made not long ago were so yummy, but hubby wanted brownies this time. I gave him a list of ingredients and he was kind enough to go to the store for me. He came back with Ghiradelli baking chocolates. He knows me well.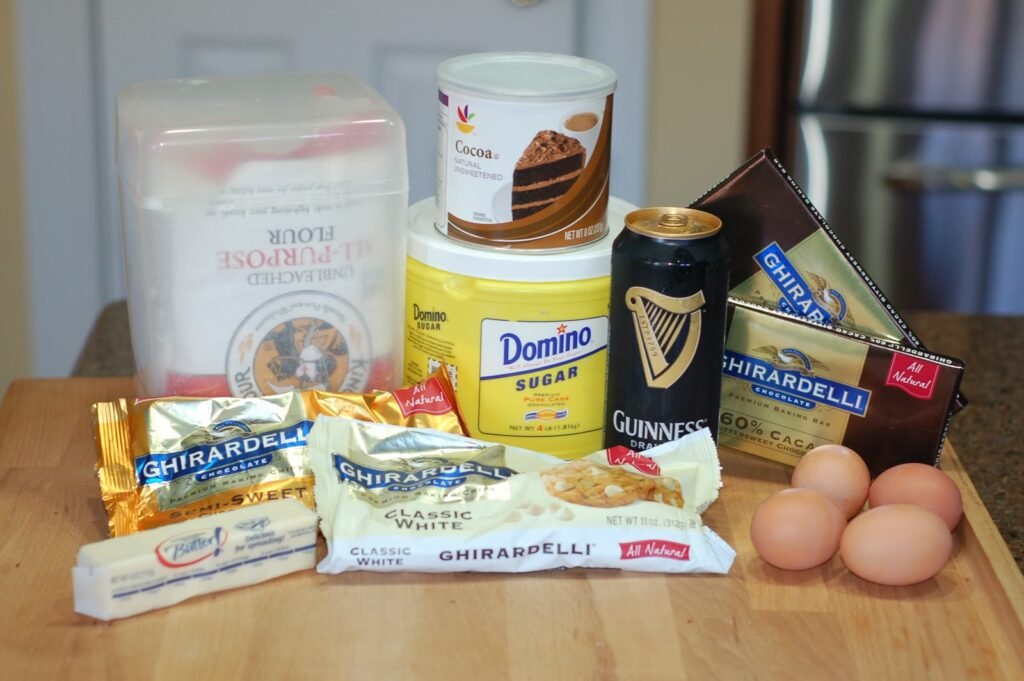 I found this recipe on about.com. It sounded good and looked easy. Two of my favorite words.
Ghiradelli Guinness Brownies
adapted from Peggy Trowbridge Filippone
Ingredients:
1 cup all-purpose flour
3/4 cup unsweetened cocoa powder
1/4 teaspoon salt
6 tablespoons unsalted room temperature butter, cut into cubes
8 ounces dark bittersweet Ghiradelli chocolate, chopped
3/4 cup Ghiradelli white chocolate chips
4 large eggs, at room temperature
1 cup superfine or granulated sugar
1-1/4 cups (10 ounces) Guinness Extra Stout beer
1 cup Ghiradelli semi-sweet chocolate chips
Directions:
Preheat the oven to 375 degrees F. Line a 9 x 13-inch baking pan with nonstick foil.  I use the Perfect Brownie Pan you see on TV all the time (Perfect Brownie Pan Set). At first I thought it was another gimmicky unnecessary piece of equipment that my mother so kindly bought me.  But after the first use, I was hooked.  This thing is the best.  It makes perfect brownies every time.  Anyway back to the recipe.
In a medium bowl, whisk together flour, cocoa powder, and salt until evenly combined. Set aside.
Melt butter, bittersweet chocolate, and white chocolate chips in a double-boiler over very low heat, stirring constantly until melted. Remove from heat. I don't have a double boiler so I just put a glass bowl on top of a pot of water.
In a large mixing bowl, beat eggs and sugar on high speed until light and fluffy, about 3 minutes. Add melted chocolate mixture, beating until combined.
Beat reserved flour mixture into melted chocolate mixture. Whisk in Guinness stout beer. The batter will seem a bit thin. Drop semisweet chocolate chips evenly on top of batter (some will sink in).
Pour into prepared baking pan. Bake 25 to 30 minutes on center rack in the oven, until a toothpick inserted in the center comes out almost clean.
Let brownies cool, uncovered, to room temperature. Or just do like me and eat them warm and gooey. I had to taste them before taking them to the party. Quality assurance.
Note: The Guinness should be at room temperature. This recipe uses a little less than a standard 12-ounce bottle of Guinness stout beer. Do not include foam in the measurement. Either spoon off the foam or let it rest until the foam subsides. Feel free to drink the remaining 2 ounces, I did.
These came out so moist and rich. All the chocolates and Guinness really gave the brownies a unique flavor. I will be making these again.