Come on, let's get dirty!  This ain't your mama's dirt cake, this one is downright sinful.  If you are hosting a party for St. Patrick's Day, you are going to want to add this recipe to your list.  It has twice as much Guinness as my last two recipe (Dark Chocolate Guinness Rice Krispie Treats and Dark Chocolate Guinness Fudge) and even more rich in taste. 
I just found this Hershey's Special Dark pudding at the grocery store the other day and had to buy it.  It comes in regular chocolate and white chocolate also.  For this recipe I wanted dark chocolate.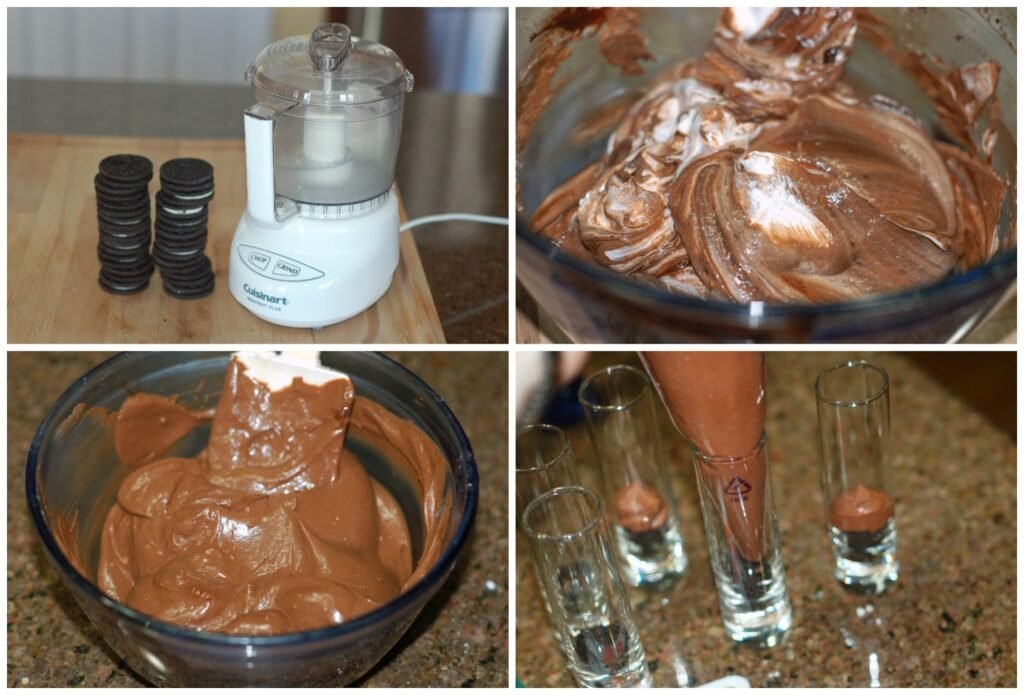 I pulled out the recipe for Dirt Cake someone gave me many years ago and adapted it to my needs. And my needs were very chocolaty.  I still can't believe how lusciously flavorsome this came out. 
Go ahead, grab a spoon and get down and dirty.  You'll love it! (Just a reminder, this is NOT for kids.)
Guinness Dirt Cake Shooters
by The Sweet Chick
Prep Time: 10-15 minutes
Cook Time: 15-20 minutes
Keywords: no bake dessert snack dark chocolate guinness beer Hershey's Special Dark pudding cream cheese trifle shooters American
Ingredients (36 servings)
1 package (14.3 oz) Oreo cookies
1 box (3.56 oz) Hershey Special Dark instant pudding mix
1 3/4 cups milk
1 cup whipped topping (ex. Cool Whip)
1 can (14.9 oz) Guinness beer
1 cup Ghirardelli 60% Cacao bittersweet baking chips
1 container (8 oz) cream cheese
2 tablespoons butter
1/2 cup powdered sugar
Instructions
Crush the Oreos (cream and all) in a food processor until they are all fine crumbs.
In a medium bowl, mix pudding and milk. Beat with a whisk or hand mixer until pudding thickens. Then fold in whipped topping until all incorporated.
In a medium saucepan, bring the beer to a boil on medium/high heat. Boil for 15-20 minutes or until the liquid is reduced to 1/2 cup.
Remove from heat and and stir in baking chips until completely melted. Set aside.
In a large bowl beat cream cheese, butter and powdered sugar with a hand mixer until smooth.
Then add in the beer mixture and continue mixing until all incorporated. To this add the pudding mixture and gently mix until well blended. (Don't worry you can sneak a few spoonfuls)
Now take out your shot glasses and start layering. Add about 1 teaspoon of crushed Oreos first, then add about 1 teaspoon chocolate cream mixture and continues layering until shot glass is full, ending with the crushed Oreos on top.
Note: for the chocolate cream mixture, I did find that piping it in with a piping bag or a Ziplock bag with tip cut off, works best.