Unbeknownst to all of you, a lot of pizza is made in this apartment. Usually I half-ass it, using Trader Joe's pre-made pizza dough which needs about 20 minutes of sitting on the counter before it's ready. And as far as toppings go, we're not very experimental—bacon, spinach or arugula, and yellow bell pepper all the way, with the occasional mushroom and tomato thrown in. But sometimes, I get it together enough to make my own dough, which, I know I know, is supremely easy to make, so there's really no good excuse why I don't.
This time, my impetus was this:
The season's first broccoli rabe.
And these: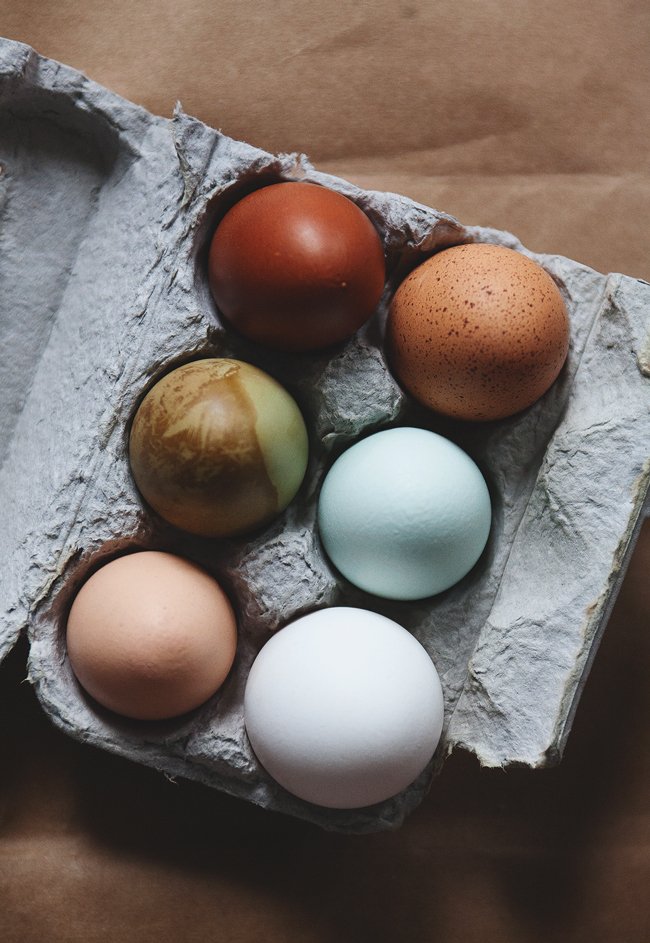 The most velvety, gorgeous-tinted eggs ever. Swoon.
Both reaffirming that the Union Square Greenmarket is my happy place in this city.
Have you had pizza with an egg on it? Since I think eggs make everything taste about a million times better, there's nothing I love more than topping pizzas with them, baking them until they're only just set, and taking a sharp implement to them:
All the yolk oozes out. Sweet, fresh yolk.
This pizza was inspired by a gorgeous spinach, runny egg, and Parmesan pizza featured in Polpo, that cookbook I raved about not so long ago. It was a departure from our usual tomato sauce-based pizzas, but I didn't miss the stuff at all. It was delicious. We demolished it in about five minutes.
I just want to point out, broccoli rabe is not as easy a pleaser as spinach. Its bitterness can be offputting. But the garlic and red pepper flakes transform the bitterness into something else, something toothsome and with bite, so don't skip the saute! And enjoy!
BROCCOLI RABE & EGG PIZZA
Adapted from Polpo: A Venetian Cookbook (Of Sorts)
Serves 1 to 2
Since I don't have a pizza stone, I used the back of a large heavy-duty baking pan. Just make sure to crank up your oven all the way, and preheat the baking pan while you're preheating the oven.
Ingredients:
A small ball of pizza dough (1/2 of this recipe)
1 large handful of broccoli rabe, ends trimmed
2 cloves garlic, roughly chopped
1 Tbsp plain yogurt
a sprinkle of red pepper flakes
A few Tbsp grated Parmesan
A handful of mozzarella
Salt & pepper
1 egg
Directions:
Preheat your oven to its highest temperature (mine is 500 degrees F) and place your pizza stone/baking pan inside to heat up. You want your oven to be nice and hot, so plan to preheat for at least half an hour.
Blanch the broccoli rabe for about 30 seconds in boiling water, then immediately plunge it into cold water to stop its cooking. Squeeze it out thoroughly, and chop it up. Turn your stove onto medium and pour in a glug of olive oil. When it's hot, add the garlic and saute for 15 seconds, then add the chopped broccoli rabe and red pepper flakes. Saute for a few minutes, seasoning with salt and pepper, then turn off the stove. Stir in the Parmesan and yogurt.
Roll out your pizza dough to about 10 inches in diameter. At this point, because I don't have a pizza stone, I usually par-bake the dough for a little while, 3 to 4 minutes, so it's partially cooked before I bake it again with the toppings. I find that this results in a crisper pizza, and I like not having to worry about whether or not the pizza will be baked through, especially since I tend to load mine down with toppings. Feel free to do so. Spread the broccoli rabe mixture evenly across the pizza (minus the border, of course), leaving a little well in the middle. Crack the egg over the well. Sprinkle the mozzarella over the top, as well as some extra Parmesan, and season with salt and pepper.
Bake until the crust is blistered and lightly brown and the egg is cooked but still runny. My pizza took about 9 minutes.