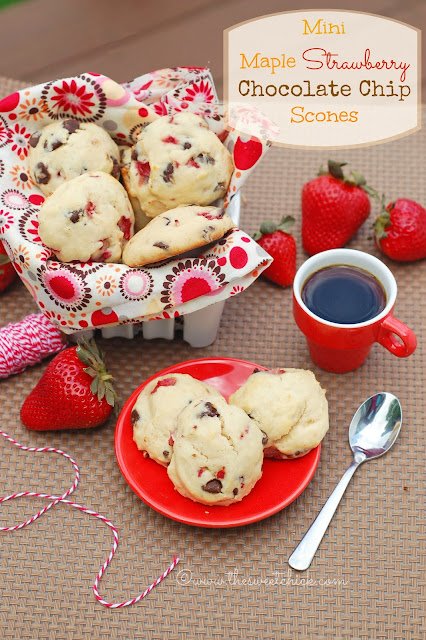 I ended up making these for Sunday morning brunch at my mom's on Mother's Day. They were quick and easy to make, but the night I made them was a disaster. I was finishing up my second batch of scones, so I had my husband put the kids in the tub, thinking I would be giving them a bath in a few minutes. Wrong! I went to get a glass of water from the fridge dispenser when I heard a noise and then looked down to the pool of water that was coming out from under the fridge. Not good.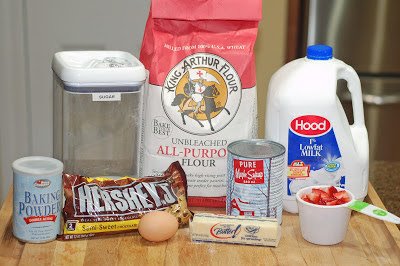 So while my husband was trying to find the main water valve to turn off the water, I was throwing towels on the floor to catch the water, keeping an eye on the scones so they wouldn't burn and my kids were turning into prunes in the bathtub. Crazy night. Thank goodness there wasn't too much damage done. We are still trying to sell our house.
I did manage to save all my scones from burning. Of course, my husband was all upset I was more concerned about the scones than the water disaster.
I was not going to waste this beautiful batter. And I am glad I didn't. These came out so good. Like chocolate covered strawberries dipped in maple syrup.
They did come out more moist than some of my other scones, but I like them that way. If you want a drier scone, I would suggest you add more flour. Probably another 1/4 to 1/2 cup should do.
You really can't go wrong with a combination like strawberries and chocolate. And the fresh strawberries were bursting with flavor. In the first batch I didn't add any spices, but the second batch I added a little cinnamon and that was the missing link to bring everything together and enhance the maple flavor.
Mini Maple Strawberry Chocolate Chip Scones
by The Sweet Chick
Prep Time: 10 minutes
Cook Time: 12 minutes
Keywords: bake breakfast dessert snack strawberry chocolate chips maple syrup scones American
Ingredients (30 mini scones)
2 1/2 cups flour
1/3 cup sugar
2 tsp baking powder
1 tsp cinnamon
6 tbsp cold butter
1/4 cup pure maple syrup
1/2 cup milk
1 egg
1/2 cup semi-sweet chocolate chips
1/2 cup chopped fresh strawberries
Instructions
Preheat oven to 425 degrees.
In a large bowl or stand mixer, mix flour, sugar, baking powder, and cinnamon.
Cut up butter and add to flour mixture and mix until almost fully blended.
Add maple syrup and then in a separate bowl mix eggs and milk until blended and add to the flour mixture. Mix until fully blended.
Add chocolate chips and strawberries and mix until all incorporated.
Drop by spoonful on a greased cookie sheet about 2 inches apart.
Bake at 425 degrees for 12 minutes or until tops are golden.